When I ordered SnoreRx, I looked forward to trying out its unique features. I've tried many Mandibular Advancement Devices (MADs) in the past and was hoping for great results from SnoreRx.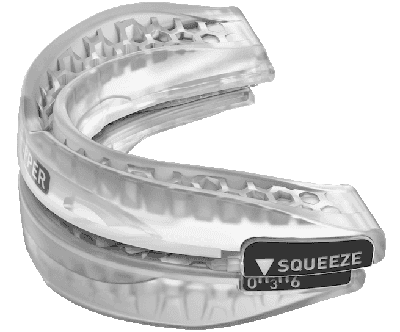 I wasn't disappointed! There are many benefits to using SnoreRx over other MADs, from the amazing customization to the high-quality material selection, but most of all it is effective.
I am confident it will become your preferred anti-snoring device as well.
Update: This review was updated on January 22, 2020, with the latest version of SnoreRx and SnoreRx is currently on sale for $99.
Advantages
Flex-Jaw design can be adjusted in ten one-millimeter increments.
Calibrator makes it easy to read the settings and to determine the amount of jaw advancement.
Posi-Lock feature locks in your selected settings. So, if you take it apart while cleaning, it will reset.
V-Flow technology allows you to breathe through your mouth while sleeping. This is a terrific feature for individuals with sinus problems, a deviated septum, and nasal polyps.
Boil-and-bite technology achieves a custom fit.
Free of BPA, latex, and acrylic using the medical-grade material.
United States Food and Drug Administration cleared.
Product and all materials are made in America.
American Academy of Sleep Medicine (AMASS) certification.
No metal or materials that could create torsion or continuous pressure are used, so your comfort is guaranteed.
A lifespan of 12 to 15 months.
A 30-day money back guarantee.
Disadvantages
The intricate design requires additional cleaning effort.
The mouthpiece can't be worn by individuals with dentures or bridges. Not recommended for those with dental implants that are less than one-year-old.
May cause sensitivity and drooling until you are accustomed to wearing it.
My Actual Results
Here is a screenshot of my results when recorded with a snore recording app compared between two nights.

What Makes SnoreRx Unique?
Since SnoreRx is classified as a MAD, it works by holding your lower jaw forward while you sleep, preventing soft tissue obstruction which causes snoring. The product is up-to-date and has technical features unavailable on other MADs.
One of the most noticeable features of SnoreRx is its customization. It has a calibrator set into the side of the device with ten settings spaced only one millimeter apart.
This provides a huge range of lower jaw positions to ensure you find the most comfortable position for you. The calibrator is easily adjusted with a squeezing mechanism and can be reset if necessary.
Most MADs do not allow you to adjust your jaw position easily, and if they do, they spacing isn't fine enough to allow for both comfort and effectiveness.
SnoreRx is constructed from durable and non-irritating medical-grade material. It contains no BPA, latex, or acrylics and is suitable for people with allergies or sensitivities. It does not utilize metal pieces and rubber bands, which can cause uncomfortable pressure and torsion.
Like other MADs, it uses an easy boil-and-bite method to achieve a custom fit. However, SnoreRx has the additional benefit of allowing you to adjust your jaw position incrementally for further customization.
You will appreciate the cushioned design on the upper and lower trays, so they are gentle on your teeth. Also, mouth-breathers will welcome SnoreRx's V-Flow design that allows free airflow through the front of the device.
SnoreRx has a lifespan of 9 to 11 months which is almost twice that of the average MAD. SnoreRx is affordable, effective and long-lasting so it is worth the investment.
My Experience
When I ordered SnoreRx, I took advantage of the multi-purchase discount and bought two devices. I travel frequently for my work so having two SnoreRx gadgets is a convenience.
When the mouthpieces arrived, I followed the boil-and-bite technique to create a custom fit. I had to boil the second device twice, but it didn't negatively affect the material.
I was excited to try my new MAD, especially the lower jaw adjustment feature. At first, I found the number of jaw positioning options overwhelming, but after some fine-tuning settled on a comfortable position.
The first night I wore the device, I slept well, but my mouth was a little sore in the morning. The discomfort was similar to wearing braces for the first time.
The great news was my wife told me I didn't snore at all. The following night I adjusted the positioning of the lower jaw settings and didn't encounter any pain when I woke up the next day, and I still didn't snore.
I was concerned that adjusting the position would impact the effectiveness of the device. I also really liked the cushioning on both the upper and lower jaw which added to the level of comfort.
Cleaning the device definitely took longer than other MADs I have worn. The cleaning process is more difficult due to the number of positioning adjustments. I used a denture cleaner to help me reach into every area and eradicate bacteria.
I am very pleased with the SnoreRx. I have tried other MADs, but this one is more comfortable because of the numerous jaw adjusting positions and cushioning.
[testimonial_view id="1" post_ids="14875"]
I no longer snore, so both my wife and I get a good night's sleep and our relationship has improved as a consequence.
Most customers are happy with SnoreRx, you read more reviews for SnoreRx on the Verified Reviews site, a trusted 3rd party review authority.
SnoreRx is backed by a 30-day unconditional satisfaction guarantee. You don't need to have it back to the company within 30 days either. It simply has to be postmarked 30 days from the confirmed delivery date, so you really do get a full month to try it.
SnoreRx Video Of Unboxing & Features
SnoreRx is an oral appliance sold as a treatment for snoring.   It uses mandibular advancement, which moves the lower jaw forward, to open the upper airway during sleep.   A wider airway then improves airflow and reduces snoring.

Does SnoreRx really work?

Yes, SnoreRx really does work. Like any snoring mouthpiece, it takes some getting used to. The concept behind SnoreRx is proven and the adjustability that the SnoreRx device provides ensures a comfortable fit.

How long does SnoreRx last?

Apnea Sciences, the parent company of SnoreRx, suggests that the SnoreRx device will last between 9 and 11 months on average. Some people grind their teeth while sleeping and will experience more wear on their device than average. With proper care you can expect the device to last longer than 12 months.

Can SnoreRx cure snoring?

SnoreRx is not a cure for snoring.   Snoring is not a curable disease.  The SnoreRx is a treatment for snoring and is designed based on medical studies which prove that mandibular advancement is a successful treatment for snoring.

Why is SnoreRx adjustable?

SnoreRx is adjustable for comfort. The SnoreRx is adjustable in millimeter increments which allows the wearer to choose the thrust of the lower jaw. Some users want minimal jaw advancement, and some want greater jaw advancement.

How much does SnoreRx cost?

As of August 6, 2018, the price of a SnoreRx is $99.95, and the average standard shipping rate is $6.95, which brings the total cost to $106.90. Priority Shipping from FedEx is available for an additional charge. The SnoreRx device is sold in packs of two for $154.00.

What is the cost of shipping for SnoreRx?

The cost of shipping for SnoreRx is $6.95. Priority shipping from FedEx costs extra based on your location. SnoreRx also offers international shipping with FedEx. Amazon fulfillment centers provide Canada and Australia shipping for SnoreRx.

Are there coupon codes for free shipping for SnoreRx?

There are no coupon codes for free shipping for SnoreRx. However, there are coupon codes for a discount on the price of SnoreRx. You can use "snoringhq" as a coupon code to get 10% off the price of the SnoreRx.

Does wearing SnoreRx look funny?

Wearing SnoreRx looks the same as a mouthguard for sports or a mouth guard for teeth grinding. A slight covering is over the teeth, and it is not possible to speak clearly during use.

What does it mean when a person is snoring?

A person who is snoring is making a loud grunting and grinding noise through the nose and mouth during sleep. Restricted airways cause this. Excess throat and nasal tissue can vibrate during sleep, also causing the snoring noise.
Moderately Priced
With all the incredible features of the SnoreRx, I was expecting a hefty price tag; however, when I placed my order for two SnoreRx devices, I noticed there was a huge multi-purchase discount. One device costs $99, which is a terrific price, but two devices cost only $154. It's almost a "buy one, get one half price" deal.
SnoreRx offers USPS shipping for $6.95 or 1 device. The devices can also be shipped via FedEx for around $10, which means they arrive soon after you order. SnoreRx can be shipped internationally to over 30+ countries for only $9.59. International shipping for two devices is $14.95.
Countries include:
Austria, Belgium, Bulgaria, Canada, Cyprus, Czech Republic, Denmark, Estonia, Finland, France, Germany, Greece, Hungary, Ireland, Italy, Latvia, Lithuania, Luxembourg, Malta, Netherlands, Poland, Portugal, Romania, Slovakia (Slovak Republic), Slovenia, Spain, Sweden, United Kingdom
SnoreRx also offers a 30-day unconditional satisfaction guarantee. You can try the product for a full month before you return it. If you are unsatisfied with the product, make sure your return is postmarked 30 days from when you had it delivered so you can receive a full refund.
Is the SnoreRx Right for You?
SnoreRx is the perfect device for anyone who prefers a highly customized fit. It is amazingly comfortable, it is wearable by most mouth shapes and sizes, has great airflow for mouth breathers, and is suitable for anyone with allergies or sensitivities. Most importantly, it's incredibly effective.
If you are interested in a highly adjustable, comfortable MAD, SnoreRx would be a great option for you. It is durable, and thoughtfully designed with a lot of unique characteristics. Plus, it can be worn by mouth breathers and those with a latex allergy.
But you have a number of choices on the mouthpiece market.  Our "best mouthpieces" list should help you compare your options.
Two other MADs that are possibilities are ZQuiet and Snore Medic. If you want to try a tongue retaining device that holds your tongue forward instead of your jaw then take a look at the Good Morning Snore Solution mouthpiece.
The MyPillow is among the best-selling pillows on the market and is endorsed by the National Sleep Foundation due to its excellent neck and back support. The machine washable MyPillow is available in a variety of sizes and color-coded models which are based on the user's body type.
The MyPillow is a basic and low-cost pillow that works well with snore guards such as SnoreRx and ZQuiet.
Walmart has become a key retail distributor of the MyPillow, and given the convenience of popping into a Walmart store to pick up the MyPillow, one might wonder why anyone would order online, direct from MyPillow.com. Contrary to intuition, there are both advantages and disadvantages to buying the MyPillow at Walmart.
Advantages of Buying the MyPillow at Walmart
Let's start off with the good points of buying from Walmart's brick-and-mortar retail stores. At Walmart, you can buy one pillow for $49.88, whereas MyPillow.com requires a minimum purchase of two units for $99.98. Both Walmart and the MyPillow website offer free shipping.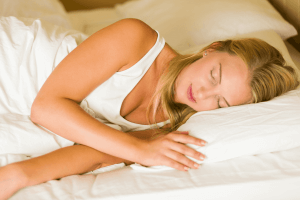 In today's e-commerce world, one of the advantages of physical stores is the ability to examine the merchandise before buying. You can feel the lumpiness or evenness of the pillow or even try it out on a bed in Walmart's showroom. Moreover, if you get the pillow home and decide you don't like it, just bring it back to Walmart, which has a liberal and convenient return policy.
In most cases, even if you have lost your receipt, Walmart will give you store credit for the returned items. Conversely, if you purchase from MyPillow.com and need to return the pillow within the 60-day guarantee period offered, you will have to pay for return shipping.
Figure 2: trying out a pillow before buying
Walmart frequently offers coupons and has sales, so if you're a savvy consumer and keep your eye on the circulars and online advertisements, you can often get a great deal on a MyPillow.
Disadvantages of Buying the MyPillow at Walmart
Walmart typically has a limited selection of models of the MyPillow compared to the MyPillow website. MyPillow.com uses an intuitive color-coding chart wizard, which allows you to specify your shoulder width, t-shirt size, gender, and the type of pillow you are accustomed to sleeping on (e.g. feather down or foam) to choose the perfect pillow.
Considering you can try the pillow out at Walmart, you can avoid choosing a pillow that is completely wrong for you, but because selection is limited at Walmart, you still might be unable to find the perfect model in stock.
Another consideration is that some of the MyPillows bought at Walmart were returned items. When buying a MyPillow for $49.88, most of us would expect an untouched, new-condition pillow. The MyPillow selection at Walmart may also be outdated and not include current features.
This isn't necessarily going to be a problem for all customers because MyPillows have received good ratings from consumers overall, but for those looking for the newest features in a MyPillow, check the box for a model number or date of manufacture.
Also, keep in mind that Walmart's refund policy is 30 days or less compared to the MyPillow.com website's 60-day refund policy. Most of us seeking relief from neck or back problems and insomnia can tell if our new pillow was working the very first night, although understandably it could take longer to see lasting changes in posture and pain relief, as well as time to chart your snoring results.
An Overall View of Buying the MyPillow at Walmart
While the ability to get a customized pillow from the MyPillow.com website guaranteed for 60 days is tempting, the many advantages of buying a MyPillow at Walmart are evident.
You can try the MyPillow out at home before you buy it and if you don't like it return it without the hassle of paying for shipping. Unlike the website, you can buy just one pillow instead of two, and you don't have to wait several days for your pillow to arrive.
Finally, by purchasing it at the store you avoid the inconvenience of mailing it back to the MyPillow Warehouse.
However, if want to order a customized model, consider ordering online from MyPillow.com since, despite the hassle, you at least can get your money back within sixty days if you are not satisfied.
View another review of a pillow called the Casper Pillow.
Snoring mouthpieces are not much to look at - so I at least give credit to Zyppah for trying.  The Zyppah product is classified as a mandibular advancement device (MAD) and its black and neon green (also available in other colors).
Update: Some readers have left reviews about issues with me about Zyppah's poor customer service.  I didn't have any issues personally but read the comments for other people's experiences.
Many readers rate SnoreRx customer service as top quality. They always stand behind their 30-day guarantee and their latest device is my #1 choice.
Zyppah Review Video: Unboxing, and Features
Zyppah Review: Positives and Negatives
Like all anti snoring devices that I have reviewed, I like to make sure I share both the pros and cons so that everyone can make an educated decision.
Pros
Hybrid device design holds the jaw forward and tongue stationary to keep your airway clear while you sleep.
The Zyppah device is American-made, BBB-accredited, and FDA-cleared.
The design is pretty comfortable, and it's made from a BPA-free material. Even the rubber piece across the tongue is comfortable.
The fitting process allows you to achieve a precise fit.
Airflow hole lets you breathe through your mouth while you're sleeping.
Zyppah device has a 30-day satisfaction guarantee and free shipping and handling.
The sporty design is ideal for people self-conscious about wearing a mouthpiece.
Designed by a dentist, and affiliated with five Snore No More facilities located in California that specializes in snoring and sleep apnea.
Cons
The fitting process is a little more specific than other devices.
May cause drooling and jaw soreness while you get used to it.
Need to keep denture tabs on-hand for cleaning.
Can't be worn by people with dentures, loose teeth, crowns, or bridge work.
The Zyppah device makes it very hard to swallow during use, which makes falling asleep almost impossible.
Overall I had a great experience with the mouthpiece and think that it will be the perfect fit for a lot of snorers.  Particularly compared to other mouthpieces I found it relatively comfortable and effective, and a few other Zyppah reviews I read said the same.
Click here to see my favorite snoring mouthpieces
Zyppah Customer Review
What is Zyppah?
The first thing to note is that there are four versions of the Zyppah devices. This review is the one that can be ordered online without a prescription. If you live in California, there are five Snore No More centers that sell three other versions that are significantly more expensive and need to be prescribed and custom-fitted by a doctor.
Like other MADs and anti-snoring devices, Zyppah positions the lower jaw in a forward position to help reduce the risk of the airway experiencing a partial obstruction. However, Zyppah is actually a hybrid snoring device because similar to a tongue retaining device (TRD), it stabilizes your tongue, too. It may not have a suctioned bulb on the end like what you would expect from a TRD, but the concept is there. The tongue gets held in place by a rubber-like strap that is a lot softer than it looks.
Zyppah is made in the USA, FDA-cleared, BBB-accredited, and designed by a dentist. You do have to use a fitting process, and it does have an airflow hole to allow you to breathe through your mouth.
How it Works
If you snore then you have some soft tissues vibrating in your airway. When you fall asleep, your tongue collapses toward your throat because your muscles relax.
When this happens, the soft palate and uvula can cause a partial obstruction. At the same time, the muscles in your neck have also relaxed, so soft tissues in your throat are closer together.
In many people, the soft throat tissues tough the soft palate and uvula are permitted to touch. When air is pushed through it causes these tissues to vibrate. The vibration causes the snoring sound.
Zyppah holds your lower jaw forward and keeps your tongue stationary, so the soft palate and uvula don't collapse into the throat. When tissues are not permitted to touch, they don't vibrate.
My Zyppah Review
I ordered two Zyppah mouthpieces. Words can't describe how eager my wife was to try this one. She liked the looks of it as much as I did. Of course, we both know that appearances can be deceiving, so we tried not to get overly excited about this one in fear of it being a total let down.
The oral appliances were $99.95 each, including shipping and handling, which was in the mid-priced range of all the devices I had tried to that point. I also noticed that it came with a 30-day satisfaction guarantee, but I haven't really dug into what that means.
The package arrived quickly even though I didn't pay for any type of upgraded shipping. My wife was already smitten before we even opened it. As she carried the vibrantly colored and decorated package in the house, you could tell she felt like she was receiving a special gift. I admit it made me smile, too.
Zyppah has a very specific fitting process that must be followed. I'm glad she actually read through the instructions because I was ready to just heat a pot of water and apply the generic boil-and-bite fitting process I had grown so accustomed to. It's certainly not hard to get an accurate fit with Zyppah, but you do need to follow the steps listed.
The first night we agreed the mouthpiece was very comfortable. My allergies were acting up just a bit, so I appreciated the airflow hole.
We both woke up before the alarm the next morning. I felt more energized than I had been in a long time. My wife said she heard no snoring coming from me when she let the dog out for his early morning bathroom break.
While she made breakfast, I cleaned both our devices using a denture tablet. They are really easy to clean because there are not a lot of crevices like you find on some other stop snoring mouthpieces.
My jaw was not as sore as it had been with previous devices. She said her jaw was fairly sore, but by the fourth morning, the soreness was gone.
After the 14-day trial was over, we thought Zyppah was a nice choice, but I still highly recommend SnoreRx or ZQuiet. If you can't stand the thought of a mouthpiece, take a look at my Good Morning Snore Solution review. Hint: It's not a mouthpiece, it's a TRD.
As of August 6, 2018, the price of a Zyppah is $99.95, and the average standard shipping rate is $9.95, which brings the total cost to $109.90. Priority Shipping and Overnight Shipping is available for an additional charge. The Zyppah device is sold in packs of two for $169.95.

Can Zyppah Be Used For Sleep Apnea?

The Zyppah is an over-the-counter oral appliance that is not FDA-Approved for sleep apnea and should not be used for sleep apnea. A mouth guard custom-fit by a dentist is the prescription for mild sleep apnea. Moderate to strong sleep apnea sufferers should use PAP (Positive Airway Pressure).

The Zyppah is "FDA Cleared" for snoring and not "FDA Approved." The oral appliances FDA Approved for sleep apnea are custom-fit and prescribed by dentists.

What does a Zyppah look like?

The Zyppah is a mouthpiece (like a mouth guard) that fits around the gums and teeth. It comes in a variety of colors including green and pink. It is small and is custom-fit by using a boil and bite method. A small bar within the mouthpiece keeps the tongue in place.

What does Zyppah stand for?

Zyppah stands for being happy while sleeping (ZZZ). The word itself is "Happy Z" spelled backward. Since the product decreases snoring it makes both the snorer and snorers partner happy during sleep.

How can I stop snoring ASAP?

Snoring mouthpieces are one way to stop snoring ASAP. They can be worn immediately and stop snoring the first night of use. Other methods of immediate snoring treatment are positional trainers, jaw straps, and CPAP.

What is the best thing to stop snoring?

The best thing to stop snoring is different for every person. Some snorers prefer mouthpieces, some prefer CPAP, and some prefer natural methods such as losing weight.

Do dental devices for sleep apnea work?

Dental devices, also known as oral appliances for sleep apnea, are the first line of treatment for mild sleep apnea. They work and are prescribed by sleep doctors and dentists for sleep apnea. They Zyppah is not an oral appliance for sleep apnea.

Do mouthpieces really work to stop snoring?

Mouthpieces work to stop snoring, but it takes time and effort to adapt to sleeping in a mouthpiece. Medical studies agree with the use of mandibular advancement with mouthpieces to stop snoring.
Other Recommendations and Final Thoughts
Zyppah may end up being a good option for you. Overall, I found the Zyppah mouthpiece to be a comfortable and effective snoring solution I would recommend.
Latest Update:  Priced at $110 (after shipping), there are cheaper mouthpieces now available, that have more features.    Also, they have stopped selling the pink and camo colors and are not offering any coupon codes online.
Is there anything better than waking up next to your loved one? Curling up together is  considered to be an essential factor in preserving a healthy and loving relationship – those who sleep together, stay together!
However, bonding aside, sharing a bed can often be a logistical nightmare that demands a synchronicity of sleeping habits that some couples simply cannot manage. Maybe you want to watch TV, and they don't. Maybe you like to catch up on your reading, whereas they'd rather get straight down to sleeping. Perhaps you prefer different bedtimes, sleeping positions or mattress firmness.
And (the biggie) what if they snore??
Make Your Side of the Bed Your Personal Sanctuary
As psychologically beneficial as bed sharing may be, there's no doubt that sleeping in the same bed as someone else often negatively impacts our quality of sleep. Furthermore, some studies based on interview data suggest that sleep problems such as insomnia and snoring contribute to marital problems.
The majority of people simply learn to live with the inconveniences of having a bed-buddy for the sake of preserving the intimacy in their relationship – but what if you could wake up next to your loved one having had a decent night's rest?
The revolutionary beds allow you to luxuriate in personal comfort without banishing anyone to the spare room. With an adjustable base, it's possible for both bedfellows to achieve the perfect sleeping conditions without compromising one another's comfort, and can even make it possible to put an end to your partner's snoring.
The Partner Snore technology allows you to raise and lower your partner's head with a touch of a button.
First, the Technology Inside the Sleep Number Bed
With its innovative adjustable base, the bed allows you to adjust several features to optimize your comfort for couples and overcome bedtime niggles in several different ways:
Mattress Firmness: This is a very personal preference that even the most compatible of lovers can fail to agree on. With DualAir technology, the bed makes it possible to find your ideal level of firmness, allowing optimal comfort and support based on your individual needs. As this feature is adjustable on separate sides of the mattress, you can find your perfect firmness without leaving your partner tossing and turning.
Position: The bed allows for position alteration on both sides of the mattress. If one of you wants to sit up and read while the other is ready for some shut-eye, you can achieve both without inconveniencing one another, allowing you to cohabit in perfect harmony.
Temperature: We all prefer different temperatures when we sleep. While some people seem always to be running on high heat, there are others among us who simply cannot get warm. This can lead to the bane of all bedfellows – cover hogging. With a DualTemp layer, the Sleep Number bed allows you to heat or cool each side of the bed individually, so you can both sleep just the way you like. The In Balance bedding is cleverly designed to absorb excess heat and slowly release it as your body naturally cools, allowing for a comfortable temperature throughout the night.
Snoring: A whopping 59% of people say their partner snores. If you happen to be a light sleeper, or if your partner is hitting decibels that wouldn't be out of place at a rock concert, this can be a serious issue for couples and can hinder a good night's rest like nothing else. With exclusive Partner Snore technology, the bed can put an end to the problem once and for all. With FlexFit 2 and FlexFit 3 adjustable bed bases, you can gently raise your partner's head with the touch of a button. This can open the airways, allowing them to breathe more easily (and quietly!) and allowing you to drift off undisturbed.
SleepIQ: With SleepIQ technology, the personal comfort bed is revolutionizing rest. By tracking how well you sleep each night and taking into consideration your daily routine and habits via your favorite health and wellness apps, SleepIQ technology provides insight into how life affects your sleep quality. SleepIQ can help you determine what factors of your daily routine are impacting on your sleep cycle and provides insight into the best way to optimize your lifestyle for a better rest at night.
Does Adjustability Work for Snoring?
The short answer is yes. Similiar to anti-snoring smart pillows,  raising the head is to reset the breathing patterns.   Right now, do you give your partner the elbow or or turn them over to stop their snoring?    The Sleep Number stop snoring theory is the same.
One anti-snoring smart pillow that raises and lowers the head, called the Nitetronic, saw a reduction in snoring in 100% of snorers.   The Sleep Number Partner Snore technology is the same concept.  However, you must wake up first and push a button.   How many times will you need to do this during the night?   Once you raise your partner up, it may be two hours before they start snoring again, or it may be ten minutes, in which case you will need to wake up again, and push the button again.
Most likely, you will have to raise you partner up, then lower you partner back down.  This is to change their head position completely.
As a buyer of the Sleep Number bed, you must decide if the price justifies the limited snoring help that the bed will provide.   If must wake up every time they start snoring what is the difference?
However, by allowing individuals to alter the firmness, positioning, and temperature on each separate side of the mattress, the Sleep Number bed makes it possible to optimize sleeping conditions on an individual basis. Clinically proven to alleviate back pain and improve sleep quality, the revolutionary technology implemented in every aspect of this bed has demonstrable benefits for everyone, no matter what your preferences.
When asked, a massive 89% of subjects report a better-quality sleep, and 93% reported back pain relief when using the Sleep Number bed. Given that we spend a third of our lives sleeping, it makes sense to invest in a bed that allows us to get the very best out of that time.
What Are the Benefits?
For light sleepers, the nocturnal movements and noises of our loved ones can have a significantly negative impact on our quality of sleep. Back pain is a common malady among adults and often comes due to sleeping in positions or on mattresses that are uncomfortable and unsuitable for our unique requirements. With the Sleep Number bed, it is finally possible to customize our bedtime conditions without inconveniencing anyone else, allowing us to sleep both comfortably and harmoniously.
The health benefits of high-quality sleep are significant and wide-reaching, with the positive effects of a decent slumber improving our lives in several different ways. Achieving a restful and restorative sleep each night can boost mood, bolster health, improve memory and increase our performance at work.
Healthy sleeping patterns can increase life span, heighten metabolism, and even make us more attractive! Most importantly, good sleep can improve our relationships with others – a well-rested person is a happy person, after all.
People often sacrifice the perfect sleeping conditions for the sake of snuggling up with their partners, but with the Sleep Number bed, it is possible to tailor bedtime to suit your individual preferences while maintaining a close and intimate relationship. So why wait? Invest in health, harmony, and happiness and make your side of the bed your personal sanctuary!
I've also reviewed a Sleep Number Pillow, and found it to be one of the most luxurious pillows on the market.
If you think you need more than a bed to help with your sleep and snoring, perhaps getting tested for Sleep Apnea is advisable. You can also take a look at the highest-rated anti-snoring mouthpieces available. I've tested all of them!
Both of these snoring mouth guards are classified as MADs (mandibular advancement devices), though the Zyppah is more of a hybrid device.
In my mind, both units are excellent options. However, SnoreRx has the edge over Zyppah due to its calibration functionality, comfort and superior customer service.
Zyppah and SnoreRx Mouthpieces Compared
Though I did have a better experience with one of the better anti snoring mouthpieces, I think that certain people may prefer one over the other based on their own preferences.  I suggest you read my experience and analysis below before deciding on Zyppah vs SnoreRX.
Zyppah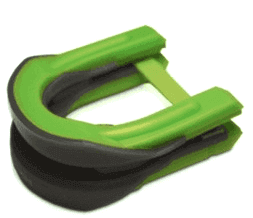 Zyppah forces the lower jaw into a forward position to reduce the risk of obstructing the airway. It is considered a hybrid, however, as it also has a TRD, though without the suction bulb on the end that most TRDs have. This stabilizes your tongue to help keep your airway open.
The unit is made exclusively in the United States and has been approved by the Food and Drug Administration (FDA).
My Zyppah Experience
I purchased my Zyppahs for my wife and me through the mail. It arrived quickly. There was no assembly required, though you have to pay careful attention to the fitting directions, as they require following each step precisely.
My wife and I got a good night sleep the first night wearing the Zyppah. I awoke refreshed. My wife reported that she heard no snoring coming from me and I heard none from here. We both had slightly sore mouths but after a few days of wear, the soreness disappeared.
Cleaning was easy, as it only required a cup, warm water, and a denture cleaning tablet. The sleek design did not require any additional scrubbing or removal of parts. After the two week trial, we both continued wearing our Zyppahs, as we were very satisfied with the results.
SnoreRx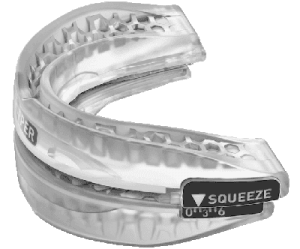 The SnoreRx looks a lot different from other MADs. This is because SnoreRx incorporates more sophisticated technology than other MADs.
One of the key features is the ability to fit SnoreRx to your mouth. It uses boil and bite, but also has a calibrator with six different, 1 mm apart, settings. You can use the calibrator even with the boil and bit fitting feature to further customize your fit.
My SnoreRx Experience
The fitting options were a bit overwhelming. My wife and I used the boil and bite fitting method, but then spent some time trying to get the perfect fit by using the calibrator function too.
My mouth was a bit sore after the first night's wear but my wife reported she felt fine. Each of us had a good nights' rest.
The biggest issue I had with the SnoreRx was the cleaning process, which took longer than expected. All the nooks and crannies required more attention than just dropping it in a glass of warm water and adding a cleaning tablet.
The second night I adjusted my SnoreRx slightly using the calibrators. This made a big difference as the next day my mouth was not sore at all. My wife and I both agree that the SnoreRx, despite its rather bulky appearance, is very comfortable to wear.
Note: Ordering two provides a substantial discount. The $99 price drops to $77 each, plus the $10 shipping.
My Recommendation
Both devices are comfortable to wear and function as designed. However, SnoreRx comes out ahead for several reasons.
The newest version of the SnoreRx device is super comfortable for me and definitely puts a stop to my snoring because of the precise calibration ability. Zyppah and SnoreRx both require cleaning and I suggest denture tablets and/or see my review on the iSonic Cleaner.
If you are only buying one for yourself, the Zyppah's price (use a coupon), and free shipping, makes it a better bargain. Update: Zyppah has increased their price to 99.95. Purchasing 2 from SnoreRx is the better deal.
Interested in a different selection? Here's a list of our top-rated mouthpieces, along with ratings and an understanding of how we created our scoring system.
Pillows seem simple. You fill a cloth bag with soft material, put it on a bed, and get a good night's sleep. It's the easiest thing in the world, and it's low-tech.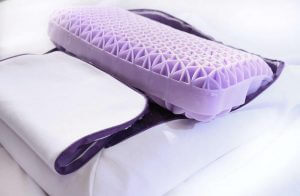 Why not a high-tech pillow, especially if it works really well?  The Purple Pillow won't connect you to the Internet, or play music. The tech in this pillow is in its construction, and it provides a great night's sleep.
Update:  You can now test the Purple Pillow risk-free for 100 Nights.
The Purple Company
These pillows are, in fact, rocket science. Founded by brothers Terry and Tony Pearce, Purple manufactures a full line of bedding and other cushioning products. In 2013, the brothers took their experience making wheelchair and other medical cushioning products to create their Purple mattresses, pillows, and accompanying bedding products.
Made with their patented Hyper-Elastic Polymer™, which stretches up to 15 times its resting size, the pillows (and mattresses) are designed to be as comfortable as possible.
Building on the success of Floam™, the Pearce brothers continued their search for lower-cost cushioning, and in 1996, they invented Hyper-Elastic Polymer™. It was initially in medical beds, as part of mattresses, and in smaller applications such as shoe insoles, pillows, and wheelchair cushions. By 2013, however, the Pearces had created the technology to manufacture Hyper-Elastic Polymer™ in a size large enough to cover a king size mattress at commercially viable rates and prices.
Bed for your Head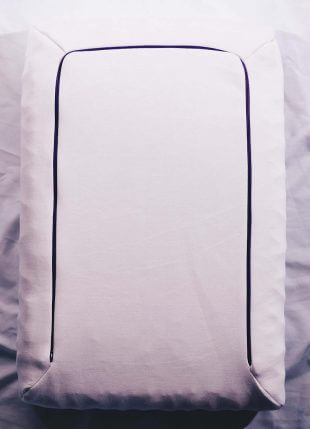 The first thing you'll notice about the Purple pillow is its weight—10.5 pounds. Despite the weight, the pillow has a good form factor—it's not too thick like many pillows. It has a good width for sleeping, and the included air-booster will keep those who like thicker pillows happy. The Purple Pillow is stable enough to keep your head inclined while wearing a snore guard such as zQuiet.
The Hyper-Elastic Polymer™ releases pressure where it needs to. It's laid out in a grid of cells. The cells are designed to yield only after weight over the weight threshold is reached. The walls then release and transfer the pressure to neighboring cells.
The net result is that high-pressure parts of your body—the head—sink in, while the low-pressure parts—your neck—are fully supported. In fact, the edges of the pillow are designed to be extra supportive of your neck. Air moves freely in the pillow, keeping your head cool.
Watch a video about the Purple Pillow
The Technology
The Hyper-Elastic Polymer™ is processed into a grid. The walls of each cell of the grid are designed to hold a certain amount of weight, and once that weight is exceeded, the walls yield. They transfer the weight to nearby walls.
The pillow (and mattress), thus relieves pressure as a soft mattress does, but it also provides support for spine and neck. It's a durable product. It shouldn't develop a body impression.
The durability also should remove the need to fluff the pillow. It will keep its shape for as long as you own it.
It also is designed for motion isolation—you won't feel someone else move in bed.
The cell design lets air flow freely. Moisture won't get trapped inside. The free air flow also should allow for a much cooler sleep than other products. Finally, it's naturally antimicrobial and hypoallergenic.
Engineering & Features of the 10lb Purple Pillow
My Experience (Full Purple Pillow Review)
As noted, it's heavy. Be prepared when you pick up the box. After opening, I tried it out for a nap. The coolness of the pillow struck me from the beginning. The continuous cool feeling remained throughout my nap. It feels like it's filled with a jiggly-soft gel (although it's not a gel). It has the right firmness for me, also. It's neither too firm nor too fluffy. It's very easy to fall asleep on. My wife tried the pillow also, and she was equally enthused.
I am so impressed by the comfort of this pillow that I want to get some to give as gifts. I'm even thinking about buying a pair for our guest room. Our guests will sleep well on them, and I know they'll also make a talking point—people love uniqueness. I can see this pillow replacing my authentic down feather pillow.
Purple markets this pillow as a "bed for your head", and I think they've nailed it. Because the Hyper-Elastic Polymer™ doesn't break down, it's a "forever pillow". While the $99 price tag sounds high for a pillow, I expect they could be the last pillows you'll ever buy. It's worth every penny we spent.
Test the Purple Pillow for 100 Nights Here
Minor Issues
The firmness around the edges can be a minor problem. If you are like me and move around a lot while sleeping, you might find your head on the edge—where it's firm. The edges are for neck support. Even getting off-center a bit will draw attention to that firmness.
This pillow is probably not a good pillow for stomach sleepers. Its heaviness makes it awkward to move around. Stomach sleepers need to adjust the pillow for their head and arms.
Pros
Coolness—the pillow is one of the coolest I've ever used; it seems to breathe.
Long-lasting—its apparent durability justifies the price.
Small form-factor—the thin design is perfect for neck support and spinal alignment, while the air booster will satisfy those who like thicker pillows.
100-day refund—if you're not satisfied, you can return the pillow within 100 days for a full refund.
Cons
Firm edges—if you move around while sleeping, you'll find your head on the firmer edges, which can lessen the comfort you experience.
The price—it's worth the price, but I expect many people will at least gulp before buying; with the return policy, however, I think you'll find this isn't a major problem.
Summary
If you are a back or side sleeper, I highly recommend this unique pillow. If you tend to sleep on the warm side, or are hot at night, this pillow will solve your problem with its continuous cooling—it's almost cold. It is a terrific, comfortable pillow which I can recommend without hesitation.
The ZQuiet, like the SnoreRX, holds your jaw slightly forward to keep your airway open. Each device belongs to a standard line of anti-snoring devices known as MADs (mandibular advancement device).
My wife and I tried both. Personally I prefer ZQuiet, but my wife found that she had slightly better results with the SnoreRX (due to her small mouth size).
My wife had a slight fitting issue with the ZQuiet the first night but I was able to resolve it the next morning by following directions provided by the company and trimming it with scissors.
We had no fitting issues with the SnoreRX as the Flex Jaw let us customize the fit before wearing it.
ZQuiet
The ZQuiet feels very comfortable in your mouth due to the soft, flexible construction. The device allows your mouth to remain slightly open so you can wear it if you are a mouth breather.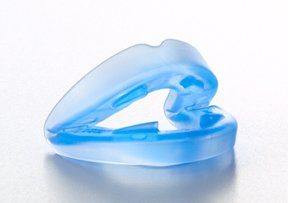 The loose fit surprised us. We expected the ZQuiet to slip out of our mouths during the night, a problem reported by some users. However, that never happened to us.
Cleaning was easy with a toothbrush and soap.
My ZQuiet Experience
ZQuiet provides everyone with two mouthpieces for the $79.95 price that vary in how far they advance your jaw. You simply slip one or the other in your mouth to determine which size is best for you. I had to trim my wife's slightly with scissors for it to fit properly.
My wife snored softly the first night though she reported no sounds coming out of me. My jaw was a bit sore but after the second night that went away.
After the two week trial, we both felt very comfortable with the ZQuiet. The construction even allows you to talk normally while wearing it. People with a deviated septum or who have a cold will like the ZQuiet too as it lets you breathe through your mouth while still keeping your air passage clear.
Cleaning took almost no time. The one-piece, soft construction cleaned up easily with a toothbrush and a little dish soap.
ZQuiet now ranks amongst my favorite anti-snoring devices.
SnoreRx
The odd shape of the SnoreRx made my wife and I a bit concerned about wearing it. The concerns were misplaced. The look comes from the technology associated with the Flex Jaw adjustment piece that is integral to the SnoreRX.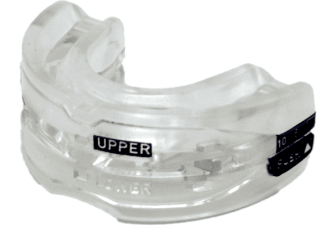 The boil and bite and Flex Jaw provide a very comfortable fit compared to many other MADs. There are ten settings, 1 mm apart that makes it feel as though you had it custom-made.
Cleaning requires more than just dropping it in a glass of warm water with a cleaning tablet. You will need to scrub some of the parts that have crevices and crannies in order to ensure you remove all bacteria.
My SnoreRx Experience
My wife and I took some time to carefully read the instructions before attempting to fit it into our mouths. We used the boil and bite method, then put them in our mouths and adjusted the fit with the Flex Jaw.
It took a second adjustment for me after the first night as I had a little soreness in my jaw when I awoke. The second adjustment worked as the soreness disappeared the second morning.
We both slept soundly and awoke refreshed. When I woke up in the middle of the night to put out the dog, I noticed my wife made no sound at all.
My son, who always stays up later than we do, said he could not hear either of us snoring.
Cleaning was a bit of a challenge but nothing too onerous. We had to scrub the crevices first before dropping them into warm water with a denture cleaning tablet.
My Recommendation
My wife and I agreed that the ZQuiet required the least amount of work and was the most comfortable. However, my wife was a bit disappointed that the ZQuiet did not completely stop her snoring.  Use the ZQuiet coupon when ordering.
The SnoreRx, once you fit it correctly to your mouth, kept both of us from snoring. Cleaning the SnoreRx takes longer than cleaning the ZQuiet does but after a while, we got used to it.  Use the SnoreRx coupon when ordering.
We've reviewed dozens of snoring mouth guards and rated them based on factors like comfort, durability etc.  Have a look at our best snoring mouthpiece list to see which ones are our overall favorites.
If you looking for a cheap no frills pillow, this pillow might be the solution.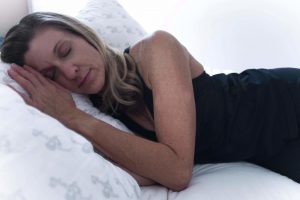 First, be aware that this is a low-cost pillow without many features.
My personal favorite is the Purple Pillow and is hands down better than MyPillow.   You will pay more for the Purple, however.
The Parent Company of MyPillow
The company story is a fascinating account of one man's journey to find the right pillow. After discovering that even the most expensive pillows would go flat over time and leave him with a stiff neck and sore arm, Mike Lindell began developing his own pillows.  After testing at least 90 different formulas and fills, Lindell finally came up with what he believes is the perfect pillow in the summer of 2004.
You've probably heard about MyPillow and not even realized it. It has been heavily advertised on TV and radio and in those commercials, you can see and hear Lindell's passion for his products. You can check out his enthusiasm for his product in this infomercial.
After his booming success with infomercials and ads, MyPillow is now the official pillow of the National Sleep Foundation. It is made in the USA and can be purchased online.
Fulfilling his dream, the pillow is machine washable and dryable and helps with neck and back pain. The company provides a 10-year warranty, and you can return it for any reason within sixty days and get your money refunded.
This is a regular pillow, not an anti-snoring pillow.   If you need help with snoring the SnoreRx is a great option, as is zQuiet.
How it Works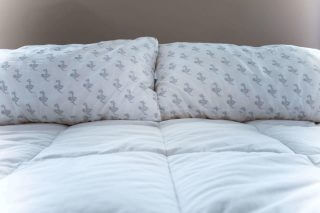 The company has a patented 3-piece interlocking fill that adjusts to your personal sleep needs regardless of your sleep position. By adjusting to your head throughout the night, the pillow keeps your head in a neutral position. This position allows you to fall asleep faster and stay asleep then wake with no neck and back pain.
These pillows are customizable to your needs. Using your t-shirt size as a guide, MyPillow's fitting guide (posted below) allows you to find the right pillow for your personal needs. We found this very useful in choosing the right pillow when purchasing.
My Pillow Fitting Guide
| | | |
| --- | --- | --- |
| T-shirt | Women | Men |
| Small | Yellow | White |
| Medium | White | White |
| Large | White | Green |
| XL | Green | Green |
| XXL | Green | Blue |
| XXXL | Blue | Blue |
Important: If your body is accustomed to sleeping on down or feather pillows, you should reduce one level of support. For example, if the chart recommends a "white" for you, drop one level to "yellow." Read our full description of the MyPillow Color Codes to ensure a proper selection.
My Experience and Review
I have used pillows like this one in the past but seem to gravitate back toward down feather pillows. I was hopeful that well know pillow company would change that.
The company website requires you to buy two pillows when you order.  You can buy one here though.  While I normally would just buy one pillow, I was comfortable with this requirement as I was able to customize each pillow. I ordered both the white and blue colored pillows. The white pillow is smaller and thinner compared to the blue pillow. I used the blue pillow and my wife used the white.
When we first received the pillows, my wife and I noticed that they seemed lumpy. Despite appearances, however, the pillows were comfortable to sleep on and we did not have any trouble adjusting to them and falling asleep. The pillows lived up to their promise of remaining cool. I did not overheat at night or sweated like I did with my old pillow.
Video Of Features & Filling
Overall, my wife and I considered this pillow to be average.  After a while, the MyPillow did seem to get a little lumpy and there were pieces of foam stuck in various parts of the cover. At $50 this is a good-quality pillow compared to other pillows of the same design.
Newer pillows on the market, such as the Tempurpedic pillows are more expensive, but they do contain a more effective cooling memory foam. By spending a few extra dollars, you can purchase the best-in-class Purple Pillow.
Pros
Mid-Range Cost and Comfort Level. It is a mid-range cost pillow that comes a mid-range comfort level. I slept well with this pillow, but I've slept better with pillows that cost a little bit more. When it first hit the market, it was considered state of the art. Now, with so many pillows made of similar material, it is not as revolutionary as it once was. It is, however, still a good value for what you get. There are several online coupon codes circulating for MyPillow, but we were not successful in getting them to work. Because the cost of the pillows was already reasonable, we were not too upset that they did not work- you may have better success at getting them to work.
Easy Care. How to clean your pillow is one of life's little mysteries. They solve that mystery by being machine washable and dryable, which is a big bonus in my book.
Strong Money-Back Guarantee and Warranty. The company has a 60-day money back guarantee. With two months of pillow usage, you can get a solid sense of how the pillow is going to hold up for you in the long run. They will refund 100% of the purchase price (less shipping costs) for any reason within the first 60 days of purchase. Additionally, products come with a 10-year limited warranty on workmanship and material defects. If the pillow goes flat during the 10 years, regardless of how many times the pillow has been washed, the company will replace it with another pillow of equal or greater value and cover the shipping charges.
Other Products. If this pillow works out for you, you might also want to consider some of the other products made by the same company. MyPillow also sells pillow covers, bed sheets, mattress toppers, travel pillows and even pet beds!
Made in the USA. They are manufactured in the USA.
Cons
Lumps. After a couple of nights' use, the pillow became lumpy and there were bits of foam on the pillow. This definitely took away from my experience.
Two-Pack Offer. Only sold in packs of two. While each pillow you buy can be customized (you can buy one for you and one for your spouse), you do not have the option to only purchase one pillow. The Better Business Bureau does not approve of the two-for-one pricing scheme and has given them a low rating as a result. Provided you are aware that you are being forced into purchasing two pillows, this is not detrimental to my recommendation.
Our Recommendation
Instead of a pretty regular pillow, our personal favorite is the Purple Pillow with its unique design.   It really is a "Bed-for-your-head".   You can read more about Purple Pillow here.
However, the MyPillow is a mid-cost pillow that might just be your solution to a solid night's sleep. You can view some of the common complaints here. With its reasonable cost and 60-day guarantee, there is no harm is testing out the pillow and seeing if it works for you.
CPAPs (Continuous Positive Airway Pressure) are machines that push air into your airway to keep it open and positively stop snoring. A ZQuiet is a mandibular advancement device or MAD that you wear inside your mouth.
It keeps your jaw pushed forward and keeps your air passage open.   Instead of being considered a CPAP device, the ZQuiet is categorized with other anti snoring mouthpieces.
CPAP machines have several parts including mask, hose, and filter, and require AC or battery power to function. ZQuiet is made of one piece of pliable plastic.
ZQuiet and CPAP Snoring Solutions Compared
People suffering from severe sleep apnea almost always opt for CPAPs. However, the MADS like the ZQuiet have a good record of success in stopping people from snoring as well.
ZQuiet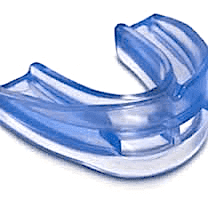 A ZQuiet is manufactured from soft, pliable plastic. Your mouth remains slightly open, allowing you to breathe through your mouth or nose. This permits people that have a deviated septum or otherwise can't breathe through their nose to wear them.
The device fits very loosely in your mouth. At first, you expect it to fall out but that does not happen.
The cleaning process is one of the easiest of any MADS on the market. You merely need a toothbrush and dish soap, then rinse it off with warm water.
My ZQuiet Experience
We were surprised when, upon opening the box, there were four ZQuiets. When you order one, the company sends you two, one that is smaller than the other is. The directions tell you to slip each one in your mouth to determine the best fit.
If, as in the case of my wife, the ZQuiet is too big, the company provides directions on how to trim it with scissors.
The first night went well. My wife and I awoke refreshed. I did hear my wife snore very softly, but she claims I made no noise.
My jaw, however, was a bit sore after that first night. However, apparently my mouth adapted well as by the second morning I felt fine.
Talking too, unlike with some stop snoring devices, was easy since the ZQuiet did not require your mouth to close completely.
The cleaning was the fun part. The one-piece construction meant no crevices that took special care to clean, so within a minute or two we were done.
CPAP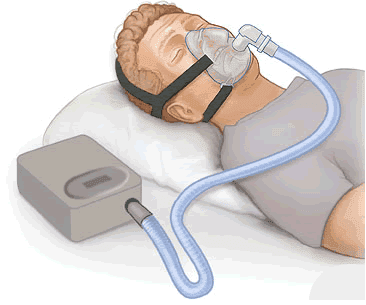 The CPAP, though relatively simple to operate, comes in several parts. There is a mask, tubing, the actual machine/air pump and filter.
The mask slips over your head and you use nasal plugs. Once you have it all together, using it the first time requires simply slipping the mask over your head, adjusting the straps and plugs, and then turning the machine on.
You must disassemble it for proper cleaning with warm soapy water.
You may also need a CPAP humidifier, which costs extra, as the dry air pushed into your airway can be uncomfortable to some.
The CPAP Experience
You cannot purchase a CPAP with a doctor's prescription. If you don't go to your own physician for a sleep assessment, you will need to fill out a questionnaire provided by the CPAP company, and let their doctors evaluate and approve you as a candidate for the machine.
The approval process through the company's doctors may take a week to ten days.
With the prescription, you can order the device. Most ship immediately.
To clean it, first you disconnect all hoses, the mask, and remove the filter from the machine. Then you clean each part with warm soapy water. You can wipe down the machine with a slightly damp cloth.
Most companies recommend cleaning once a week but users tend to clean it at least once every other day.
The CPAP works. You will not snore if you fit the mask and wear it properly.
My Recommendation
The ZQuiet, unless your doctor orders otherwise, costs much less than a CPAP. Unless your medical insurance covers it, the CPAP can be very expensive.
The ZQuiet cleans much easier than the CPAP does. There are no moving parts and nothing to break or replace.
Sleep apnea suffers may find that the CPAP is a medical necessity. In that case, you probably have a good chance of your insurance covering all or part of the costs.
Note that the ZQuiet trial also lets you try the snoring mouthpiece for a reduced price for the first month.
Studies have shown sleeping on an incline can reduce many sleeping issues such as acid reflux, snoring, and allergies. The InteVision Foam Wedge Pillow is built off this principle.
In addition to its unique shape and size, what really stands out about this pillow are the Amazon reviews. There are plenty of anti-snoring pillows on the market, but few (if any!) receive over 1,200 four-star reviews on Amazon.
With all the fanfare of this pillow, I thought it was time to test it out for myself and see if the pillow is worth all the buzz.
About the InteVision Foam Wedge Pillow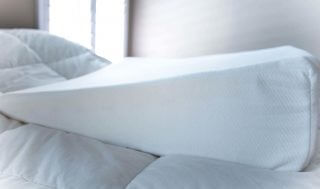 From the picture, you can see the wedge pillow stands up to its name. Its dimensions are 26" x 25" x 7", so it's not small. The wedge pillow is white in color and is composed of 2 layers of material: the base layer is a firm foam, and the top layer is 1" memory foam.
This two-material design has incorporated built-in channels between the two layers to increase air circulation. Included with the pillow is a machine-washable white cover. Because of the pillow's popularity, the manufacturers have also released an optional 400 thread count, 100% Egyptian cotton pillowcase.
The wedge design of the pillow is intended to provide a firm cushion while also providing gentle support to raise the upper body. Sleeping on a wedge causes you to sleep upright, which can improve snoring as well as other types of sleeping problems such as acid reflux, poor circulation, and neck and back problems and even post-nasal drip.
The pillow can also be used to elevate the legs if that is your sleeping need. It can also be used as a trunk stabilizer if you need support while sleeping on your side. The gentle slope of the pillow is intended to keep airways open, thereby reducing or even eliminating snoring.
My Experience
With so many outstanding reviews of this pillow on Amazon, I really needed to purchase this pillow and test it out. So many people mentioned in their reviews the pillow either helped or eliminated their snoring altogether! At $33.36, this pillow was a great deal on Amazon.
The package arrived tightly rolled in a compact box. After removing the packaging, I had to wait about 2 hours for the wedge to open to its full size. I purchased the wedge that has a gentle slope up to 7.5", but if that is not steep enough for you, the manufacturer also sells this same pillow with a 12" incline.
I was amused when I placed the pillow on my bed. To say it's a big pillow would be an understatement. Sleeping on an incline seemed a bit odd, but it wasn't uncomfortable and I quickly got used to it. Despite its incline, I had no problem falling asleep on the pillow.
Overall the pillow was very comfortable, and it was incredibly easy to fall asleep.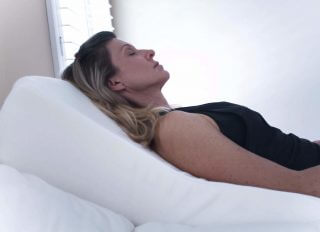 As with all the other anti-snoring devices I've reviewed, I needed to see if the pillow was not only comfortable but also worth my money as an anti-snoring device. I turned on the snoring app on my phone, SnoreLab, and went to bed.
When I checked the app in the morning, I saw that I had no visible decrease in my snoring for the night. I snored in the first hour and then again in the early morning. My wife did mention that she woke up during the night and I was snoring a little at that time.
She also said I was sleeping on my back, which is the position in which most snoring occurs. The wedge pillow is so comfortable for back sleeping; I can see how I would have naturally gravitated to a supine position.
I was a little disappointed the pillow did not reduce my snoring, so I did some more research. I checked the Amazon reviews and saw the reviewers that said the pillow helped reduce their snoring were either allergy snorers or nasal snorers. I am neither of those, and this pillow did not work for my type of snoring.
InteVision Wedge Pillow Video
More Testing with the Wedge Pillow
Although I had one night with poor results, I wanted to give this popular pillow one more night. This time, I decided to combine the pillow with a positional therapy device called the SlumberBump. The SlumberBump fits around my chest area with an inflated bag on my back. This configuration prevents me from being able to sleep on my back at night. By using the SlumberBump, I wanted to see how the InteVision Wedge Pillow would work for side sleepers.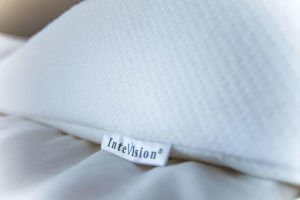 When I woke up the next morning, I saw that my snore score had decreased 50% when using the SlumberBump. But, I could not tell if the reason my snoring went down for the night was because of the positional therapy device or the pillow.
In the end, I will not continue using the InteVision Wedge Pillow because the only way it reduced my snoring was with a positional therapy device in place. I find wearing a positional therapy device to be uncomfortable and if wearing one to force side sleeping is the only way to decrease my snoring with this pillow, I will choose another method.
Pros
Cost. Anti-snoring pillows run the gamut when it comes to pricing and the InteVision is in the low range. Easy shipping from Amazon and a low cost are a plus for this pillow.
Great for Snoring Caused by Allergies or Nasal Snoring. Amazon reviewers who love this pillow tend to snore either due to allergies or because they are nasal snorers. If you fall in either of those categories, this pillow might be a reasonable solution for you.
Great for Side Sleepers. If you are the type of person that sleeps on your side, you might want to give this pillow a try. I saw a 50% decrease in my snoring when I was forced to sleep on my side. Although being forced into that position with the SlumberBump was uncomfortable for me. If sleeping on your side is comfortable for you, this pillow might help with your snoring.
Cons
Slipping. Several Amazon reviewers said that they slipped down the pillow when using it. I did not have this problem, but I also did not use the pillow case. The pillow case may cause the slippage, so you might want to try it without the pillow case if you have problems with slipping.
Not for Stomach Sleepers. This pillow is not for people who like to sleep on their stomach. It is impossible to sleep on your stomach unless you position yourself at the bottom of the pillow where it is thin. Sleeping that far down on the wedge is not comfortable.
Last Thoughts
The InteVision Wedge Foam Pillow seems to only work for side sleepers, nasal snorers or allergy sufferers. If you are a mouth breather and snore, take a look at a tongue trainer such as the "Dream Sipper".
Because this pillow only works for certain types of snorers, we cannot rate it very high. Although more expensive, the Nitetronic pillow has been proven to be effective in a 2014 sleep study. You can view our Nitetronic anti-snoring pillow review here.