Pillows seem simple. You fill a cloth bag with soft material, put it on a bed, and get a good night's sleep. It's the easiest thing in the world, and it's low-tech.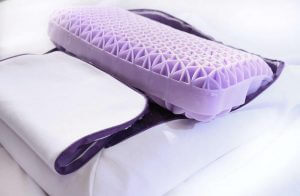 Why not a high-tech pillow, especially if it works really well?  The Purple Pillow won't connect you to the Internet, or play music. The tech in this pillow is in its construction, and it provides a great night's sleep.
Update:  You can now test the Purple Pillow risk-free for 100 Nights.
The Purple Company
These pillows are, in fact, rocket science. Founded by brothers Terry and Tony Pearce, Purple manufactures a full line of bedding and other cushioning products. In 2013, the brothers took their experience making wheelchair and other medical cushioning products to create their Purple mattresses, pillows, and accompanying bedding products.
Made with their patented Hyper-Elastic Polymer™, which stretches up to 15 times its resting size, the pillows (and mattresses) are designed to be as comfortable as possible.
Building on the success of Floam™, the Pearce brothers continued their search for lower-cost cushioning, and in 1996, they invented Hyper-Elastic Polymer™. It was initially in medical beds, as part of mattresses, and in smaller applications such as shoe insoles, pillows, and wheelchair cushions. By 2013, however, the Pearces had created the technology to manufacture Hyper-Elastic Polymer™ in a size large enough to cover a king size mattress at commercially viable rates and prices.
Bed for your Head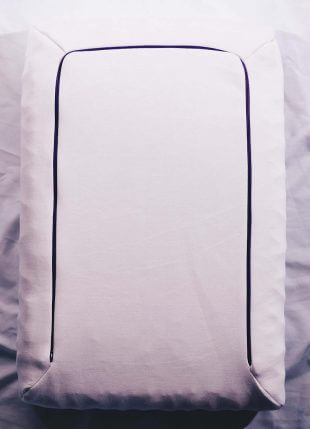 The first thing you'll notice about the Purple pillow is its weight—10.5 pounds. Despite the weight, the pillow has a good form factor—it's not too thick like many pillows. It has a good width for sleeping, and the included air-booster will keep those who like thicker pillows happy. The Purple Pillow is stable enough to keep your head inclined while wearing a snore guard such as ZQuiet.
The Hyper-Elastic Polymer™ releases pressure where it needs to. It's laid out in a grid of cells. The cells are designed to yield only after weight over the weight threshold is reached. The walls then release and transfer the pressure to neighboring cells.
The net result is that high-pressure parts of your body—the head—sink in, while the low-pressure parts—your neck—are fully supported. In fact, the edges of the pillow are designed to be extra supportive of your neck. Air moves freely in the pillow, keeping your head cool.
Watch a video about the Purple Pillow
The Technology
The Hyper-Elastic Polymer™ is processed into a grid. The walls of each cell of the grid are designed to hold a certain amount of weight, and once that weight is exceeded, the walls yield. They transfer the weight to nearby walls.
The pillow (and mattress), thus relieves pressure as a soft mattress does, but it also provides support for spine and neck. It's a durable product. It shouldn't develop a body impression.
The durability also should remove the need to fluff the pillow. It will keep its shape for as long as you own it.
It also is designed for motion isolation—you won't feel someone else move in bed.
The cell design lets air flow freely. Moisture won't get trapped inside. The free air flow also should allow for a much cooler sleep than other products. Finally, it's naturally antimicrobial and hypoallergenic.
Engineering & Features of the 10lb Purple Pillow
My Experience (Full Purple Pillow Review)
As noted, it's heavy. Be prepared when you pick up the box. After opening, I tried it out for a nap. The coolness of the pillow struck me from the beginning. The continuous cool feeling remained throughout my nap. It feels like it's filled with a jiggly-soft gel (although it's not a gel). It has the right firmness for me, also. It's neither too firm nor too fluffy. It's very easy to fall asleep on. My wife tried the pillow also, and she was equally enthused.
I am so impressed by the comfort of this pillow that I want to get some to give as gifts. I'm even thinking about buying a pair for our guest room. Our guests will sleep well on them, and I know they'll also make a talking point—people love uniqueness. I can see this pillow replacing my authentic down feather pillow.
Purple markets this pillow as a "bed for your head", and I think they've nailed it. Because the Hyper-Elastic Polymer™ doesn't break down, it's a "forever pillow". While the $99 price tag sounds high for a pillow, I expect they could be the last pillows you'll ever buy. It's worth every penny we spent.
Test the Purple Pillow for 100 Nights Here
Minor Issues
The firmness around the edges can be a minor problem. If you are like me and move around a lot while sleeping, you might find your head on the edge—where it's firm. The edges are for neck support. Even getting off-center a bit will draw attention to that firmness.
This pillow is probably not a good pillow for stomach sleepers. Its heaviness makes it awkward to move around. Stomach sleepers need to adjust the pillow for their head and arms.
Pros
Coolness—the pillow is one of the coolest I've ever used; it seems to breathe.
Long-lasting—its apparent durability justifies the price.
Small form-factor—the thin design is perfect for neck support and spinal alignment, while the air booster will satisfy those who like thicker pillows.
100-day refund—if you're not satisfied, you can return the pillow within 100 days for a full refund.
Cons
Firm edges—if you move around while sleeping, you'll find your head on the firmer edges, which can lessen the comfort you experience.
The price—it's worth the price, but I expect many people will at least gulp before buying; with the return policy, however, I think you'll find this isn't a major problem.
Summary
If you are a back or side sleeper, I highly recommend this unique pillow. If you tend to sleep on the warm side, or are hot at night, this pillow will solve your problem with its continuous cooling—it's almost cold. It is a terrific, comfortable pillow which I can recommend without hesitation.