Snoring mouthpieces are not much to look at - so I at least give credit to Zyppah for trying.  The Zyppah product is classified as a mandibular advancement device (MAD) and its black and neon green (also available in other colors).
Update: Some readers have left reviews about issues with me about Zyppah's poor customer service.  I didn't have any issues personally but read the comments for other people's experiences.
Many readers rate SnoreRx customer service as top quality. They always stand behind their 30-day guarantee and their latest device is my #1 choice.
Zyppah Review Video: Unboxing, and Features
Zyppah Review: Positives and Negatives
Like all anti snoring devices that I have reviewed, I like to make sure I share both the pros and cons so that everyone can make an educated decision.
Pros
Hybrid device design holds the jaw forward and tongue stationary to keep your airway clear while you sleep.
The Zyppah device is American-made, BBB-accredited, and FDA-cleared.
The design is pretty comfortable, and it's made from a BPA-free material. Even the rubber piece across the tongue is comfortable.
The fitting process allows you to achieve a precise fit.
Airflow hole lets you breathe through your mouth while you're sleeping.
Zyppah device has a 30-day satisfaction guarantee and free shipping and handling.
The sporty design is ideal for people self-conscious about wearing a mouthpiece.
Designed by a dentist, and affiliated with five Snore No More facilities located in California that specializes in snoring and sleep apnea.
Cons
The fitting process is a little more specific than other devices.
May cause drooling and jaw soreness while you get used to it.
Need to keep denture tabs on-hand for cleaning.
Can't be worn by people with dentures, loose teeth, crowns, or bridge work.
The Zyppah device makes it very hard to swallow during use, which makes falling asleep almost impossible.
Overall I had a great experience with the mouthpiece and think that it will be the perfect fit for a lot of snorers.  Particularly compared to other mouthpieces I found it relatively comfortable and effective, and a few other Zyppah reviews I read said the same.
Click here to see my favorite snoring mouthpieces
Zyppah Customer Review
What is Zyppah?
The first thing to note is that there are four versions of the Zyppah devices. This review is the one that can be ordered online without a prescription. If you live in California, there are five Snore No More centers that sell three other versions that are significantly more expensive and need to be prescribed and custom-fitted by a doctor.
Like other MADs and anti-snoring devices, Zyppah positions the lower jaw in a forward position to help reduce the risk of the airway experiencing a partial obstruction. However, Zyppah is actually a hybrid snoring device because similar to a tongue retaining device (TRD), it stabilizes your tongue, too. It may not have a suctioned bulb on the end like what you would expect from a TRD, but the concept is there. The tongue gets held in place by a rubber-like strap that is a lot softer than it looks.
Zyppah is made in the USA, FDA-cleared, BBB-accredited, and designed by a dentist. You do have to use a fitting process, and it does have an airflow hole to allow you to breathe through your mouth.
How it Works
If you snore then you have some soft tissues vibrating in your airway. When you fall asleep, your tongue collapses toward your throat because your muscles relax.
When this happens, the soft palate and uvula can cause a partial obstruction. At the same time, the muscles in your neck have also relaxed, so soft tissues in your throat are closer together.
In many people, the soft throat tissues tough the soft palate and uvula are permitted to touch. When air is pushed through it causes these tissues to vibrate. The vibration causes the snoring sound.
Zyppah holds your lower jaw forward and keeps your tongue stationary, so the soft palate and uvula don't collapse into the throat. When tissues are not permitted to touch, they don't vibrate.
My Zyppah Review
I ordered two Zyppah mouthpieces. Words can't describe how eager my wife was to try this one. She liked the looks of it as much as I did. Of course, we both know that appearances can be deceiving, so we tried not to get overly excited about this one in fear of it being a total let down.
The oral appliances were $99.95 each, including shipping and handling, which was in the mid-priced range of all the devices I had tried to that point. I also noticed that it came with a 30-day satisfaction guarantee, but I haven't really dug into what that means.
The package arrived quickly even though I didn't pay for any type of upgraded shipping. My wife was already smitten before we even opened it. As she carried the vibrantly colored and decorated package in the house, you could tell she felt like she was receiving a special gift. I admit it made me smile, too.
Zyppah has a very specific fitting process that must be followed. I'm glad she actually read through the instructions because I was ready to just heat a pot of water and apply the generic boil-and-bite fitting process I had grown so accustomed to. It's certainly not hard to get an accurate fit with Zyppah, but you do need to follow the steps listed.
The first night we agreed the mouthpiece was very comfortable. My allergies were acting up just a bit, so I appreciated the airflow hole.
We both woke up before the alarm the next morning. I felt more energized than I had been in a long time. My wife said she heard no snoring coming from me when she let the dog out for his early morning bathroom break.
While she made breakfast, I cleaned both our devices using a denture tablet. They are really easy to clean because there are not a lot of crevices like you find on some other stop snoring mouthpieces.
My jaw was not as sore as it had been with previous devices. She said her jaw was fairly sore, but by the fourth morning, the soreness was gone.
After the 14-day trial was over, we thought Zyppah was a nice choice, but I still highly recommend SnoreRx or ZQuiet. If you can't stand the thought of a mouthpiece, take a look at my Good Morning Snore Solution review. Hint: It's not a mouthpiece, it's a TRD.
As of August 6, 2018, the price of a Zyppah is $99.95, and the average standard shipping rate is $9.95, which brings the total cost to $109.90. Priority Shipping and Overnight Shipping is available for an additional charge. The Zyppah device is sold in packs of two for $169.95.

Can Zyppah Be Used For Sleep Apnea?

The Zyppah is an over-the-counter oral appliance that is not FDA-Approved for sleep apnea and should not be used for sleep apnea. A mouth guard custom-fit by a dentist is the prescription for mild sleep apnea. Moderate to strong sleep apnea sufferers should use PAP (Positive Airway Pressure).

The Zyppah is "FDA Cleared" for snoring and not "FDA Approved." The oral appliances FDA Approved for sleep apnea are custom-fit and prescribed by dentists.

What does a Zyppah look like?

The Zyppah is a mouthpiece (like a mouth guard) that fits around the gums and teeth. It comes in a variety of colors including green and pink. It is small and is custom-fit by using a boil and bite method. A small bar within the mouthpiece keeps the tongue in place.

What does Zyppah stand for?

Zyppah stands for being happy while sleeping (ZZZ). The word itself is "Happy Z" spelled backward. Since the product decreases snoring it makes both the snorer and snorers partner happy during sleep.

How can I stop snoring ASAP?

Snoring mouthpieces are one way to stop snoring ASAP. They can be worn immediately and stop snoring the first night of use. Other methods of immediate snoring treatment are positional trainers, jaw straps, and CPAP.

What is the best thing to stop snoring?

The best thing to stop snoring is different for every person. Some snorers prefer mouthpieces, some prefer CPAP, and some prefer natural methods such as losing weight.

Do dental devices for sleep apnea work?

Dental devices, also known as oral appliances for sleep apnea, are the first line of treatment for mild sleep apnea. They work and are prescribed by sleep doctors and dentists for sleep apnea. They Zyppah is not an oral appliance for sleep apnea.

Do mouthpieces really work to stop snoring?

Mouthpieces work to stop snoring, but it takes time and effort to adapt to sleeping in a mouthpiece. Medical studies agree with the use of mandibular advancement with mouthpieces to stop snoring.
Other Recommendations and Final Thoughts
Zyppah may end up being a good option for you. Overall, I found the Zyppah mouthpiece to be a comfortable and effective snoring solution I would recommend.
Latest Update:  Priced at $110 (after shipping), there are cheaper mouthpieces now available, that have more features.    Also, they have stopped selling the pink and camo colors and are not offering any coupon codes online.
Pillows seem simple. You fill a cloth bag with soft material, put it on a bed, and get a good night's sleep. It's the easiest thing in the world, and it's low-tech.
Why not a high-tech pillow, especially if it works really well?  The Purple Pillow won't connect you to the Internet, or play music. The tech in this pillow is in its construction, and it provides a great night's sleep.
Update:  You can now test the Purple Pillow risk-free for 100 Nights.
The Purple Company
These pillows are, in fact, rocket science. Founded by brothers Terry and Tony Pearce, Purple manufactures a full line of bedding and other cushioning products. In 2013, the brothers took their experience making wheelchair and other medical cushioning products to create their Purple mattresses, pillows, and accompanying bedding products.
Made with their patented Hyper-Elastic Polymer™, which stretches up to 15 times its resting size, the pillows (and mattresses) are designed to be as comfortable as possible.
Building on the success of Floam™, the Pearce brothers continued their search for lower-cost cushioning, and in 1996, they invented Hyper-Elastic Polymer™. It was initially in medical beds, as part of mattresses, and in smaller applications such as shoe insoles, pillows, and wheelchair cushions. By 2013, however, the Pearces had created the technology to manufacture Hyper-Elastic Polymer™ in a size large enough to cover a king size mattress at commercially viable rates and prices.
Bed for your Head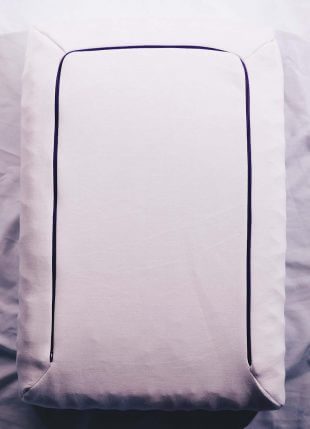 The first thing you'll notice about the Purple pillow is its weight—10.5 pounds. Despite the weight, the pillow has a good form factor—it's not too thick like many pillows. It has a good width for sleeping, and the included air-booster will keep those who like thicker pillows happy. The Purple Pillow is stable enough to keep your head inclined while wearing a snore guard such as zQuiet.
The Hyper-Elastic Polymer™ releases pressure where it needs to. It's laid out in a grid of cells. The cells are designed to yield only after weight over the weight threshold is reached. The walls then release and transfer the pressure to neighboring cells.
The net result is that high-pressure parts of your body—the head—sink in, while the low-pressure parts—your neck—are fully supported. In fact, the edges of the pillow are designed to be extra supportive of your neck. Air moves freely in the pillow, keeping your head cool.
Watch a video about the Purple Pillow
The Technology
The Hyper-Elastic Polymer™ is processed into a grid. The walls of each cell of the grid are designed to hold a certain amount of weight, and once that weight is exceeded, the walls yield. They transfer the weight to nearby walls.
The pillow (and mattress), thus relieves pressure as a soft mattress does, but it also provides support for spine and neck. It's a durable product. It shouldn't develop a body impression.
The durability also should remove the need to fluff the pillow. It will keep its shape for as long as you own it.
It also is designed for motion isolation—you won't feel someone else move in bed.
The cell design lets air flow freely. Moisture won't get trapped inside. The free air flow also should allow for a much cooler sleep than other products. Finally, it's naturally antimicrobial and hypoallergenic.
Engineering & Features of the 10lb Purple Pillow
My Experience (Full Purple Pillow Review)
As noted, it's heavy. Be prepared when you pick up the box. After opening, I tried it out for a nap. The coolness of the pillow struck me from the beginning. The continuous cool feeling remained throughout my nap. It feels like it's filled with a jiggly-soft gel (although it's not a gel). It has the right firmness for me, also. It's neither too firm nor too fluffy. It's very easy to fall asleep on. My wife tried the pillow also, and she was equally enthused.
I am so impressed by the comfort of this pillow that I want to get some to give as gifts. I'm even thinking about buying a pair for our guest room. Our guests will sleep well on them, and I know they'll also make a talking point—people love uniqueness. I can see this pillow replacing my authentic down feather pillow.
Purple markets this pillow as a "bed for your head", and I think they've nailed it. Because the Hyper-Elastic Polymer™ doesn't break down, it's a "forever pillow". While the $99 price tag sounds high for a pillow, I expect they could be the last pillows you'll ever buy. It's worth every penny we spent.
Test the Purple Pillow for 100 Nights Here
Minor Issues
The firmness around the edges can be a minor problem. If you are like me and move around a lot while sleeping, you might find your head on the edge—where it's firm. The edges are for neck support. Even getting off-center a bit will draw attention to that firmness.
This pillow is probably not a good pillow for stomach sleepers. Its heaviness makes it awkward to move around. Stomach sleepers need to adjust the pillow for their head and arms.
Pros
Coolness—the pillow is one of the coolest I've ever used; it seems to breathe.
Long-lasting—its apparent durability justifies the price.
Small form-factor—the thin design is perfect for neck support and spinal alignment, while the air booster will satisfy those who like thicker pillows.
100-day refund—if you're not satisfied, you can return the pillow within 100 days for a full refund.
Cons
Firm edges—if you move around while sleeping, you'll find your head on the firmer edges, which can lessen the comfort you experience.
The price—it's worth the price, but I expect many people will at least gulp before buying; with the return policy, however, I think you'll find this isn't a major problem.
Summary
If you are a back or side sleeper, I highly recommend this unique pillow. If you tend to sleep on the warm side, or are hot at night, this pillow will solve your problem with its continuous cooling—it's almost cold. It is a terrific, comfortable pillow which I can recommend without hesitation.
If you looking for a cheap no frills pillow, this pillow might be the solution.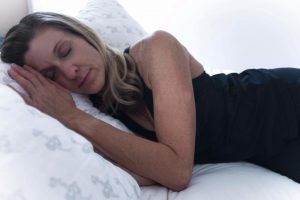 First, be aware that this is a low-cost pillow without many features.
My personal favorite is the Purple Pillow and is hands down better than MyPillow.   You will pay more for the Purple, however.
The Parent Company of MyPillow
The company story is a fascinating account of one man's journey to find the right pillow. After discovering that even the most expensive pillows would go flat over time and leave him with a stiff neck and sore arm, Mike Lindell began developing his own pillows.  After testing at least 90 different formulas and fills, Lindell finally came up with what he believes is the perfect pillow in the summer of 2004.
You've probably heard about MyPillow and not even realized it. It has been heavily advertised on TV and radio and in those commercials, you can see and hear Lindell's passion for his products. You can check out his enthusiasm for his product in this infomercial.
After his booming success with infomercials and ads, MyPillow is now the official pillow of the National Sleep Foundation. It is made in the USA and can be purchased online.
Fulfilling his dream, the pillow is machine washable and dryable and helps with neck and back pain. The company provides a 10-year warranty, and you can return it for any reason within sixty days and get your money refunded.
This is a regular pillow, not an anti-snoring pillow.   If you need help with snoring the SnoreRx is a great option, as is zQuiet.
How it Works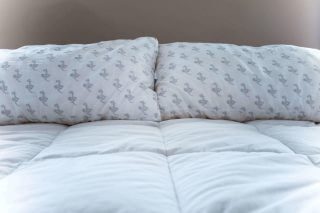 The company has a patented 3-piece interlocking fill that adjusts to your personal sleep needs regardless of your sleep position. By adjusting to your head throughout the night, the pillow keeps your head in a neutral position. This position allows you to fall asleep faster and stay asleep then wake with no neck and back pain.
These pillows are customizable to your needs. Using your t-shirt size as a guide, MyPillow's fitting guide (posted below) allows you to find the right pillow for your personal needs. We found this very useful in choosing the right pillow when purchasing.
My Pillow Fitting Guide
| | | |
| --- | --- | --- |
| T-shirt | Women | Men |
| Small | Yellow | White |
| Medium | White | White |
| Large | White | Green |
| XL | Green | Green |
| XXL | Green | Blue |
| XXXL | Blue | Blue |
Important: If your body is accustomed to sleeping on down or feather pillows, you should reduce one level of support. For example, if the chart recommends a "white" for you, drop one level to "yellow." Read our full description of the MyPillow Color Codes to ensure a proper selection.
My Experience and Review
I have used pillows like this one in the past but seem to gravitate back toward down feather pillows. I was hopeful that well know pillow company would change that.
The company website requires you to buy two pillows when you order.  You can buy one here though.  While I normally would just buy one pillow, I was comfortable with this requirement as I was able to customize each pillow. I ordered both the white and blue colored pillows. The white pillow is smaller and thinner compared to the blue pillow. I used the blue pillow and my wife used the white.
When we first received the pillows, my wife and I noticed that they seemed lumpy. Despite appearances, however, the pillows were comfortable to sleep on and we did not have any trouble adjusting to them and falling asleep. The pillows lived up to their promise of remaining cool. I did not overheat at night or sweated like I did with my old pillow.
Video Of Features & Filling
Overall, my wife and I considered this pillow to be average.  After a while, the MyPillow did seem to get a little lumpy and there were pieces of foam stuck in various parts of the cover. At $50 this is a good-quality pillow compared to other pillows of the same design.
Newer pillows on the market, such as the Tempurpedic pillows are more expensive, but they do contain a more effective cooling memory foam. By spending a few extra dollars, you can purchase the best-in-class Purple Pillow.
Pros
Mid-Range Cost and Comfort Level. It is a mid-range cost pillow that comes a mid-range comfort level. I slept well with this pillow, but I've slept better with pillows that cost a little bit more. When it first hit the market, it was considered state of the art. Now, with so many pillows made of similar material, it is not as revolutionary as it once was. It is, however, still a good value for what you get. There are several online coupon codes circulating for MyPillow, but we were not successful in getting them to work. Because the cost of the pillows was already reasonable, we were not too upset that they did not work- you may have better success at getting them to work.
Easy Care. How to clean your pillow is one of life's little mysteries. They solve that mystery by being machine washable and dryable, which is a big bonus in my book.
Strong Money-Back Guarantee and Warranty. The company has a 60-day money back guarantee. With two months of pillow usage, you can get a solid sense of how the pillow is going to hold up for you in the long run. They will refund 100% of the purchase price (less shipping costs) for any reason within the first 60 days of purchase. Additionally, products come with a 10-year limited warranty on workmanship and material defects. If the pillow goes flat during the 10 years, regardless of how many times the pillow has been washed, the company will replace it with another pillow of equal or greater value and cover the shipping charges.
Other Products. If this pillow works out for you, you might also want to consider some of the other products made by the same company. MyPillow also sells pillow covers, bed sheets, mattress toppers, travel pillows and even pet beds!
Made in the USA. They are manufactured in the USA.
Cons
Lumps. After a couple of nights' use, the pillow became lumpy and there were bits of foam on the pillow. This definitely took away from my experience.
Two-Pack Offer. Only sold in packs of two. While each pillow you buy can be customized (you can buy one for you and one for your spouse), you do not have the option to only purchase one pillow. The Better Business Bureau does not approve of the two-for-one pricing scheme and has given them a low rating as a result. Provided you are aware that you are being forced into purchasing two pillows, this is not detrimental to my recommendation.
Our Recommendation
Instead of a pretty regular pillow, our personal favorite is the Purple Pillow with its unique design.   It really is a "Bed-for-your-head".   You can read more about Purple Pillow here.
However, the MyPillow is a mid-cost pillow that might just be your solution to a solid night's sleep. You can view some of the common complaints here. With its reasonable cost and 60-day guarantee, there is no harm is testing out the pillow and seeing if it works for you.
Studies have shown sleeping on an incline can reduce many sleeping issues such as acid reflux, snoring, and allergies. The InteVision Foam Wedge Pillow is built off this principle.
In addition to its unique shape and size, what really stands out about this pillow are the Amazon reviews. There are plenty of anti-snoring pillows on the market, but few (if any!) receive over 1,200 four-star reviews on Amazon.
With all the fanfare of this pillow, I thought it was time to test it out for myself and see if the pillow is worth all the buzz.
About the InteVision Foam Wedge Pillow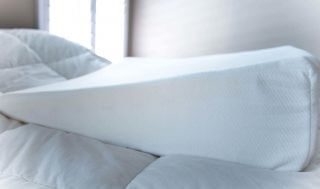 From the picture, you can see the wedge pillow stands up to its name. Its dimensions are 26" x 25" x 7", so it's not small. The wedge pillow is white in color and is composed of 2 layers of material: the base layer is a firm foam, and the top layer is 1" memory foam.
This two-material design has incorporated built-in channels between the two layers to increase air circulation. Included with the pillow is a machine-washable white cover. Because of the pillow's popularity, the manufacturers have also released an optional 400 thread count, 100% Egyptian cotton pillowcase.
The wedge design of the pillow is intended to provide a firm cushion while also providing gentle support to raise the upper body. Sleeping on a wedge causes you to sleep upright, which can improve snoring as well as other types of sleeping problems such as acid reflux, poor circulation, and neck and back problems and even post-nasal drip.
The pillow can also be used to elevate the legs if that is your sleeping need. It can also be used as a trunk stabilizer if you need support while sleeping on your side. The gentle slope of the pillow is intended to keep airways open, thereby reducing or even eliminating snoring.
My Experience
With so many outstanding reviews of this pillow on Amazon, I really needed to purchase this pillow and test it out. So many people mentioned in their reviews the pillow either helped or eliminated their snoring altogether! At $33.36, this pillow was a great deal on Amazon.
The package arrived tightly rolled in a compact box. After removing the packaging, I had to wait about 2 hours for the wedge to open to its full size. I purchased the wedge that has a gentle slope up to 7.5", but if that is not steep enough for you, the manufacturer also sells this same pillow with a 12" incline.
I was amused when I placed the pillow on my bed. To say it's a big pillow would be an understatement. Sleeping on an incline seemed a bit odd, but it wasn't uncomfortable and I quickly got used to it. Despite its incline, I had no problem falling asleep on the pillow.
Overall the pillow was very comfortable, and it was incredibly easy to fall asleep.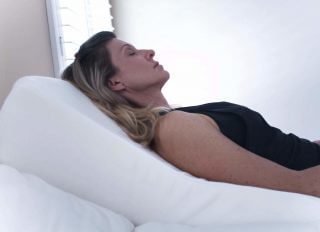 As with all the other anti-snoring devices I've reviewed, I needed to see if the pillow was not only comfortable but also worth my money as an anti-snoring device. I turned on the snoring app on my phone, SnoreLab, and went to bed.
When I checked the app in the morning, I saw that I had no visible decrease in my snoring for the night. I snored in the first hour and then again in the early morning. My wife did mention that she woke up during the night and I was snoring a little at that time.
She also said I was sleeping on my back, which is the position in which most snoring occurs. The wedge pillow is so comfortable for back sleeping; I can see how I would have naturally gravitated to a supine position.
I was a little disappointed the pillow did not reduce my snoring, so I did some more research. I checked the Amazon reviews and saw the reviewers that said the pillow helped reduce their snoring were either allergy snorers or nasal snorers. I am neither of those, and this pillow did not work for my type of snoring.
InteVision Wedge Pillow Video
More Testing with the Wedge Pillow
Although I had one night with poor results, I wanted to give this popular pillow one more night. This time, I decided to combine the pillow with a positional therapy device called the SlumberBump. The SlumberBump fits around my chest area with an inflated bag on my back. This configuration prevents me from being able to sleep on my back at night. By using the SlumberBump, I wanted to see how the InteVision Wedge Pillow would work for side sleepers.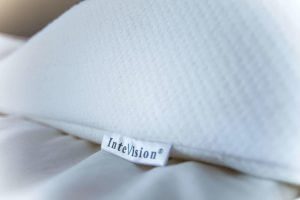 When I woke up the next morning, I saw that my snore score had decreased 50% when using the SlumberBump. But, I could not tell if the reason my snoring went down for the night was because of the positional therapy device or the pillow.
In the end, I will not continue using the InteVision Wedge Pillow because the only way it reduced my snoring was with a positional therapy device in place. I find wearing a positional therapy device to be uncomfortable and if wearing one to force side sleeping is the only way to decrease my snoring with this pillow, I will choose another method.
Pros
Cost. Anti-snoring pillows run the gamut when it comes to pricing and the InteVision is in the low range. Easy shipping from Amazon and a low cost are a plus for this pillow.
Great for Snoring Caused by Allergies or Nasal Snoring. Amazon reviewers who love this pillow tend to snore either due to allergies or because they are nasal snorers. If you fall in either of those categories, this pillow might be a reasonable solution for you.
Great for Side Sleepers. If you are the type of person that sleeps on your side, you might want to give this pillow a try. I saw a 50% decrease in my snoring when I was forced to sleep on my side. Although being forced into that position with the SlumberBump was uncomfortable for me. If sleeping on your side is comfortable for you, this pillow might help with your snoring.
Cons
Slipping. Several Amazon reviewers said that they slipped down the pillow when using it. I did not have this problem, but I also did not use the pillow case. The pillow case may cause the slippage, so you might want to try it without the pillow case if you have problems with slipping.
Not for Stomach Sleepers. This pillow is not for people who like to sleep on their stomach. It is impossible to sleep on your stomach unless you position yourself at the bottom of the pillow where it is thin. Sleeping that far down on the wedge is not comfortable.
Last Thoughts
The InteVision Wedge Foam Pillow seems to only work for side sleepers, nasal snorers or allergy sufferers. If you are a mouth breather and snore, take a look at a tongue trainer such as the "Dream Sipper".
Because this pillow only works for certain types of snorers, we cannot rate it very high. Although more expensive, the Nitetronic pillow has been proven to be effective in a 2014 sleep study. You can view our Nitetronic anti-snoring pillow review here.
Nothing can equal the delight of waking in the morning rested, having enjoyed a full night of sleep, with your head comfortably cradled in the nest of a pillow. We may not be able to remove the variables of stress affecting sleep, but we can control the type of pillow we use.
For seven years, I slept on the same pillow. It was missing stuffing, never smelled fresh despite a good washing, and gave no support for my head or neck. Not surprisingly, I suffered from headaches for a large amount of that time.
I finally realized it was a pillow issue when I spent a week in a well-kept hotel that invested in its mattresses and pillows. My headaches were better, and my neck was not stiff. It was time to look for a new pillow.
Fortunately, I took the precautionary measure of checking out several pillow reviews prior to making a purchase. I was torn between a gel infused, cooling memory foam pillow from Macy's, which sells between $80 to $120, and a MyPillow pillow, which retails at $79.98 on Amazon. As I researched, however, I noticed that MyPillow has come under fire from purchasers for poor quality, lack of durability and low value.
Lack of quality materials
Online reviews commonly say that after sleeping for a few nights on a MyPillow, the distribution of material settles into an uneven, lumpy mass. The head leaves a permanent indentation on the pillow, resulting in less support than many of its competitors, and the sides of the pillow are stuffed with a predominance of filling.
One of the most common complaints about the pillow is that it flattens easily after very little use, and the user can feel the lumps when pressing on the pillow. A good support pillow is a requirement if you use an anti-snoring mouthpiece such as the SnoreRx.
The contents of the pillow are chopped foam, forcing it to lay unevenly. The foam pieces vary in size, and because the chunks are not uniform, they don't allow for an even distribution of support. Compared to memory foam pillows and the multitude of supportive pillows on the market, the MyPillow has limited support for neck and spine.
Lack of durability
Most of us would rather not have to change our pillows more than once every few years. There are plenty of indicators which alert you when the time has come to change your pillow.
But when you've only slept on your pillow a few nights, and the foam cushioning is flattened and lumpy, your headache may not be due to the mental stress of a poor quality pillow. It may be due to the muscle strain of an uneven pillow.
Other headache complainants write about the amount of time it takes to adjust to the use of a MyPillow. By the time they feel they have adjusted to the new pillow, it has worn down to an unsupportive, lumpy blob.
Several reviewers have attempted to return their MyPillows to the manufacturer, but the pillows can only be returned if the owner has the original documentation and packaging. If you are not a person who saves all packaging and receipts, and very few of us are, you won't be able to return your purchase.
Limited bang for the buck
MyPillows are the same price, in general, as a down feather pillow. Macy's has high quality, authentic down pillows available for $80. The premium MyPillow can be found on Amazon for $79.98, and the classic is $49.95. However, the quality and comfort of the MyPillow can't compare with most down pillows of equal value.
There are claims of false advertising regarding the quality, value, and durability of the pillows. The hype we see on television, the radio, and the internet regarding these new pillows can lead to disappointed consumers.
Once the pillow is purchased, packaging tossed and the material put to use, most reviewers report a low opinion of their purchase. Unfortunately, some reviews appear to have been falsified, although MyPillow has not addressed the issue.
Informed consumers are content consumers
After a quick but careful study of pillows on the internet, I visited several retail stores to try out pillows. If you haven't had that experience, take someone who is fun-loving along with you.
It's as amusing an experience as purchasing a mattress, but a little less draining on the wallet. I am pleased to report that I found a pillow which meets all my needs, at a good price and with a clearly stated and reasonable return policy.
The market for anti-snoring devices is substantial and sometimes difficult to navigate. Moreover, many devices claim to have similar, if not the same features, making it hard for you to find a product that suits your needs.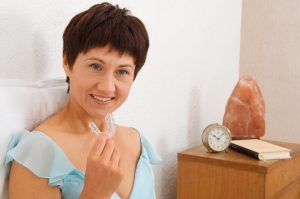 Therefore, to help you narrow your options, we compiled, tested, compared, and ranked eight exceptional anti-snoring devices. If you would like in-depth explanations about the features and advantages of each device, please refer to the product reviews on our site.
Our Methods
To limit the number of prospective products, we only considered Mandibular Advancement Devices (MADs) or intraoral inserts used to treat sleep-related breathing problems. One of the MADs has a built-in tongue restraining device (TRD), but we did not test any standalone TRD products.
There are three significant factors to consider before buying an anti-snoring device: technical features, value, and comfort. The best device should maximize its value and user's comfort without reducing the effectiveness of its technical elements.
Technical Features
The most important characteristics to look for in an anti-snoring device are the features that help it eliminate snoring. In this guide, we examine jaw alignment, custom impressions, fixed positioning, and tongue restraint capabilities.
Measuring Value
A device's value encompasses more than just its price. When we mention value, we're referring to the initial cost of the item, the ease of the ordering process, shipping options and rates, the quality of customer service, and lastly, the device's return policy. Each component affects how valuable the device would be to a potential customer.
Quality customer care is essential. A device isn't worth buying if the overall ordering process and client services are poor. Even if you find a product that fits your needs, it may not be the perfect match for you. Clear and lenient return policies are necessary so you can try various products without worrying when something goes wrong or if you need to return your device.
Anti-Snoring Device Effectiveness
Studies regarding sleep and sleep-related health issues show that anti-snoring devices are 93% effective in reducing snoring. Since manufacturers construct Mandibular Advancement Devices according to similar concepts of functionality, most will reduce your snoring to some extent.
Results will vary by each user's individual receptiveness to the products, so we didn't use a recording device in our lab tests. Instead, we'll show you which devices have the highest chances of eliminating your problem based on their technical attributes.
Our Point Rating System
Tray Calibration (+5 points)
Tray calibration allows you to adjust your lower jaw forward or backward to maximize anti-snoring success.
TRD (+4 points)
Tongue restraining devices hold your tongue in place while you sleep, reducing the risk of blockages to your airways.
Custom Impression (+3 points)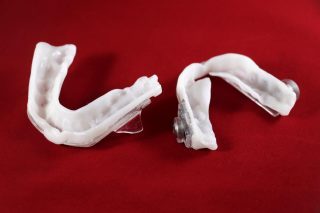 Custom impressions are vital to the success of an anti-snoring product because they keep your jaw from collapsing backward during sleep.
Fixed Position (+2 points)
For comfort, being able to open and close your mouth is a better feature. However, we rated fixed position as a positive characteristic because it's more effective in eliminating snoring. For assessments about the comfort of these devices please read the product reviews on our site.
Made in the USA (+1 point)
For safety, and patriotic, reasons, it's better if the device is made in the United States.
Torsion-Free (+1 point)
This rating notes whether a device has any materials, screws, or adjustments that hinder the placement of the device in the mouth, or could cause gum soreness.
Multi-Size (+1 point)
MADs with multiple sizes give users the option to choose a small or large device based on their gum line and jaw size.
Value, Customer Service, Refunds (+1)
For this category, we consider the quality of customer service, refund, and return policy availability, shipping cost and delivery times, and the product's price.
Mandibular Advancement Devices with the Most Features
1. SnoreRx
SnoreRx placed highest on our comparison chart with 13 points. This device comes from a company with a history of designing exceptional sleep-related products.
Although SnoreRx is pricier than most on the list, its unique features and expert construction make it a worthwhile purchase. What sets this device apart from its peers is the level of customization it offers. SnoreRx has a calibrator on its side that allows users to adjust the position of their lower jaw.
The calibrator has ten settings and a reset mechanism so you can maximize your comfort. This device doesn't contain allergy-inducing irritants such as latex, acrylics, and alloys and is BPA-free.
SnoreRx's manufacturers construct it from medical-grade materials, making it a fantastic choice for individuals with allergies or sensitivities. SnoreRx has an average lifespan of 12 to 15 months, which is significantly longer than most Mandibular Advancement Devices.
2. Zyppah, Therasnore, and VitalSleep
Second place is a three-way tie between Zyppah, Therasnore, and VitalSleep at 11 points. While not as extensive as SnoreRx, these devices offer multiple features that combine to reduce snoring symptoms. Zyppah is a favorite MAD that sets the lower jaw in a forward position to decrease the occurrence of partial airway obstructions.
Zyppah combines the basic functionality of MADs and tongue restraining devices (TRD), keeping both your tongue and jaw stationary while you sleep. Zyppah is comfortable to wear and made from BPA-free materials. Unfortunately, the product may cause jaw soreness as you adjust to wearing it. Zyppah's largest con is their poorly rated customer service.
Most users who try the product claim to have poor experiences dealing with the customer service representatives. Therasnore is a UK company, so the return costs are higher than that of the US-made products. However, it's mid-range pricing and effective features are a good trade-off.
Like other MADs, this anti-snoring device positions the jaw forward to reduce the risk of airway obstacles. Therasnore lives up to its international acclaim. It is extremely comfortable to wear and its custom-fit properties are easier to maneuver than those of devices like Zyppah.
VitalSleep offers many features other MADs have such as custom impressions and tray calibration. VitalSleep is also the only multi-size device on our product list.
This MAD comes in two sizes: regular and small, which the company recommends for men and women respectively. VitalSleep offers decent functionality and comfort, making it an all-around suitable product.
3. AirSnore, SnoreMedic
AirSnore and SnoreMedic are the most affordable of the MADs listed, rank in third place for acceptable features, reasonable pricing, and excellent customer service. AirSnore, with its standard design, doesn't have unique functions like other MADs, and the UK-based product can take weeks to reach the United States.
However, if the price is attractive to you, it may be worth trying. AirSnore has a 60-day return policy, so you can take your time before deciding whether to send it back.
SnoreMedic is a new company, and while their anti-snoring devices have fewer features, they are very affordable (we gave it value 3 points for its low price). Both appliances include custom impression molds but don't have TRDs. Customers who have purchased these devices speak highly of their client care services.
4. SleepTight
SleepTight is the lowest ranking devices on our comparison chart at 6 points respectively. Despite missing many key features like custom impressions, SleepTight is a commendable anti-snoring device that was designed by a dentist and ships from the UK.
SleepTight has a plain design, but it makes up for it with longevity and custom fitting. You can refit this device up to five times, and it has an average lifespan of six months to two years.
Conclusion
Regardless of how we rank them, you may have vastly different experiences with the product you choose. Our personal favorite is SnoreRx. We suggest using SnoreLab or SnoreReport apps on your mobile phone to test the effectiveness of your device. Try multiple products and return them if they don't work for you. Remember to be patient, try each device for several weeks, and don't give up if you don't find your perfect product right away.
For those of you suffering from snoring, Theravent™ Advanced Nightly Snore Therapy is here to offer you relief. As far as snoring aids go, Theravent requires no mouthpieces, no machines and no medications, just a simple adhesive device. Using revolutionary treatment, your own breathing can be used to reduce snoring resulting in a better night's sleep without a prescription.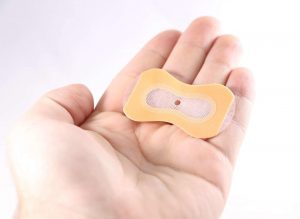 Around 30% of people aged 30 years and above suffer from snoring. Two-thirds of all partnered adults report their partner snores at night.
Snoring can cause disruptions to both you and your partner's sleep - leading to sleepiness throughout the day. Sleep helps keep you in good physical and mental health. Ongoing sleep deficiencies are correlated with higher risks of heart disease, kidney disease, diabetes, and stroke.
What Causes Snoring?
The primary cause of snoring are vibrations in the airway. For some people, their throat closes partially during sleep, causing air to travel through more quickly. This leads to vibrations in the throat known as snoring.
The narrower the pathway is, the greater the vibration and the louder the snoring is. In some instances, the throat collapses completely leading to apnea – the cessation of breathing. Sleep apnea is a serious condition that requires medical attention.
Theravent is not approved for treatment of obstructive sleep apnea. Other factors such as age, drinking alcohol, sleeping pill usage and, being overweight can influence snoring activity.
How Does It Work?
Theravent consists of MicroValve Technology similar to Ventus Medical's prescription-only Provent Sleep Apnea Therapy. The technology is used to create a pressure difference within the throat. A simple adhesive device is placed over the nostrils.
Breathing in causes the Microvalve Technology to open, allowing the user to breathe normally. As the user breathes out, a pressure difference is created to open the airway and prevent the vibrations that lead to snoring. Theravent is a lower resistance version of Provent.
How Could it Help Stop Snoring?
An expiratory positive airway pressure (EPAP) is created using the power of your own breathing. EPAP is a pressure that stabilizes the upper airway during exhalation – allowing the airway to remain open. EPAP differs from continuous positive airway pressure (CPAP) by using your own breath, instead of forcing air into the throat which could lead to discomfort. EPAP is a gentle and natural alternative.
Does it Work?
Theravent is FDA-approved to either reduce or eliminate snoring. During clinical trials, 79% of bed partners reported that Theravent reduced their partner's snoring. The study also found the reduction of snoring to be 5 times that of nasal strips. MicroValva Technology has been shown effective in over 15 clinical trials and has been used for nearly two million nights of sleep.
Types of Theravent Available:
Theravent Lite is designed for light-snorers. Half the EPAP resistance is available, with the same design and comfort for eliminating snoring.
Theravent Regular is designed for moderate snorers. Some people find this pressure to be uncomfortable, which led to the development of Theravent Lite.
Theravent Max is for loud, heavy snorers. Theravent Max uses twice the amount of EPAP resistance available in the Theravent Regular. Theravent Max has been shown to have a 73% reduction in snoring, and 89% of partners have reported a reduction in their bed partner's snoring.
Complications of Theravent:
Adjustment Period: There is an initial learning curve when starting Theravent, and it can take several days for the user to be able to sleep comfortably.
Difficulty Breathing Out: Breathing out will be harder when you initially begin, but it is important to keep in mind the fact that breathing in more makes it difficult to breathe out.
Ineffective for mouth-breathers: If you strictly breathe with your mouth, you will bypass how Theravent works. Some people add chinstraps to their regiment. However, 95% of humans breathe through their nose. Sleeping on your side can also prevent mouth-breathing.
Application: The nose should be washed and dried completely to remove oils and lotions from the skin. A large surface area is needed to apply the device. A good seal of the nose is required and the base of the nose where people typically lack a good seal.
Final Thoughts:
Theravent appears to be a safe, over-the-counter snoring aid for chronic snorers. If snoring is reducing the overall quality of you or your partner's sleep, Theravent offers a shown solution.
While supplies last, Theravent is offering a trial pack for $9.99. The trial pack offers two nights of Theravent Lite, Regular, and Max. For those interested in pursuing other options, there are several snoring prevention devices available on the market.
Seeking treatment for snoring is important. Snoring can lead to complications such as stroke and nocturia; a condition that can lead to a loss of bladder control for some people.
Once again, Theravent is not approved for treating sleep apnea and is not recommended.
There are many different types of pillows available on the market. This includes pillows designed for enhanced support, and snoring pillows and those made to increase comfort levels.
The MyPillow has captured the attention of many people who are looking for ways to get a better night's sleep. Touted as the 'most comfortable pillow you'll ever own,' this pillow has gained a lot of popularity. It is also available from several different distributors, including Amazon and can be purchased directly from the manufacturer.
If you are considering purchasing this pillow from Amazon.com, there are a number of factors you should take into consideration. Looking at the pros and cons of buying this product from the online giant will enable you to make a more informed decision.
Many different sellers offer the MyPillow for sale on Amazon.
The pros and cons of purchasing MyPillow from Amazon.com
Weighing up the pros and cons of purchasing the MyPillow from Amazon.com will enable you to decide whether this is the right choice for you. Some of the key pros and cons include:
Pros:
Speedier shipping: When you order through Amazon.com, you can opt for Amazon Prime. This means you will receive your MyPillow far quicker than if you order from the manufacturer. Prime also means you get to benefit from free delivery of your purchase.
Verified reviews: Buying through Amazon.com enables you to benefit from access to a large number of verified reviews from other customers. These are far more authentic than reviews you will see on the manufacturer's website or on promotional advertisements.
A choice of new or used: You also have the option of buying a new or used pillow when you purchase your MyPillow from Amazon. You can, therefore, save money by opting for a used one compared to buying new.
Great choice: Purchasing the MyPillow from Amazon.com gives you plenty of choice with regards to the seller you choose. You will find a range of sellers offering deals on the product. You can select the one that provides the best value for money.
Cons:
The authenticity of the pillow: There are many different types of sellers on Amazon.com. This does mean more choice, but it also makes it harder to determine the authenticity of the product. You won't know for certain whether the pillow you buy is a genuine MyPillow.
Higher prices: The cost of a new MyPillow on Amazon.com can be very high. You may find that the price is around $20 more compared to purchasing from other retailers such as Wal-Mart or Target. You can even get better deals buying your MyPillow direct from the manufacturer.
Different return policy: If you buy your MyPillow directly from the manufacturer, you benefit from a 90-day return policy (they must receive the pillow within 60 days of receipt of purchase and they take up to 30 days to process reimbursement). If you purchase from a seller on Amazon.com, the return policy may be much shorter. In addition, there is an increased risk of your return being rejected for various reasons.
Limited customer service: The customer service you receive from Amazon sellers is very limited compared to the service from the manufacturer. By purchasing direct, you can contact the manufacturer anytime for help and support.
What you need to consider regarding your MyPillow purchase
It can be a challenge to work out where to buy your MyPillow. It is worth looking at some key factors you should consider when deciding where to make your purchase.
Look at is the price of the product. Despite selling the same pillow, retailers and sellers may charge varying prices. Some can be far higher than others, so make sure you compare the price when making your decision.
Another consideration is the reputation of the seller. If you purchase this product from the manufacturer or a reputable retailer, you can rest assured you are getting the real deal. If you buy from an unknown seller through Amazon, you will have no idea about their reputation – or even if the product is genuine.
Finally, look at factors such as how easy it will be to get support and what the return policy is like. Checking these details will enable you to enjoy greater peace of mind when you make your purchase.
Conclusion
Finding the right place from which to purchase your MyPillow means you can benefit from greater affordability as well as reassurance. You will have the peace of mind you are buying the genuine product. You can also avoid paying over the odds for your MyPillow.
Snoring can be a problem for people of all ages. Around thirty percent of people aged thirty years and above suffer from snoring. This can cause disruptions to both you and your partner's sleep. Sleep plays a prominent role in your physical and mental health and ongoing sleep deficiencies are correlated with higher risks of heart disease, kidney disease, diabetes, and stroke.
The Theravent™ Advanced Nightly Snore Therapy is an FDA-approved, snoring aid consisting of Microvalve technology. There are no mouthpieces, no machines and no medications used with the product.
Similar to Ventus Medical's prescription-only Provent Sleep Apnea Therapy, the technology is used to create a pressure difference within the throat. An adhesive device is placed over the nostrils and breathing in causes the Microvalve Technology to open.
This allows the user to breathe normally. As the user breathes out, a pressure difference known as an expiratory positive airway pressure (EPAP), is created to open the airway and prevent the vibrations that lead to snoring.
Multiple studies have been conducted to determine the effectiveness of Theravent:
Clinical Studies: One randomized study had a trial of 49 patients and was described as "rigorous" by sleep physician Philip Westbrook, MD. Out of these patients, 76% reported a reduction in snoring using a decibel meter. Furthermore, their bed partners reported there was a significant reduction in the amount of snoring and how loud it was.
In fact, it was found that 50% of the subjects had their snoring duration reduced in half. In comparison to nasal strips, Theravent was found to be five times more effective.
Subjective Studies: There were two studies conducted after the randomized trial mentioned above.  An in-home evaluation was given to 43 subjects. After seven nights, a survey was given and 86% of bed partners found that the device reduced snoring.
In the second study, 46 frequent snorers were surveyed and 89% reported a reduction in snoring. In that study, 83% expressed interest in continuing the product.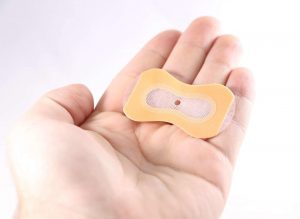 EPAP Technology: The EPAP technology was demonstrated at being effective in treating sleep disordered breathing in 1983 where it showed potential for treating severe obstructive sleep apnea (OSA). EPAP differs from continuous positive airway pressure (CPAP) by using your own breath.
This allows air into the throat without forcing it and prevents discomfort proving a gentle and natural alternative. Despite its early signs of success, it wasn't until 2008 that the methodology became FDA-approved to be used in the prescription-only device Provent.
EPAP technology was tested over time in patients with OSA. Patients who used the device at the three-month mark continued to benefit. Snoring was reduced and subjective daytime sleepiness was decreased.
MicroValve Technology: The MicroValve technology used in Theravent has been tested in over 15 clinical trials. It has been used in over two million nights of sleep and is a solution to reduce  snoring. It is important to note that while Theravent uses similar technology to Provent, it is not meant to be used to treat sleep apnea.
Provent Study: Theravent is a lower resistance version of Provent. When studying the predecessor of Theravent, 83% of users reported a reduction in snoring.
There are three types of Theravent available:
Theravent Lite is designed for light-snorers. The EPAP resistance is half that of Theravent Regular. It has the same design, but it designed to be more comfortable.
Theravent Regular is designed for moderate snorers.
Theravent Max is for loud, heavy snorers and uses twice the amount of EPAP resistance available in the Theravent Regular. Theravent Max has been shown to have a 73% reduction in snoring. This was higher than the 22% reduction reported by nasal-strip wearers. When asked, 89% of bed partners reported that Theravent Max reduced their partner's snoring.
Final Thoughts: The research appears to show positive results from using Theravent. Once again, it is important to note that Theravent is not approved to treat sleep apnea. There is an adjustment period for users when first starting the product as breathing out can be a little more difficult. However, after a few days the user adjusts and does not notice the product. The application can be tricky for some, and it is not effective for mouth-breathers.
Theravent offers a trial pack for $9.99. The trial pack offers two nights of Theravent Lite, Regular, and Max. Seeking treatment for snoring is important. Snoring can lead to complications such as stroke and nocturia. Nocturia is a condition that can lead to a loss of bladder control for some people. For those not interested in pursuing Theravent, there are several snoring prevention devices available on the market.
I've tested many types of anti-snoring devices, including pillows, nasal dilators, and mouth guards. This time around, I'm reviewing a different type of product: An Expiratory Positive Airway Pressure (EPAP) device called Theravent.
First, Does Theravent Work to Stop Snoring?
I tried the Theravent for multiple nights and found that it did not work for me.  This is because I snore through my mouth.  You can read more of my experience below.
Clinical studies show that mouthpieces, like SnoreRx, zQuiet, and Zyppah work better than nasal aids for snoring.
However, this device works for nasal snorers. Reviews on Amazon are all over the map- some people really love the Theravent and claim it has cured their snoring, while others dislike the product. Theravent is a user-dependent product. It works for some people, but not for all.
To test Theravent for yourself, be sure to purchase the Trial Pack Here.
What is an EPAP?
Expiratory Positive Airway Pressure (EPAP) devices are used to treat snoring.  An EPAP device builds up pressure in the nose to stabilize the airway, which eliminates vibration.  EPAP devices are also used by people with mild to moderate sleep apnea who find it difficult to sleep with a CPAP machine.

EPAP devices are small bandages placed directly on the nostrils with two small valves that permit air to flow in but not easy exhaling.
How the EPAP works at reducing snoring is not entirely clear. It is hypothesized that a buildup occurs due to the resistance to nasal exhalation, which increases respiratory drive. Another theory is that the resistance to exhalation creates pressure that forces the upper airway to open wider.
Theravent EPAP
The Theravent EPAP is a popular product. It is available through online retailers like Amazon. The company has a $9.99 trial package with three different strength levels (Lite, Regular, and Max), which allows you to determine which strength of the Theravent works best for you.
How does Theravent work?
Theravent is an adhesive bandage with microvalves. The bandage is placed over the nostrils. When you breathe in, the air vents open. When you breathe out, the air vents partially close, making your exhalation breaths slower. The slowed down exhalation forces air to pass through your relaxed airways at a slower rate, resulting in quieter snoring.
The blocked breathing also prevents the nasal airways from relaxing as much, reducing the sound of snoring.
Theravent Video Of Unboxing - How it works.
My Experience
I ordered the new customer trial pack for $9.99 directly from the Theravent site, which includes free shipping. I was pleased the trial package included multiple strength levels (Lite, Regular, Max) so I could test which one would work best for my snoring. I tried the lite and regular strengths and, per the manufacturer's recommendations, started with the mildest strength strip the first night.
You can generally find better deals on Theravent trial packs at Amazon, though.
I used my snoring app to record my snoring so I could compare the noise level with the Theravent against my baseline snoring. On the first night, I didn't notice any reduction in my snoring rate throughout the night.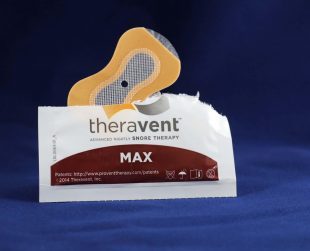 However, my wife and I were traveling, and when I played back my Snoring App recordings, I realized that the app had picked up the noise from cars driving by and the fan running in the room. Because of the interference, I did not think this was a valid test of the Theravent, so I tried it again the following night.
The next night, I used the second and last lite strength Theravent strip in the package. Results from the Snoring App showed an average amount of snoring (if anything a little higher) and no decrease in snoring.
Either I do not respond to EPAP or the Lite strip is too mild for me. I decided to bump it up to the regular strength.
The third night, with the regular strength Theravent, I noticed a difference in my breathing immediately. The Theravent made it harder to exhale, forcing my breathing rate to slow down. When I checked the snoring app in the morning my rates were average for the night, with no decrease.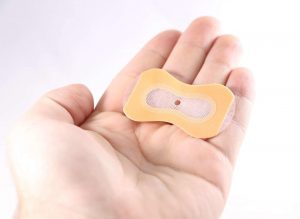 I did notice, however, that the adhesive had come loose from the lower portion of my nostrils, so once again, I had a night of results that didn't count. At this point, I realized this product takes a lot of trial and error and at over $1/night, the costs add up. I was down to three strips left and I still had not determined if the Theravent works for me.
I tested again one more night using the regular strength strip. My sleeping conditions were perfect- no external noise factors, no slipping of the bandage. In the morning, I saw that my snoring was at 43% and I had a snore score of 70. This was a terrible result. It was one of the worst nights of snoring I've had.
After several nights of testing, my conclusion is that the Theravent does not work for me.
I am a mouth breather and snorer (instead of nasal), and using the Theravent did not help reduce the sound of my snoring.
Pros
I found the Theravent to be non-invasive and comfortable to wear. The manufacturers do caution it might take a couple of nights to get used to the feeling of the bandage on your nostrils, but I did not have that experience.
If other anti-snoring devices did not work for you, the Theravent might be worth the investment.
Theravent is available at most drug stores and online, making it accessible and easy to purchase.
Cons
While the reviews are all over the map on this product, in the end, it did not work for me. Studies show that some people respond to the Theravent and others don't.
At over $1/night, the Theravent can get pricey, quickly. So, unless this product really works for you, I don't think it is worth the money.
Because the Theravent covers the nostrils, you really can't use it if you have allergies, a runny nose or a cold that may require you to blow your nose during the night.
The adhesive is strong, but it can still become unstuck during the night.
Taking an adhesive bandage off can hurt, regardless of where it is on your body. Your nose is no different and taking off the Theravent can be painful. Ripping a bandage off every morning is not my preferred method of waking up!