If you are torn between SleepPro Easifit and SleepPro Custom an easy side-by-side comparison may make your decision a whole lot easier.
Material - Unfortunately, SleepPro has not actually confirmed if its mouthpieces contain BPA or latex. So, there is no way to know for sure just how safe it is to have in your mouth all night. That being said the material is smooth and nonirritating.
Fitting Process - SleepPro Easifit is molded using boil-and-bite technique at home. It takes only minutes to do. Heating the snoring mouthpiece in hot water makes it soft enough to bite into to create a mold of your mouth. SleepPro Custom gets made in a laboratory. You are sent two trays in a dental impression kit to make an impression of your upper and lower jaws. These get sent to the laboratory in a self-addressed envelope where your mouthpiece is made and sent back to you.
Breathing Hole - Both designs have front airflow holes that allow you to breathe through your mouth while you are sleeping. So, if you have sinus issues, nasal polyps, or a deviated septum these are mouthpieces you can wear.
Price - The biggest difference between the two mouthpieces is price. SleepPro Easifit is a budget-friendly mouthpiece priced at $44.95. SleepPro Custom is significantly more expensive at $229.95.
Warranty - SleepPro Easifit is backed by a 45-day warranty, not to be confused with the 30-day money back guarantee. SleepPro Custom has a very confusing warranty policy that seems to rely heavily on the amount of wear and tear present.
Longevity - One of the positive traits about these mouthpieces is they do seem to have a long lifespan, or at least, they are said to. SleepPro Easifit lifespan averages about one year while the Custom variety can last up to two years. If you grind your teeth the lifespan will be significantly shorter, which typically holds true for most MADs.
Comfort and Effectiveness - On the site, Easifit is labeled as being "very good" in the comfort category while Custom is "excellent." I can't speak for the Custom version because I haven't tried it, but I will say that Easifit was one of the least comfortable devices I put to the test.
To learn more about SleepPro check out our full SleepPro mouthpiece review or try a SleepPro with a coupon code.
SleepPro is known to offer coupons for a variety of its products including the Easifit, woman, Sleep Tight, and Contour mouthpieces.  This page will be updated to reflect the latest and greatest discounts available.  Just use the promo codes on this page for big savings.
Current coupons are: SHQ10 for 10% off.  They also have a generous return policy, so you'll be able to really try the mouthpiece with no financial risk.
If you do come across any other coupons, please let us know so that we can share it with our readers.  And if you're still debating on whether SleepPro is the right anti-snoring mouthpiece for you, check out our SleepPro review page or the Sleep Pro Custom Mouth Guard which is lab molded.
SleepPro Custom is the first device I've tested that is made in a lab - yet priced similarly to boil-and-bite anti snoring devices.
I was excited to try it because I'd always wanted a full impression product, which is what dentists sell.  The SleepPro Custom price is a tenth the cost of having a dentist do it for you and not too much more than SnoreRx.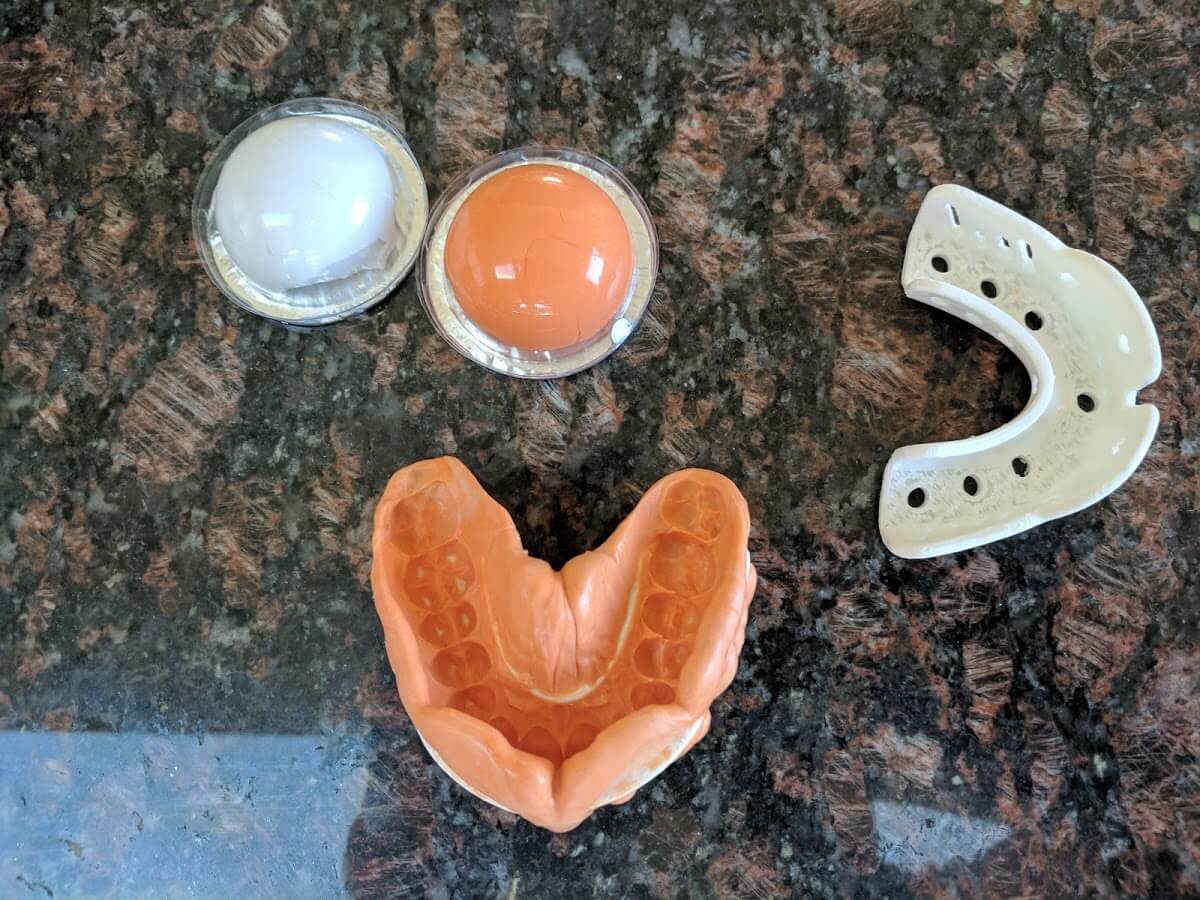 Doing some research, I found that SleepPro manufacturer MEDiTAS Ltd. has sold products for snoring and mild sleep apnea since 1998. Their products are even recommended by the British National Health Service (NHS).
The SleepPro Custom, in particular, is recommended by specialists at Papworth Hospital in Cambridgeshire, England, a world-renowned center for sleep disorders. They consider it the most affordable and successful stop snoring device available.
Update: Buy the Sleep Pro Custom direct from the manufacturer here.
Research shows the SleepPro Custom stops snoring and is beneficial to health.  Clinical studies also indicate that the SleepPro Custom is an alternative to CPAP for obstructive sleep apnea.
Made in A Lab for Perfect Fit
As the name suggests, this mouthguard is custom-fit in a lab. The process involves making an impression at home which you mail in.
Cost is more then a standard boil-and-bite product. However, it is well worth it because custom fit mouthpieces are comfortable - enabling better sleep and a higher chance of success.
SleepPro Custom is a professional product and equal to dentist mouth guards which can cost as much as $2,000.
If you already have a mouthpiece that works for you, such as a Zyppah, MEDiTAS Ltd. can use that, along with your impressions, to build your new Custom mouthpiece and make the protrusion of the lower jaw accurate.
My Results with the Sleep Pro Custom
I must say this is the highest quality MAD I've tested and using a lab to form my impression was a great experience. I had discussed a custom mouthpiece with a dentist in the past but was put off by the cost.
First of all, mandibular advancement devices work. They are proven to prevent snoring. By combining that success with a guarantee of good fit in the SleepPro, you have a winning product.
You can't get any better comfort than the Sleep Pro Custom. I loved it right away – instead of trying to acclimate to a mouthpiece for weeks (and most people give up here), I had a form-fitting MAD that enabled me to sleep easily on the first night.
The form factor is very slight which means you can swallow easily and there is almost no adjustment period with this mouthpiece.
I would highly recommend the SleepPro Custom to anyone that who has had problems adjusting to boil-and-bite snore guards.  This is a 5-star quality product.
View current SleepPro Custom discount here.
Regular VS. Anti-Microbial
The Custom comes in regular or anti-microbial. I decided to try the regular first for a few months and test the antimicrobial later.
The antimicrobial includes a coating that makes the mouthpiece hygienic and keeps it fresher for longer by preventing bacteria growth.
This antimicrobial technology extends the life of the product while safeguarding the health of your teeth – all for a mere $22 more. You can read more about the Sleep Pro anti-microbial here.
First, Molding your Impressions
I have to admit this was my first time making full impressions, and after doing close to fifty boil-and-bite mouthpieces, I don't mind telling you this seemed more daunting. However, I was pleasantly surprised by how easy the process was. I've included some pictures of the steps to show you what I mean.
SleepPro sends you an impression kit which consists of a couple trays and dental grade impression clay.
So, you start off like a normal boil-and-bite method. Add the white gum piece into boiling water for 15-20 seconds. Drain off the excess water, then quickly shape to your top gum line, before placing in cold water to set.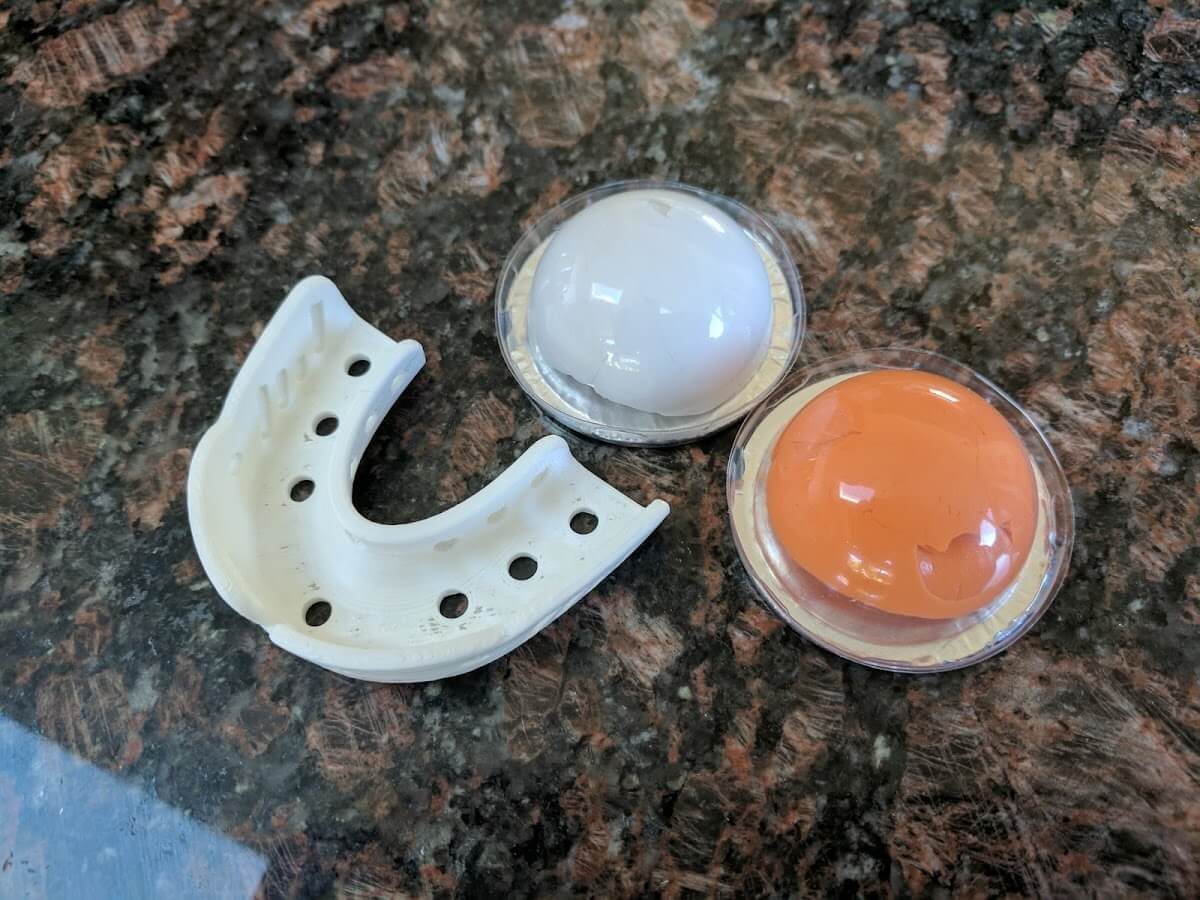 You get a ball of white putty and a ball of orange putty. Roll these pieces together until the two colors are mostly blended, then push the putty into your white mouthpiece (you have 45 seconds before it hardens). Throw away any of the excess putty.
Bite down on the putty in the white plastic tray. Holding the tray in the mouth for three minutes. Timing is really important here – I left one tray for longer than three minutes and struggled to remove the impression from my teeth! Also, follow the guide and bite in the middle section of the mold, as indicated by the green line.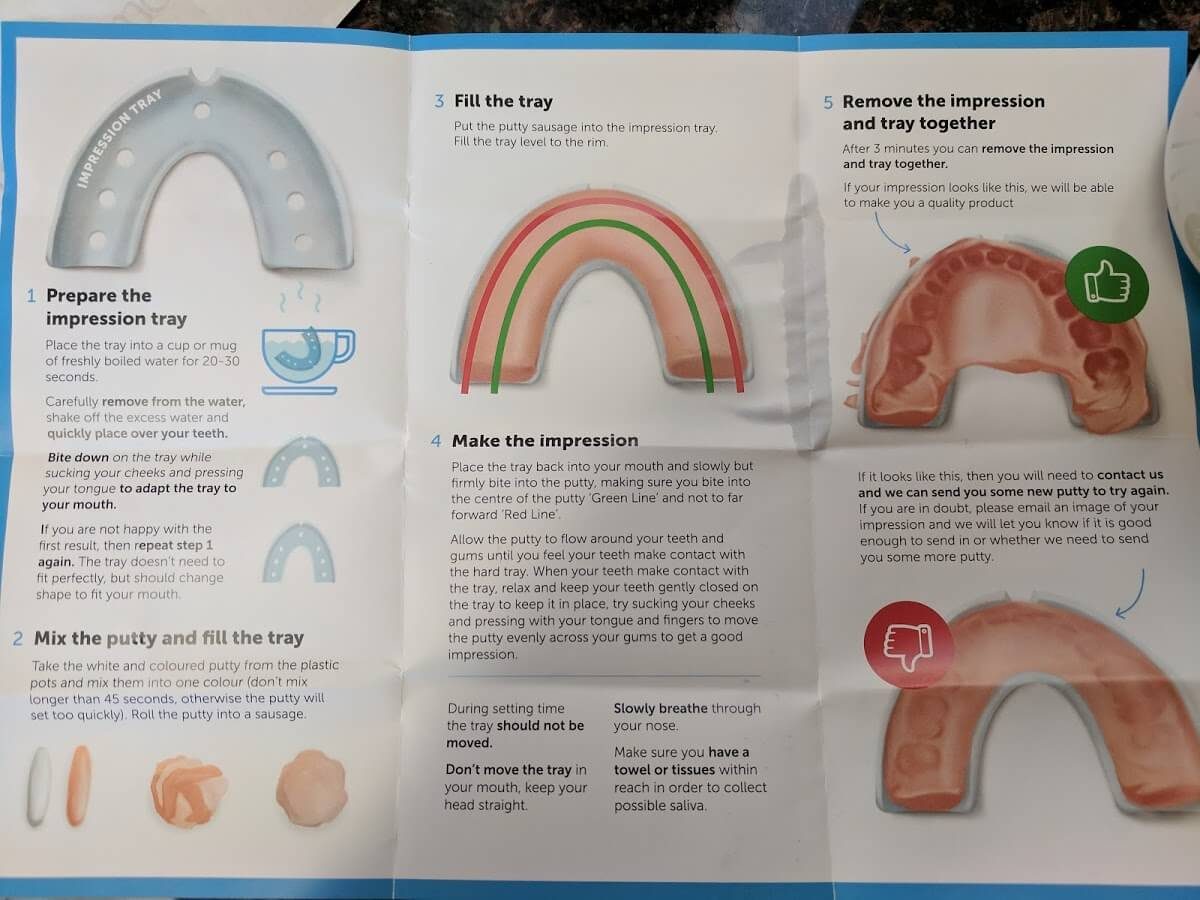 You have to repeat the process for top and bottom.
If you go wrong, SleepPro is happy to send you more putty or replacement parts for the moulds, but you will have to wait for shipping from the UK, so try to get this right first time if you can.
Next, boil-and-bite the included mouthpiece that is for lower jaw positioning.   Find the comfortable position (its best not to go far forward with this).   You want to err on the side of not too much jaw progression, otherwise, your jaws will feel tired and painful after 6-8 hours of nightly usage.
You can also send in a Zyppah or SnoreRx or similar appliance with your impressions, to demonstrate your jaw progression.
Once you have your impressions and jaw advancement, you mail them to the lab in the UK.
Shipping
Shipping is not ideal as your impressions are mailed to the UK, which takes time and costs extra. However, I cannot emphasize enough how cost-effective this process is when compared to a dentist ordered mouthguard.
It only takes a few days to receive the initial product from them. I had it shipped to southern California, and it was quick. You do have to pay to send the teeth impressions back to the lab, but this only cost me $14.
Customer Service
Customer service is also excellent! I had a few questions during the process, and SleepPro was happy to answer all my questions. They offer a full money-back guarantee.
Buy the SleepPro Custom Here for U.S. Customers.
If SleepPro is the anti snoring devices you are considering, or if you are trying to compare it to others, this list will tell you all the important things you need to know about this product.
Like other mandibular advancement devices (MAD), SleepPro works by holding your lower jaw forward to help keep your airway clear.
Breathing can be done through the mouth, if needed, thanks to an airflow hole.
The boil-and-bite process is used to achieve a custom fit.
The mouthpiece can be washed using a toothbrush and mild dishwashing detergent. It can also be cleaned using a denture cleaner.
The average lifespan of SleepPro is 12 months. However, if you grind your teeth it will be less.
Some denture wearers can use this device as long as long as most front teeth are intact. Never use extremely hot water while cleaning as this can make the device very rough.
SleepPro is backed by a 30-day money back guarantee and 45-day warranty.
Check out our full SleepPro stop snoring mouthpiece review for more information or contact us and let us know your experience.
If you are like many other consumers these days then the company behind a product is just as important as the product itself. So, if you are going to purchase a mandibular advancement device, you probably would like a good understanding of the company manufacturing it.
SleepPro is a Britain-based company, but has distribution centers throughout Europe, Australia, and the United States. Every distribution center always has at least 1,000 mouthpieces stocked, so orders can be filled and shipped promptly from the closest location.
There is not much information available online about SleepPro as a company. However, there is plenty of information about MEDiTAS Ltd., a company that has been partnered with SleepPro since 1998 from the same location.
About MEDiTAS
SleepPro may not be too well-known as a company, but MEDiTAS is. MEDiTAS is a British company that works with dental clinics, general practices, pharmacy, hospitality, medical centers, and sleep specialists to manufacture products that focus on snoring (including anti snoring devices) and other types of sleep disorders, including bruxism and mild-to-moderate cases of sleep apnea.
MEDiTAS claims SleepPro is 98 percent effective. It also suggests that a significant amount of past and present research has gone into this product. There is even a "Research" page on the website, but no formal data has been provided.
MEDiTAS also mentions that SleepPro has been recommended by Papworth Hospital Medical Research and Development. However, when you visit the site of Papworth Hospital NHS Foundation Trust and Search for research or clinical studies there are none to be found. When you search for information on snoring in general there are a couple articles that talk about the subject, but there is no mention of either company.
Learn more about SleepPro in our SleepPro review.
If you order a SleepPro Custom the product will get made in a laboratory. If you order the Easifit it will get molded at home using a boil-and-bite process.
It may sound a little intimidating, but rest-assured that the process is actually quite simple. All you need is a pot to boil water, a slated spoon, and a bowl.
When your device arrives, you will want to wash it first. It can't be cleaned with toothpaste. You can use a mild dishwashing detergent and a toothbrush or soak it using a denture cleaner.
Take a few minutes to get acquainted with it. Make sure that you know which end faces up. You are going to be biting down with your lower jaw extended forward. Practice doing that a few times, so when the mouthpiece is heated, you will feel uncomfortable doing it.
Bring a pot of water to a boil and pour water in a bowl.
Place the mouthpiece in water and allow it to soften.
Once soft remove it from the water and shake excess hot water off.
As you bite into the snoring mouthpiece, you want your lower jaw extended forward like you just practiced. Bite down and hold this position, allowing it to cool down. As it cools it will begin to harden, so you will know when to remove it.
Remove the device from your mouth and place it in a bowl of cold water. This will speed up the hardening process.
Once cool, test your device for a proper fit. If you try it the first night and decide it is not quite right, it can be molded again a couple times.  Learn more in my SleepPro review.
Chances are good that if you are considering a SleepPro snoring mouthpiece that you have already read my review. However, I reviewed SleepPro Easifit, which is the most popular one, and my wife did the SleepPro Woman. We had no success with either, but I feel it may be helpful for you to have a brief overview of all the products to compare, so you can make an educated decision.
Easifit - This is the most basic and popular SleepPro option. It uses a boil-and-bite method to achieve a custom fit. It does have a front hole that allows you to breathe through your mouth.
Woman - The SleepPro is a pink mandibular advancement device because apparently all women are supposed to love pink. It has the same design as the Easifit except it is designed to fit a woman's mouth. It is said to fit snugly and unobtrusively, but my wife would disagree. That being said, maybe someone else will have good luck with it. Like Easifit, this device is $44.95.
Contour - SleepPro Contour is actually a good looking device, but at $129.95, I don't think I could bring myself to splurge on a product that appears to be bulkier than the Easifit. Contour is comprised of two separate hard trays, with both featuring thermoformable polymer. The device comes with straps in a variety of lengths, which are used to set the placement of the lower jaw. This product also uses the boil-and-bite method, but the trays are fitted separately. Fixed breathing space in the front allows you to breathe fully all night.
Custom - If you have $259.99 burning a hole in your pocket then you may want to order SleepPro Custom. Although, if you are spending that kind of money it is unclear why you would not just get a prescribed product. Unlike the other SleepPro products that get fitted at home this one is done in a laboratory. The company sends you a kit to make an impression of your mouth. You do this and send it back, and then the laboratory ships your device. You get a precise fit, but you do have to wait a while for your device.
SleepPro Sleep Tight - This is basically an upgraded version of Easifit. It still gets molded using the boil-and-bite process, but supposedly it fits tighter. Although, to me it looks bulkier than the others, Sleep Tight does have a larger breathing hole than Easifit, as well.
Chin Support Strap - Although not a mouthpiece, SleepPro does offer a stop snoring chinstrap that is supported to help stop dry mouth by holding your mouth closed. It fits over your chin and crown of your head and it is adjustable. It can be washed by hand or machine.
If you looking for snoring smart devices, consider this product.
All mouthpieces are backed by a money back guarantee. Shipping prices vary depending on the product being purchased and location.  See more on my experience on my SleepPro review.
When I first decided to add SleepPro to my list of mouthpieces to try, I was not quite sure which one to buy. I ended up ordering Easifit for myself and the Women's version for my wife.
So, this review is for these two anti snoring devices, which are pretty much the same except that the version for women is designed for the average female's mouth.
Pros and Cons
To fairly evaluate SleepPro's, mouthpieces, it is important to be aware of all the advantages and disadvantages associated with it.
Advantages
There are a variety of products to choose from.
Easifit uses boil-and-bite to achieve a custom fit.
Airflow holes allow device to be worn by mouth breathers.
SleepPro is affordably priced.
The device is backed by 30-day money back guarantee.
Manufactured by an established company that was founded in 1998.
Some denture wearers have had success wearing the device
Many payment methods to choose from including PayPal and Amazon Payments.
Complaints
There is no way to know what material it is made from. There is no mention of it being BPA- or latex free.
Rinsing, cleaning, or soaking in water that is too hot will make the material rough and uncomfortable.
Device is bulky and uncomfortable to wear.
SleepPro will likely cause drooling and soreness while your mouth gets used to it.
There is no available company address other than a P.O. Box.
Supposedly, the snoring mouthpiece will ruin faster, if not cleaned using a specific SleepPro cleaning product.
There is no option to adjust lower jaw placement.
What is SleepPro?
The first thing you see when you arrive to the SleepPro site is that it is medically approved to stop snoring. This pretty much sounds like the device has been put to the test through medical studies, right?
Well, not quite.
What that should say is that SleepPro is a mandibular advancement device (MAD), and that MADs have been proven effective to work. This certainly does not mean that all MADs work or that there are any clinical trials to back up this statement.
As mentioned, SleepPro is an MAD, so it is designed to help you stop snoring by holding your lower jaw in a forward position. By doing this, the airway remains free of obstruction.
SleepPro Standard uses the boil-and-bite technique to achieve a custom fit, and this is done in the privacy of your own home. It does have an airflow hole in front, so if you are a mouth breather, you will have no problem breathing normally while you sleep. It does not allow for lower jaw adjustments, which is not necessarily a deal breaker.
Some MADs are great without being adjustable. Unfortunately, there is also no mention of what material is used to make this device, which is a little concerning, considering some stop snoring mouthpieces are made of material that contains BPA or latex. The mouthpiece is backed by a 30-day money back guarantee and a 45-day warranty.
My Experience
As mentioned, I decided to try the Easifit model because that is the one that can be custom molded at home. The Contour model was a little too pricey and I didn't feel like waiting for the lengthy fitting process of the Custom model, so this review is based solely on the Easifit, which is SleepPro's most popular mouthpiece. I did also order the lady's version for my wife, which is a little narrower for a smaller mouth.
When they arrived, I cleaned them both using a denture cleaner. The instructions say not to use toothpaste. They also say that using a denture cleaner too often will degrade the plastic.
What type of plastic is this that it can't hold up against denture cleaner? I have used an effervescent tablet on pretty much all of the mouthpieces I have tried with no problem. SleepPro does sell its private line of effervescent cleaning tablets, which seem to me to be the exact same thing.
I will say that before we even used the boil-and-bite method to fit these mouthpieces we both commented on how large they seemed. They are really quite bulky. They appear to be far more streamlined on the website.
The fitting process was easy enough, but we had both used the boil-and-bite method many times in the past, so I'm quite sure anyone will have an easy time achieving a custom fit. We were both "satisfied" with the fit on the first try but certainly not blown away in the comfort department.
On the first night we put them in and just looked at one another. They just feel so big, and within seconds we were both drooling. Usually my wife will stay up and read a bit while I go to sleep, but we both had to be up extra early the next day, so it was lights out at a decent time. Boy, did we pick the wrong night to start a new trial on.
I watched the clock for a long time. Every once in a while my wife would let out an exaggerated sigh, just to let me know how displeased she was. She eventually took it out and tossed it on the nightstand.
In the morning, I felt exhausted. My mouthpiece was on the floor. I clearly hadn't slept well and at some point my SleepPro either fell out or I took it out in my sleep. At the breakfast table, our teenage son made a sarcastic remark, wondering when we were going to stick with a mouthpiece that works and stop torturing him.
Before we went to sleep the second night we decided to do the molding process again, just to be sure we had the best possible fit. I can't say how my wife's felt, but mine felt exactly the same.
The next night, my wife fell asleep before me (she must have been really tired), and sadly there was no improvement. She was snoring just as loud as she usually does. I finally elbowed her and told her to take it out and put her ZQuiet in.
There was no point in both of us being tired, and if I was going to lie there counting sheep, I didn't want to listen to her snore. Sometime in the early morning hour I took mine out so I could sleep.
I have to be honest; I didn't give the SleepPro a full week trial. I actually lasted through night four, so the fifth morning I was done. SleepPro Easifit may work for some people, but it certainly did not work for us.
Let's Talk Price
SleepPro Easifit was $44.95. Shipping varies based on your location. A two-pack is also available for $64.95. The mouthpieces are backed by a 30-day money back guarantee.
If you go with one of the more advanced options you will be interested to know that the Contour model is $129.95 and the Custom option is $259.99. As mentioned, SleepPro also sells other products, such as chinstraps and effervescent cleansing tablets.
Final Thoughts
SnoreRX and VitalSleep would be better options in the moderate price range. If you are willing to spend just a bit more then go with ZQuiet. You don't even have to pay the fee upfront. You pay for shipping and then the price gets charged to your card in 35 days, so you have plenty of time to try it out to see if it is the right option for you.