The big thing I noticed with SnoreMD was the price. It's definitely more expensive than most mouthpieces I've reviewed (though still a fraction of what you'd pay for one from a dentist), so the big question is it worth the cost?  In my case in was very effective, though it's not perfect.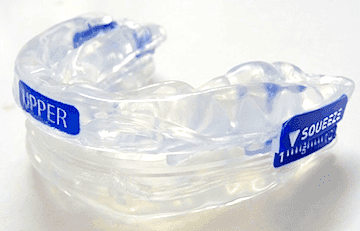 Advantages of SnoreMD
Airflow hole lets you breathe through your mouth
Design allows millimeter incremental adjustments to be made to lower jaw placement
Calibrator makes it easy to read settings
Attractive design
Boil-and-bite technique lets you get a customized fit
Made in the USA
Crafted of medical copolymers and components
No rubber bands, rods, springs, etc. to keep track of
Cleared by the FDA
Designed by a dentist
30-day money back guarantee
Ground shipping is free, but there are options to upgrade
International shipping is available
SnoreMD Complaints
Cleaning is a chore
High price tag
Not easy to find settings
May cause drooling and jaw soreness
Can't speak or drink while wearing it like you would expect from the claims
What is SnoreMD?
SnoreMD is classified as a mandibular advancement device (MAD). It is designed to hold the lower jaw in an advanced position to help prevent your tongue from collapsing into your throat. In doing this it reduces the risk of soft tissues falling close enough together to vibrate and cause the dreadful snoring sound. Not to mention, when your airway is kept free of obstruction, your body gets the proper oxygen it needs throughout the night to allow for a more restful night's sleep.
SnoreMD 
When it comes to advanced features, SnoreMD certainly has all the bells and whistles. This American-made product has a sleek design and all medical-grade copolymers and components. There are no uncomfortable acrylics, screws, rubber bands, rods, or torsion, and it has a built-in cushion to be gentle on your teeth.
The design of SnoreMD is supposed to allow you to talk, drink, and breathe through your mouth while wearing it. There is a generous size air gap separating the upper and lower portions. This also minimizes the claustrophobic feeling some get wearing certain mouthpieces.
Micro-Fit - SnoreMD allows you to make changes to lower jaw placement in 1 millimeter increments for a more tailored fit.
Posi-Lock - You don't have to worry about your desired setting coming loose in your sleep because it gets locked into place, so it won't move all night.
Calibrator - Instead of trying to remember what setting you had it on after you take it part to wash, you can easily find your setting of choice as long as you look at the calibrator before you take it apart. It provides a clear reading of your precise advancement level.
Flex-Jaw - For maximum comfort, Flex-Jaw allows for small lateral movements.
F-Flow - To ensure proper airflow all night the F-Flow allows you to breathe fully. This makes it ideal for those with nasal polyps, deviated septum, or sinus issues.
Thermal Fit - You are able to customize your mouthpiece to form to the curves and crevices of your mouth thanks to this feature.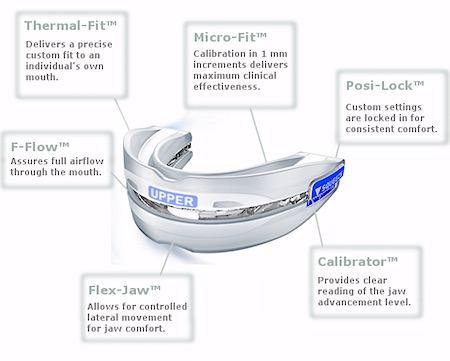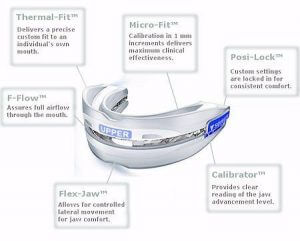 SnoreMD Pricing
You won't experience sticker shock at SnoreMD. It is regularly $49, but sometimes runs at a discount. Shipping is free and orders are typically go out by USPS First Class within 48 hours. You do have 30 days to decide if this is the product for you. If not, you can get a 100 percent refund.
Ordering from the site is secure. It is a verified merchant through authorize.net. It is also a Doctor Trusted website. It has an A rating and was reviewed December 16, 2013 by Dr. Daniel Hanley M.D., M.S. of Chicago, Illinois.
My Experience
SnoreMD Pro looks really good on paper. Even writing about it makes me feel like it should be one of my favorites. It is attractive (not that appearance should matter), and it is loaded with some great features. It is definitely one I was looking forward to trying yet it didn't make my list of favorites.
First, ordering two of these (one was for my wife), put a serious dent in my wallet. I can somewhat justify the price considering it has advanced features you would expect to find in a prescribed stop snoring mouthpiece. However, even justifying it didn't make me feel that much better, but I figured if it ended up being the perfect mouthpiece it would be well worth its price.
I will say that shipping was fast. I ordered first thing in the morning and already had a shipping confirmation later that day. When they arrived I cleaned them using a toothbrush and toothpaste. I already found one thing I didn't like about the device: cleaning it was a pain. There are a ton of tiny crevices on this thing that you really have to put forth the effort to make sure it is clean, especially after you wear it and it's full of bacteria.
We used the boil-and-bite process to mold the mouthpieces. The instructions suggested wearing the device around the house a few hours at a time for a couple days. However, since we had previously tested so many MADs, we felt we could skip this step.
The first night, I advanced my lower tray 3 millimeters and my wife did her mouthpiece 2 millimeters. Setting it was quite easy. You simply squeeze the sides where it says "squeeze" and slide the tray. When you release your grip it locks. I expected it to offer a strong click or something at every increment to know how far you had advanced it but the click was really faint. Plus, if you move too fast you miss them. Not a deal breaker by any means, but not quite as straightforward as expected.
When we put them in before bed, we tried to talk and drink water while wearing them. The site says the design allows you to do these things, and you certainly can but with very little success. I suppose if you tip your head back and let someone pour water through the hole while you swallow it might work. I dumped water all over the front of me from a glass and a bottle. Perhaps, I'm a little overly judgmental because I had previously tried ZQuiet, which is a flexible mouthpiece that really does allow you to talk and drink. Maybe I have been spoiled, so I was disappointed in SnoreMD Pro.
During the night, my wife elbowed me to roll over. Clearly, I was snoring, but it had not heard her make a sound and she fell asleep before me. I figured I probably needed to advance the lower portion of the mouthpiece a little farther, but I was not fussing with it in the middle of the night. So, I tossed it on the nightstand.
My wife was full of energy and felt great the next morning, while I had to hit the snooze button three times. You don't realize how miserable you feel the morning after you snore all night until you go without snoring for a while. Since I was running late, my wife cleaned our mouthpieces. She complained the entire time, which I knew she would. All those incremental crevices are challenging to clean.
The second night, I changed the setting to 5 millimeters. I thought about doing 4 millimeters, but figured it wouldn't make that much difference. I was wrong. I did not snore all night, but my mouth sure was sore the next day.
On the third night, I moved the setting back one click and it ended up being just right. It was far enough to stop the snoring, but not so far that my mouth was too sore to talk the next day. The device worked to stop my snoring for the remainder of the trial and the soreness ended on the fifth day.
Final Thoughts
SnoreMD is a great mouthpiece, really the only concern is the price. If some of the advanced features spark your interest, then this is definitely the mouthpiece for you - it has some things that no other mouthpiece at this price point can compete with.  If you are looking for a cheaper option, you may want to start with Zyppah.
SnoreMD was effective for my wife from the first night, but with me it took three nights to find the right setting, In my opinion it is the best option if you have a little extra money burning a hole in your pocket and you are looking for one loaded with cutting edge features.
The SnoreRX and Snore MD Pro are mandibular advancement devices or MADs. These type of anti-snoring devices keep your jaw thrust forward so that your airway remains open and you don't snore.
You wear these versions of a MAD inside your mouth. Both SnoreRX and SnoreMD Pro have Flex Jaw to help customize the fit.
Snoring Mouthpieces Compared
[table id=16 /]
You must use the boil and bit fitting method first. Once that is done, you can adjust the fit with the Flex Jaw.
SnoreMD Pro
The manufacturers of the SnoreMD Pro made the device out of copolymers and components that make it very comfortable to wear. The various ways you can adjust it, using the Flex Jaw and Micro-fit, makes it fit any size mouth.
The cleaning takes time, as there are more than the usual numbers of tiny cracks and holes that must be cleaned properly to avoid bacterial infections.
My SnoreMD Pro Experience
The price caused me a bit of angst. I had to buy two, one for my wife, but fortunately, the sale price, still in effect, kept the cost under $200 total.
After the boil and bite fitting, my wife and I adjusted the fit to our mouths with the Flex Jaw. It was relatively easy as all you had to do is squeeze the bottom. However, you have to be careful, as it is easy for it to move more than one increment. It was not as easy as we expected.
The device supposedly allows you to drink and talk while wearing it. We both found that we had difficulty doing so. I spilled water all over myself the first time I tried to drink while wearing it.
I awoke the first night when my wife elbowed me in the side. I was snoring loudly. It took me three nights, but I was finally able to find the right fit to stop me from snoring.
Until I got the fit right, I had a sore mouth when I awoke. However, when I finally got the device to fit properly, the soreness disappeared.
My wife, though, did not make a sound. She did not need to readjust her SnoreMD and experienced no mouth soreness either.
Cleaning with the brush took more time than I liked but we eventually got used to that too.  Overall the mouthpiece was fine, but it's not one of my top stop snoring devices.
SnoreRX
The SnoreRX looks a bit strange but it feels very comfortable in your mouth. The Flex Jaw settings give you the opportunity to adjust it in 1 mm increments until you find the perfect fit.
Cleaning requires disassembly and scrubbing well with a toothbrush. There are lots of crevices and crannies, so you must ensure that you reach all of them to prevent the bacterium from accumulating.
After you scrub it, you drop it into a glass of water, add a denture cleaning tablet and it will be fresh and hygienic for that evening.
My SnoreRX Experience
My wife and I were meticulous about the fitting process, so it took more time that we expected. We carefully adjusted the Flex Jaw. However, despite our efforts, I awoke after the first morning with a slightly sore jaw. My wife, however, felt fine. Once I made a slight adjustment, the following night the soreness disappeared.
The results pleased both of us. My son claimed he did not hear anything coming from our bedroom. I woke up to let the dogs out and noticed that my wife was quietly asleep. She reported the same thing about me when she got up to use the bathroom.
The cleaning was the most onerous part of using the SnoreRX. We had to brush it well and it seemed to take forever. We quickly got used to it and after a couple mornings the cleaning became routine.
My Recommendation
The SnoreRX overall was easier to fit and slightly easier to clean. To be fair, once I was able to fit the SnoreMD Pro properly, it too worked as advertised and kept my wife and me from snoring.
If you purchase either mouthguard, make sure to use a SnoreRX coupon or SnoreMD Pro Coupon.
[rwp-table id="0"]
This page provides discount coupon codes for the SnoreMD Pro anti-snoring mouthpiece.  The company will offer discounts from time to time, making their reasonably priced product even more affordable.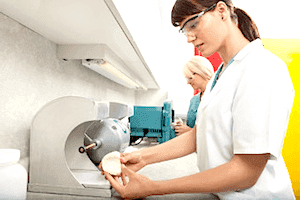 At this price point, the SnoreMD Pro is one of the best deals on snoring mouthpieces on the market.  It compares to stop snoring mouthpieces that are literally 10x more expensive if you purchase it through your dentist or other medical practitioner.
Right now they are running a general promotion, for $149.95 instead of $200.  You also get free shipping.  If you're at all interested in the SnoreMD Pro, now is probably one of the best deals that you will get on the mouthpiece.
If you happen across any coupon codes on other sites, please let us know!  We will update the page to share with our readers.