SnoreFreeNow Available Products
Unlike the majority of mouthpiece manufactures that concentrate on strictly selling stop snoring devices, SnoreFreeNow has an assortment of products available to you on its website. This may lead you to believe that this is a super high quality product.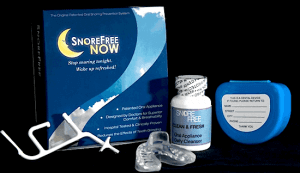 If SnoreFreeNow is under your radar, be sure to read my review on the product and weigh its pros and cons to be certain that it is the right snoring mouthpiece for you.
SnoreFreeKit $49.99 – This starter kit includes a mouthpiece, handle, hard storage case, and bottle of mouthpiece cleaner.
Extra Mouthpiece $15.95 – These mandibular advancement devices (MADs) only last about three months. When you need to order a replacement, you have the option to buy a single one. Make sure that you place your handle in the safe place. Otherwise you are going to have to place an order for an extra handle, as well.
Travel Kit $29.95 – If you travel a lot for business or pleasure, you may appreciate that this kit that includes a mouthpiece, earplugs, eye shades, dental case, and travel bag.
3 Pack Mouthpieces $39.99 – If you prefer to order replacements in packs of three instead of ordering single ones, you have the option to do so, and this ultimately saves you about $6.
SnoreFreeNow Sleep Aid Kit $29.99 – The kit includes eye shades, earplugs, and a bottle of Sleep Advantage. Note that this kit does not include a mouthpiece.
Comfort Fit Handle $8.95 – If you lose or break the plastic tool that is used during the boil-and-bite process, it will need to be replaced before you can fit another device. If you try doing the fitting process without one it is likely that the boiling water will cause the breathing hole to collapse.
Dental Case $9.95 – Always keep your mouthpiece stored in a case so it is clean and protected. One comes with the starter kit, but you may need an extra replacement at some point.
Fresh & Clean $9.95 – Unlike most oral appliances that can be cleaned with toothpaste, dish soap or denture cleaner, the manufacturer of SnoreFreeNow strongly suggests you clean your device with Fresh & Clean.
SnoreFree Sleep Aid CD $9.95 – If you need help falling asleep this CD of mellow music may help.
Fresh & Clean 3-Pack – When you order the three pack of Fresh & Clean, the CD mentioned above is included.
SnoreFreeNow Eyeshades $6.95 – Sleep through a storm or on the plane with these eye shades, which provide total darkness.
Travel Bag $8.95 – This travel bag also includes travel bottles that are TSA-approved.
SnoreFreeNow Ear Plugs $5.95 – These foam earplugs are easy to insert. You just twist them in place. This helps you fall asleep despite outside noises that would normally keep you awake.
SnoreFreeNow Sleep Advantage $19.95 – This supplement is suggested to help you fall asleep faster. It includes passionflower extract, taurine, GABA, bacopa monnera extract, magnolia extract, melatonin, gelatin, and magnesium stearate.