August 2018 Update:   SnoreFreeNow is no longer an active selling product.   To view snoring mouth guards currently for sale see anti snoring mouthpieces.
----------------
It is easy to get lured in by (possibly fake) reviews and a flashy website, but you need to understand that sometimes products seem more popular than they are because the company has a fantastic marketing team. Before you settle on SnoreFreeNow check out these reasons why this may not be the right snoring mouthpiece for you.
Short Lifespan - This device may have an affordable price tag, but it needs to be replaced every three months. Doesn't it make sense to order a product that costs a bit more, but lasts a lot longer?
Special Tool Needed - If you lose the handle that comes in the starter kit to do the boil-and-bite process you will have to order another one before you fit your next device. Unfortunately, SnoreFreeNow can't be custom fitted without the tool because the airflow hole will collapse.
No Guarantee - The makers of SnoreFreeNow state that the only time the device does not work is if the customer doesn't mold it properly. Only unopened and defective products can be returned.
Can't Be Worn with Dental Work - If you have braces, caps, crowns, bridgework, or missing or loose teeth, you can't wear this device. It is also off limits if you suffer from any TMJ issues, and like all over-the-counter mouthpieces it is not recommended for use in children under the age of 18.
No Adjustability Option - Some people have better luck with devices that allow adjustments to lower jaw placement. Adjustments of this kind can't be made to SnoreFreeNow.
Questionable Facts - SnoreFreeNow is supposedly designed by a leading orthodontist, clinically proven and hospital-tested, but there is no evidence to support these claims.
One redeeming quality would be this funny video they published

August 2018 Update:   SnoreFreeNow is no longer an active selling product.   To view snoring mouth guards currently for sale see anti-snoring devices.
----------------
If you have read even a few of my reviews or have compared mandibular advancement devices (MADs) on your own then you already know that a vast majority have a 30-day money back guarantee. This gives you the opportunity to try a product to make sure it works for you.
There are even some, such as ZQuiet, that allow you to try the device for 30 days before your card is even charged. So, you may be automatically expecting SnoreFreeNow to come with some type of similar guarantee, but sadly, it doesn't.
Return Policy Details
As long as a product has not been opened it can be returned. How is that for being helpful? Basically, you have to shell out money for one of these snoring mouthpieces and hope that it works. Otherwise, you just bought a new addition to the junk drawer.
SnoreFreeNow's website states that opened products can't be returned because of sanitary reasons. How is it that other manufacturers have no problem accepting returns then? It also says that most unsatisfied customers have not followed instructions or molded the device properly. How's that for pointing the blame at the consumer? So, if the product does not work it's your fault. You did something wrong.
Interestingly, SnoreFreeNow did not work for me or my wife (read my SnoreFreeNow review to learn why), and we have molded countless mouthpieces in the past. The site specifically says that the "only" time the mouthpiece does not work is if it is molded incorrectly.
It is stated that defective products can be returned, but I would hate to have to see what hoops you would have to jump through to actually get an RMA number to send it back. In a market that is so competitive it is quite surprising to see a company be so insulting to the consumer.
SnoreFreeNow has provided our readers with a discount coupon code.  Use this promo code at checkout to receive a substantial discount off the purchase price.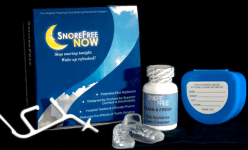 These coupons are updated regularly, so we will do our best to update the page with the latest offer from SnoreFreeNow.  If you happen to come across a better coupon, please message us so that we can share it with our readers.
Using a discount coupon for SnoreFreeNow no way invalidates their other offers, including shipping benefits and return policy.  Make sure to check out my other snoring mouthpiece reviews as well.
August 2018 Update:   SnoreFreeNow is no longer an active selling product.   To view snoring mouth guards currently for sale see our highest-rated anti-snoring devices.
----------------
Since SnoreFreeNow uses a special stabilizer handle, you will find the process to be a little different than what you may have done in the past with other mandibular advancement devices (MADs). If this is your first time fitting an oral appliance, rest-assured that it is not nearly as challenging as you may be telling yourself it is right now.
To get started, you are going to need your mouthpiece, the handle, a small pot and bowl, and a clock, watch, or smartphone app with a second hand.
Get Comfortable with the Device First
Due to the design of SnoreFreeNow it is a good idea to do a "dress rehearsal" of the fitting process before actually heating it. Attach the handle to the rectangular hole on the device and insert in your mouth, so your upper teeth get covered by the U-shaped section. The flange should be behind your lower teeth.
Extend your lower jaw forward, so you touch the lower part of the handle with your teeth. Bite down. When the device is heated it is important to try to get the bite right the first time your teeth make contact with the material because you only want one solid bite into the softened plastic.
Push the snoring mouthpiece against your upper lip while you make a sucking action, as if you are drinking through a straw.
Fitting Process
Once you are comfortable handling your SnoreFreeNow mouthpiece it is time to do the process for real. Begin by bringing a pot of water to boil. Remove it from the heat. Submerge your mouthpiece for a maximum of 50 seconds. Soaking it longer can cause the device to shrink.
Remove from the hot water and submerge in cold water for three seconds. Place it in your mouth just as you practiced. Bite into the material, and hold your mouth firmly in place for 30 seconds. Remove it from your mouth, and soak it in a bowl of cold water for about a minute. The cool temperature will harden the impression that you just made. Test the device, and repeat the process, if needed.  To learn about the device performance read my experience with SnoreFreeNow.
See More Info from SnoreFreeNow

August 2018 Update:   SnoreFreeNow is no longer an active selling product.   To view the top-rated snoring mouth guards currently for sale see our anti-snoring mouthpieces roundup.
----------------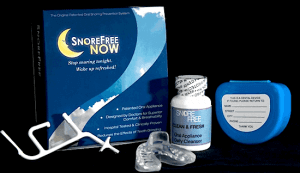 Unlike the majority of mouthpiece manufactures that concentrate on strictly selling stop snoring devices, SnoreFreeNow has an assortment of products available to you on its website. This may lead you to believe that this is a super high quality product. If SnoreFreeNow is under your radar, be sure to read my review on the product and weigh its pros and cons to be certain that it is the right snoring mouthpiece for you.
SnoreFreeKit $49.99 - This starter kit includes a mouthpiece, handle, hard storage case, and bottle of mouthpiece cleaner.
Extra Mouthpiece $15.95 - These mandibular advancement devices (MADs) only last about three months. When you need to order a replacement, you have the option to buy a single one. Make sure that you place your handle in the safe place. Otherwise you are going to have to place an order for an extra handle, as well.
Travel Kit $29.95 - If you travel a lot for business or pleasure, you may appreciate that this kit that includes a mouthpiece, earplugs, eye shades, dental case, and travel bag.
3 Pack Mouthpieces $39.99 - If you prefer to order replacements in packs of three instead of ordering single ones, you have the option to do so, and this ultimately saves you about $6.
SnoreFreeNow Sleep Aid Kit $29.99 - The kit includes eye shades, earplugs, and a bottle of Sleep Advantage. Note that this kit does not include a mouthpiece.
Comfort Fit Handle $8.95 - If you lose or break the plastic tool that is used during the boil-and-bite process, it will need to be replaced before you can fit another device. If you try doing the fitting process without one it is likely that the boiling water will cause the breathing hole to collapse.
Dental Case $9.95 - Always keep your mouthpiece stored in a case so it is clean and protected. One comes with the starter kit, but you may need an extra replacement at some point.
Fresh & Clean $9.95 - Unlike most oral appliances that can be cleaned with toothpaste, dish soap or denture cleaner, the manufacturer of SnoreFreeNow strongly suggests you clean your device with Fresh & Clean.
SnoreFree Sleep Aid CD $9.95 - If you need help falling asleep this CD of mellow music may help.
Fresh & Clean 3-Pack - When you order the three pack of Fresh & Clean, the CD mentioned above is included.
SnoreFreeNow Eyeshades $6.95 - Sleep through a storm or on the plane with these eye shades, which provide total darkness.
Travel Bag $8.95 - This travel bag also includes travel bottles that are TSA-approved.
SnoreFreeNow Ear Plugs $5.95 - These foam earplugs are easy to insert. You just twist them in place. This helps you fall asleep despite outside noises that would normally keep you awake.
SnoreFreeNow Sleep Advantage $19.95 - This supplement is suggested to help you fall asleep faster. It includes passionflower extract, taurine, GABA, bacopa monnera extract, magnolia extract, melatonin, gelatin, and magnesium stearate.
August 2018 Update:   SnoreFreeNow is no longer an active selling product.   To view snoring mouth guards currently for sale see anti-snoring devices.
----------------
The SnoreFreeNow website has a lot of claims on it about its snoring mouthpiece, but it does not provide any real information or supporting evidence to back them up. Supposedly, a famous dentist created the product, but apparently, their name is a secret because their identity is not revealed.
If you do a little digging on the product and company, you find that Scott E. Feldman DDS and Norman Alan Shapiro DDS are both mentioned in association with the design of the product on the patent, but if this is the case then why isn't it marketed as having two dentist designers instead of one? Shapiro and Feldman both reside in Woodland Hills, California. In the past, they worked together, but now they have their own practices located about a mile away from each other.
SnoreFreeNow is marketed and distributed by IFMC, a company that has launched dozens of products, including The Ab Wedge, Eggstractor, and The Spirit of Christmas CD. IFMC is headquartered in Las Vegas, Nevada, and has another office in Southern California. The company has no known complaints with governmental agencies and is listed with Dun & Bradstreet. So, although the company does seem to be reputable it is hard to understand why there is so much secrecy over the product's designer.
Other companies have no problem revealing the person's name responsible for the product, so why not share this information. The SnoreFreeNow site also states that the device is clinically proven and hospital tested, but of course, there are no links to documents or websites supporting these claims.  I highlight more of these concerning cons in my full SnoreFreeNow review.
The one thing that the company does have going for it is that its contact information is readily available. IFMC can be reached by the phone number, email, and address listed below.
IFMC, Inc.
21520 Yorba Linda Blvd
Suite 449
Yorba Linda, CA, 92887
Phone: (888) 667-6673
Here is a video presented by the SnoreFreeNow company

Update: While we have no official word from the company, it appears that SnoreFreeNow has closed its operations.  Instead of reading the review below, we recommend that you have a look at our current list of The best anti-snoring devices still available.
SnoreFreeNow definitely has one of those websites that just sort of lures you in. Before you know it, you have placed an order, and you are not even sure what you just bought. You instantly see international shipping is available, and you can even select to view the site in dozens of languages.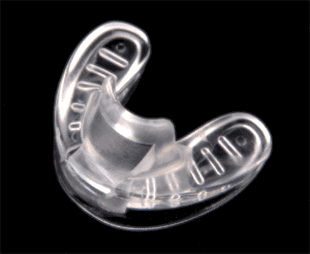 It makes it look like this is a very global product, but is it? You also see that it is patented and judging by appearance, you would think it would be very comfortable. Well, I put SnoreFreeNow to the test, and I will have to say, I was much more impressed with the website than I was with the product.
Pros and Cons
I'm not a fan of SnoreFreeNow, but it does have some advantages worth mentioning. Some of my complaints may not be an issue for you, so I'd look at the Pros and Cons to see if anything screams out at you either way.
Pros
Large airflow hole makes it easy to breathe through your mouth while you sleep.
Boil-and-bite method allows you to achieve a custom fit.
SnoreFreeNow is made from BPA-free thermoplastic.
These snoring mouthpieces are made in America.
Cleared by the United States Food and Drug Administration.
International shipping is available.
Reorders for single- or three-pack devices are inexpensive.
Complaints
Product not backed by a guarantee, so you can't just send it back in 30 days, if you decide it's not right for you.
SnoreFreeNow needs to be replaced every three months, which is a very short lifespan compared to other products.
Using a special cleaning solution by SnoreFreeNow is recommended, so you will have to figure that expense into your budget.
Claims to be dentist designed, hospital tested, and clinically proven to work, but where is the evidence?
If you lose the insertion tool, you have to order a new one to custom fit SnoreFreeNow oral appliances in the future.
Can't be worn by individuals with braces, dentures, crowns, or missing or lose teeth.
Disclaimer on site states that use of the device may cause teeth and/or jaw soreness, tooth movement, excessive salivation, obstruction of oral breathing, and temporomandibular joint soreness or pain.
A Closer Look at SnoreFreeNow
Like other mandibular advancement devices (MADs), SnoreFreeNow is designed to hold your jaw in a forward position. This keeps your airway free of obstruction, so soft tissues are not able to vibrate. This oral appliance is crafted of a BPA-free material called thermoplastic elvax. At least it is a safe material, so it has something going for it.
SnoreFreeNow requires a boil-and-bite technique to achieve a custom fit, but unlike other devices, it has an actual handle you need to use during the process. If you are like me and put things like this somewhere "safe" so you don't lose them then chances are good you won't find it until your stumble upon it a year later. I'm not a fan of devices that require the use of fancy tools for this very reason. You can order a tool, but who wants to spend more money on a piece of plastic, when you can almost buy a new mouthpiece for the same amount?
If you are a mouth breather, you will definitely appreciate the generous size airflow hole this mouthpiece has. This is one of the (few) things I like about this device. Some have holes that are so small they are pretty much worthless.  Another device that has a good sized airflow hole is VitalSleep.  SnoreFreeNow is made in America and cleared by the United States Food and Drug Administration. The site is also registered with Bizrate, and it is security scanned, so at least you can feel confident that your personal information is secure while ordering. Seriously, if you look at the site, you will understand what I mean about it creating a really respectable image. I just wish I could have been more impressed with the actual product.
Also, you look at the very simple design and can't help but get excited over the fact that it has to be easy-to-clean. There are no major crevices or moving parts, so routine maintenance should be a breeze. Unfortunately, the manufacturer strongly encourages that you use SnoreFree Fresh & Clean, its personal cleanser, so this is an added expense. It does come with a dental case to store the mouthpiece in when it's not being used.
My Experience
When the SnoreFreeNow devices arrived for me and my wife, we both commented on the peculiar design, as it doesn't feature separate upper and lower trays. We also thought that for sure it would work well since the ones we previously doubted based on appearance had ended up being some of our favorites. We did the boil-and-bite technique on them right away and cringed at the thought of having to keep track of that handle in case it was needed again. I have a hard enough time finding batteries in a power outage, even though I always put them where I think I'll remember.
That night, neither of us felt any immediate hatred or love for the device. There have been a few my wife has thrown across the room and others we both instantly loved. This one sparked no feelings, which wasn't necessarily a bad thing.
Our senior dog woke me up in the middle of the night for a bathroom break. My mouthpiece had fallen out and so had my wife's. She was snoring away, and I imagine I probably was, too. I put mine back in when I got back in bed, but by morning it was out again.
We were both so tired in the morning. When you use a mouthpiece that actually works and your sleep quality improves, you really notice the difference in how you feel when you go back to snoring all night. I washed both of our SnoreFreeNow mouthpieces and put them away. On the positive side, neither of us had a sore jaw, but only because we slept without a mouthpiece most of the night.
That evening, we thought about refitting the MADs again but thought we would give it one more night to see if their falling out was just a fluke thing. It wasn't. they fell out again, so clearly something was wrong.
We had done the boil-and-bite method on countless mouthpieces before, so we were pretty much old pros at it. However, this was the first time both of us had a mouthpiece fall out two nights in a row, so we did the fitting process again (yes, I found the handle).
The third night, the same thing happened. We didn't have one night during the entire trial that the device stayed in. Maybe SnoreFreeNow works for some people with a "special" mouth, but it certainly didn't work for us.
Pricing
The SnoreFree Kit is $49.99, so it's not the least expensive option available. However, if this MAD actually works for you then you will appreciate that you can order one replacement mouthpiece for $15.95 or a three-pack for $39.99. Standard shipping is free, or you can upgrade to rush shipping for $7.95. If you want it faster, there is also an overnight shipping option for $30.
SnoreFreeNow also has a travel kit for $29.99 that includes a travel bag, dental case, eye shades, ear plugs, and a mouthpiece. A sleep aid kit is also available for the same price, which includes eye shades, ear plugs, and a bottle of Sleep Advantage.
The Comfort Fit Handle that you need for fitting these devices is $8.95, in case you lose the one that comes in the kit. The SnoreFreeNow Sleep Advantage Supplement in the sleep aid kit can be purchased separately for $19.95. The SnoreFree Fresh & Clean solution is recommended to use to keep your device clean, and it is $9.95 per bottle.
Final Thoughts
For what SnoreFreeNow offers, you would think it would be priced a lot cheaper. It can be custom fit and it does have an airflow hole, but beyond that there is really no standout feature that justifies the price. Not to mention, you also have to use special cleaning solution that is $10 per bottle. Probably the biggest turn off is that there is no guarantee. At least with other products, you have 30 days to try the product to decide if you like it.
If you want an MAD that is moderately priced, comfortable, and effective, I recommend ZQuiet. You don't even have to pay for the device upfront. You can pay for shipping, and try the product for 30 days before your card gets charged. I also recommend trying Good Morning Snore Solution, which is my personal favorite. It is a tongue stabilizing device, so the design is different than what you are used to with MADs, but it is a very effective product.