SnoreRx Review | My Snoring Problem is Officially Over!
When I ordered SnoreRx, I looked forward to trying out its unique features. I've tried many Mandibular Advancement Devices (MADs) in the past and was hoping for great results from SnoreRx.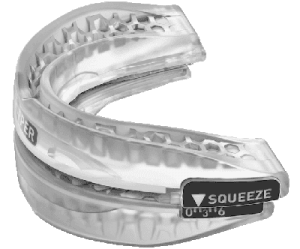 I wasn't disappointed! There are many benefits to using SnoreRx over other MADs, from the amazing customization to the high-quality material selection, but most of all it is effective.
I am confident it will become your preferred anti-snoring device as well.
Update: This review will be phased out soon as SnoreRx has just released the new, upgraded SnoreRx Plus – Check out the full review here! The SnoreRx Plus is currently on sale for $99.
Advantages
Flex-Jaw design can be adjusted in ten one-millimeter increments.
Calibrator makes it easy to read the settings and to determine the amount of jaw advancement.
Posi-Lock feature locks in your selected settings. So, if you take it apart while cleaning, it will reset.
V-Flow technology allows you to breathe through your mouth while sleeping. This is a terrific feature for individuals with sinus problems, a deviated septum, and nasal polyps.
Boil-and-bite technology achieves a custom fit.
Free of BPA, latex, and acrylic using the medical-grade material.
United States Food and Drug Administration cleared.
Product and all materials are made in America.
American Academy of Sleep Medicine (AMASS) certification.
No metal or materials that could create torsion or continuous pressure are used, so your comfort is guaranteed.
A lifespan of 12 to 15 months.
A 30-day money back guarantee.
Disadvantages
The intricate design requires additional cleaning effort.
The mouthpiece can't be worn by individuals with dentures or bridges. Not recommended for those with dental implants that are less than one-year-old.
May cause sensitivity and drooling until you are accustomed to wearing it.
My Actual Results
Here is a screenshot of my results when recorded with a snore recording app compared between two nights.

What Makes SnoreRx Unique?
Since SnoreRx is classified as a MAD, it works by holding your lower jaw forward while you sleep, preventing soft tissue obstruction which causes snoring. The product is up-to-date and has technical features unavailable on other MADs.
One of the most noticeable features of SnoreRx is its customization. It has a calibrator set into the side of the device with ten settings spaced only one millimeter apart.
This provides a huge range of lower jaw positions to ensure you find the most comfortable position for you. The calibrator is easily adjusted with a squeezing mechanism and can be reset if necessary.
Most MADs do not allow you to adjust your jaw position easily, and if they do, they spacing isn't fine enough to allow for both comfort and effectiveness.
SnoreRx is constructed from durable and non-irritating medical-grade material. It contains no BPA, latex, or acrylics and is suitable for people with allergies or sensitivities. It does not utilize metal pieces and rubber bands, which can cause uncomfortable pressure and torsion.
Like other MADs, it uses an easy boil-and-bite method to achieve a custom fit. However, SnoreRx has the additional benefit of allowing you to adjust your jaw position incrementally for further customization.
You will appreciate the cushioned design on the upper and lower trays, so they are gentle on your teeth. Also, mouth-breathers will welcome SnoreRx's V-Flow design that allows free airflow through the front of the device.
SnoreRx has a lifespan of 9 to 11 months which is almost twice that of the average MAD. SnoreRx is affordable, effective and long-lasting so it is worth the investment.
My Experience
When I ordered SnoreRx, I took advantage of the multi-purchase discount and bought two devices. I travel frequently for my work so having two SnoreRx gadgets is a convenience.
When the mouthpieces arrived, I followed the boil-and-bite technique to create a custom fit. I had to boil the second device twice, but it didn't negatively affect the material.
I was excited to try my new MAD, especially the lower jaw adjustment feature. At first, I found the number of jaw positioning options overwhelming, but after some fine-tuning settled on a comfortable position.
The first night I wore the device, I slept well, but my mouth was a little sore in the morning. The discomfort was similar to wearing braces for the first time.
The great news was my wife told me I didn't snore at all. The following night I adjusted the positioning of the lower jaw settings and didn't encounter any pain when I woke up the next day, and I still didn't snore.
I was concerned that adjusting the position would impact the effectiveness of the device. I also really liked the cushioning on both the upper and lower jaw which added to the level of comfort.
Cleaning the device definitely took longer than other MADs I have worn. The cleaning process is more difficult due to the number of positioning adjustments. I used a denture cleaner to help me reach into every area and eradicate bacteria.
I am very pleased with the SnoreRx. I have tried other MADs, but this one is more comfortable because of the numerous jaw adjusting positions and cushioning.
I no longer snore, so both my wife and I get a good night's sleep and our relationship has improved as a consequence.
Most customers are happy with SnoreRx, you read more reviews for SnoreRx on the Verified Reviews site, a trusted 3rd party review authority.
SnoreRx is backed by a 30-day unconditional satisfaction guarantee. You don't need to have it back to the company within 30 days either. It simply has to be postmarked 30 days from the confirmed delivery date, so you really do get a full month to try it.
SnoreRx Video Of Unboxing & Features
SnoreRx is an oral appliance sold as a treatment for snoring.   It uses mandibular advancement, which moves the lower jaw forward, to open the upper airway during sleep.   A wider airway then improves airflow and reduces snoring.

Does SnoreRx really work?

Yes, SnoreRx really does work. Like any snoring mouthpiece, it takes some getting used to. The concept behind SnoreRx is proven and the adjustability that the SnoreRx device provides ensures a comfortable fit.

How long does SnoreRx last?

Apnea Sciences, the parent company of SnoreRx, suggests that the SnoreRx device will last between 9 and 11 months on average. Some people grind their teeth while sleeping and will experience more wear on their device than average. With proper care you can expect the device to last longer than 12 months.

Can SnoreRx cure snoring?

SnoreRx is not a cure for snoring.   Snoring is not a curable disease.  The SnoreRx is a treatment for snoring and is designed based on medical studies which prove that mandibular advancement is a successful treatment for snoring.

Why is SnoreRx adjustable?

SnoreRx is adjustable for comfort. The SnoreRx is adjustable in millimeter increments which allows the wearer to choose the thrust of the lower jaw. Some users want minimal jaw advancement, and some want greater jaw advancement.

How much does SnoreRx cost?

As of August 6, 2018, the price of a SnoreRx is $99.95, and the average standard shipping rate is $6.95, which brings the total cost to $106.90. Priority Shipping from FedEx is available for an additional charge. The SnoreRx device is sold in packs of two for $154.00.

What is the cost of shipping for SnoreRx?

The cost of shipping for SnoreRx is $6.95. Priority shipping from FedEx costs extra based on your location. SnoreRx also offers international shipping with FedEx. Amazon fulfillment centers provide Canada and Australia shipping for SnoreRx.

Are there coupon codes for free shipping for SnoreRx?

There are no coupon codes for free shipping for SnoreRx. However, there are coupon codes for a discount on the price of SnoreRx. You can use "snoringhq" as a coupon code to get 10% off the price of the SnoreRx.

Does wearing SnoreRx look funny?

Wearing SnoreRx looks the same as a mouthguard for sports or a mouth guard for teeth grinding. A slight covering is over the teeth, and it is not possible to speak clearly during use.

What does it mean when a person is snoring?

A person who is snoring is making a loud grunting and grinding noise through the nose and mouth during sleep. Restricted airways cause this. Excess throat and nasal tissue can vibrate during sleep, also causing the snoring noise.
Moderately Priced
With all the incredible features of the SnoreRx, I was expecting a hefty price tag; however, when I placed my order for two SnoreRx devices, I noticed there was a huge multi-purchase discount. One device costs $99, which is a terrific price, but two devices cost only $154. It's almost a "buy one, get one half price" deal.
SnoreRx offers USPS shipping for $6.95 for 1 device. If you prefer FedEx, the cost is around $10, which means they arrive soon after you order.
SnoreRx can be shipped internationally to over 30+ countries for only $9.59. International shipping for two devices is $14.95.
Countries include:
Austria, Belgium, Bulgaria, Canada, Cyprus, Czech Republic, Denmark, Estonia, Finland, France, Germany, Greece, Hungary, Ireland, Italy, Latvia, Lithuania, Luxembourg, Malta, Netherlands, Poland, Portugal, Romania, Slovakia (Slovak Republic), Slovenia, Spain, Sweden, United Kingdom
SnoreRx also offers a 30-day unconditional satisfaction guarantee. You can try the product for a full month before you return it. If you are unsatisfied with the product, make sure your return is postmarked 30 days from when you had it delivered so you can receive a full refund.
Is the SnoreRx Right for You?
SnoreRx is the perfect device for anyone who prefers a highly customized fit. It is amazingly comfortable, it is wearable by most mouth shapes and sizes, has great airflow for mouth breathers, and is suitable for anyone with allergies or sensitivities. Most importantly, it's incredibly effective.
If you are interested in a highly adjustable, comfortable MAD, the new SnoreRx Plus would be a great option for you. It is durable, and thoughtfully designed with a lot of unique characteristics. Plus, it can be worn by mouth breathers and those with a latex allergy. But you have a number of choices on the mouthpiece market.  Our "best mouthpieces" list should help you compare your options.
Two other MADs that are possibilities are ZQuiet and Snore Medic. If you want to try a tongue retaining device that holds your tongue forward instead of your jaw then take a look at the Good Morning Snore Solution mouthpiece.