SomnoGuard Designer and Distributor Information
The creator behind SomnoGuard is Dr. Winfried Toussaint, a medical doctor who practiced natural medicine in Bensheim, Germany, for approximately 20 years before he created this snoring mouthpiece.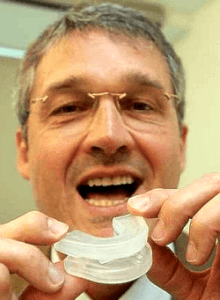 His device is not listed on our page of the best anti snoring mouthpieces.  It was actually designed to help him deal with his sleep apnea, which is why today it is often thought of as a device to treat obstructive sleep apnea (OSA).
Tomed Dr. Toussaint GmbH, a medical enterprise, was founded in 1997 to manufacture SomnoGuard. The company's goal was to put a strong focus on sleep apnea.
Tomed is headquartered in Germany. The company does not directly distribute to doctors in the United States.
1st Line Medical Supply Company is the distributor of SomnoGuard products in America. The company is located at 81 S. Milwaukee Ave #A, Wheeling, Illinois, 60090.
1st Line Medical Supply Company is not accredited through the Better Business Bureau, but it does have a B- rating on the BBB website.
The low rating is due to a product complaint. However, the complaint was addressed and closed.