Our team has tried a number of anti snoring devices, including pillows, snoring mouthpieces, and chinstraps. We've had both doctors and sleep specialists try most of the non-prescription devices (which are MUCH more reasonably priced) and list out the pros and cons of each.
Our research shows that a number of the mouth guards, which are Mandibular Advancement Devices, worked to stop snoring (at least partially), and after trying them all we compiled a list of favorites. We do not list snoring pillows or chinstraps here because no clinical studies support the success of those products.
If you're totally lost on anti snoring devices, this is a great place to start – otherwise, check out our reviews page for the unabridged list of reviews.
Selecting Your Anti Snoring Device
Again, these are our favorite snoring aids after 5+ years of testing, so let me know if you have a bad experience with any of them (and why) or if you have a great experience with an anti snoring device not listed. If you are ready to buy, head over to the snoring products discount coupons page.
How to Choose Your Anti Snoring Device
First, what is most important to you? Everyone has different requirements. With anti snoring devices, you can choose between comfort, price, safety, and snoring success.
Look For Comfort – Comfort is often the most desired feature on an anti snoring device. Comfort depends on the size and the adjustability. There are two anti snoring devices that can be adjusted – the SnoreRx and the VitalSleep. However, the SnoreRx is fully FDA-Cleared. If comfort is important to you, we recommend you purchase the SnoreRX, although it is a bit higher in price.
Deciding On Price – If the price is more important to you then other features, we recommend the VitalSleep. This low-cost anti snoring device is a great starting mouth guard and comes in both a larger size, for men, and a smaller size, for women.
Remember Safety – If safety is extremely important to you, we recommend you use a device that is FDA Cleared, BPA Free, and Made in The USA. The SnoreRx fits these requirements, but you pay more overall for the devices.
Does it Reduce Snoring? – Snoring mouthpieces have all been clinically proven to reduce snoring in a number of studies.
Anti Snoring Devices are Popular
Millions of anti snoring devices are sold on an annual basis worldwide. They work and will help to reduce your snoring. Anti snoring devices are most popular in the UK, but are catching on in the US and globally.
Remember, Anti Snoring Devices Can Be Returned!
Most manufacturers will offer a 30 to 60 day return period. This is critical and you should take advantage of this. Simply return your device and get a full refund. Sometimes you have to pay for the return shipping, but that is a small price to pay for testing the device. The SnoreRx, VitalSleep, and Zyppah all offer this return policy.
Adjustability
The two devices that can be adjusted to fit your mouth are SnoreRx and VitalSleep. This will ensure you can adapt to using the device quickly and will lessen jaw soreness.
Made in the USA
All the devices we tested were made in the USA and use quality materials.
Boil-And-Bite Devices
The three devices that allow a boil-and-bite impression of your teeth are SnoreRx, Zyppah, and VitalSleep.
Anti Snoring Devices that Do Tongue Retaining
The two devices that allow tongue retaining are Zyppah and Good Morning Snore Solution. The Good Morning Snore Solution is exclusively tongue retaining device and does not include mandibular advancement.
Recommended by Doctors
Three of the devices we tested were invested or are recommended by doctors, and especially sleep specialist doctors. Those products are SnoreRx, Zyppah, and Sleep Tight.
Chart of Features
Anti Snoring Device Coupons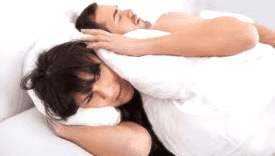 Currently, I use SnoreRx every night but have used and evaluated both Zyppah and ZQuiet with good results especially if my allergies are acting up (better for breathing). For a solution that is not a standard mouthpiece, see the review regarding Good Morning Snore Solution. I will also make an honorable mention to My Snoring Solution as an alternative favorite. Some people like this device because it is not a mouthpiece at all, but rather a chinstrap. See my experience in my My Snoring Solution review.
There are also complementary therapy products available. These are snoring aids that can be combined with a mouthpiece or TRD, and will benefit your efforts to stop snoring. Nasal dilators, nasal strips, EPAP, wearables, and salt machines are some options. In summary, there are many ways to stop snoring but you need to determine which is best for you.
Frequently Asked Questions about Snoring Devices
What really helps with snoring?

Snoring will always be reduced with lifestyle changes.   Exercise, health eating, losing weight and proper sleep habits contribute to less snoring.   Alternative treatment studies are also positive with mandibular advancement devices (anti snoring devices) showing high rates of success.

 

Do mouthpieces really work to stop snoring?

Anti snoring devices such as snoring mouthpieces have many clinical trials over the past two decades supporting their use.   Doctors and sleep dentists have both recommended and invented snoring mouthpieces to prescribe to patients.

 

You can stop snoring, or reduce snoring partially, once you adapt to wearing an anti snoring device such as a snoring mouthpiece.   Most users can adjust to wearing these devices within 3-4 days.

 

Which anti snoring device works best?

Doctors and dentists both recommend the SnoreRx, and online reviews are positive.   Dr. Tammy Balatgek, DDS, MS has tested the SnoreRx along with many other dentists and sleep specialists.

 

Can I return anti snoring devices?

Yes, most manufacturers are so confident in their device success that they offer a 30-day return policy.