TheraSnore has an average return policy for an anti-snoring device manufacturer. They offer a 30-day guarantee, which enough time to test the device and determine if it improves your snoring.
The company does not pay for return shipping charges. For customers living in the U.S., the return shipping costs may be high due to international shipping. The cost to ship from California to the UK for the TheraSnore with USPS First Class (not Priority Mail) is between $11 to $15. The shipment can take up to 30 days to arrive with USPS.
To return the TheraSnore:
Verify that your shipping date will be within 30 days of your original order date.
Package the device and include all original documentation (sales receipts, order #, email confirmations)
Ship to the following address:
Tower Health, Returns
Unit 24 Wilford Business and Industrial Estate,
Ruddington Lane,
Nottingham
NG11 7EP.
If SleepPro is the anti snoring devices you are considering, or if you are trying to compare it to others, this list will tell you all the important things you need to know about this product.
Like other mandibular advancement devices (MAD), SleepPro works by holding your lower jaw forward to help keep your airway clear.
Breathing can be done through the mouth, if needed, thanks to an airflow hole.
The boil-and-bite process is used to achieve a custom fit.
The mouthpiece can be washed using a toothbrush and mild dishwashing detergent. It can also be cleaned using a denture cleaner.
The average lifespan of SleepPro is 12 months. However, if you grind your teeth it will be less.
Some denture wearers can use this device as long as long as most front teeth are intact. Never use extremely hot water while cleaning as this can make the device very rough.
SleepPro is backed by a 30-day money back guarantee and 45-day warranty.
Check out our full SleepPro stop snoring mouthpiece review for more information or contact us and let us know your experience.
Since the TheraSnore has an upper and lower tray, which can be separated, and a lingual post as part of the lower tray, it is more complicated to clean.
The TheraSnore can deteriorate, corrode, or even grow mold due to the nightly saliva, so it is best to keep a routine of cleaning the device. Most anti-snoring mouthpieces can be cleaned with denture powder, or a denture tablet, placed in a glass of warm water for thirty minutes.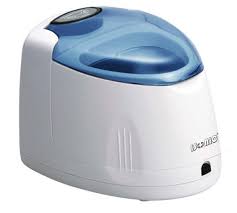 The TheraSnore manufacturer recommends the device be rinsed with water after each use. With daily rinsing and weekly cleaning, the device should last a minimum of two years.
The TheraSnore ships with a denture cleaning tablet called BONYplus Express for cleaning. Other denture powder may also be used, but cleaning results could vary. For the weekly clean of the device, soak in a glass of warm water with the denture tablets (Nitradine). Do not use hot water. Let it dry before using again.
Never store the device in water.
Our Cleaning Recommendation
Luckily, there are faster ways to clean the TheraSnore. We recommend the iSonic mouthguard cleaner.
The iSonic is an ultrasonic cleaner that does a full clean in five minutes. Place a spoonful of iSonic ultra-clean powder in the iSonic, along with your Therasnore, and it will be good as new.
A weekly clean with the iSonic only takes five minutes. Separate the upper and lower trays before placing in the iSonic cleaner. The iSonic is available at Amazon.com.
If you are like many other consumers these days then the company behind a product is just as important as the product itself. So, if you are going to purchase a mandibular advancement device, you probably would like a good understanding of the company manufacturing it.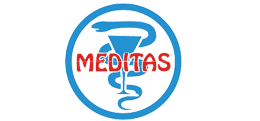 SleepPro is a Britain-based company, but has distribution centers throughout Europe, Australia, and the United States. Every distribution center always has at least 1,000 mouthpieces stocked, so orders can be filled and shipped promptly from the closest location.
There is not much information available online about SleepPro as a company. However, there is plenty of information about MEDiTAS Ltd., a company that has been partnered with SleepPro since 1998 from the same location.
About MEDiTAS
SleepPro may not be too well-known as a company, but MEDiTAS is. MEDiTAS is a British company that works with dental clinics, general practices, pharmacy, hospitality, medical centers, and sleep specialists to manufacture products that focus on snoring (including anti snoring devices) and other types of sleep disorders, including bruxism and mild-to-moderate cases of sleep apnea.
MEDiTAS claims SleepPro is 98 percent effective. It also suggests that a significant amount of past and present research has gone into this product. There is even a "Research" page on the website, but no formal data has been provided.
MEDiTAS also mentions that SleepPro has been recommended by Papworth Hospital Medical Research and Development. However, when you visit the site of Papworth Hospital NHS Foundation Trust and Search for research or clinical studies there are none to be found. When you search for information on snoring in general there are a couple articles that talk about the subject, but there is no mention of either company.
Learn more about SleepPro in our SleepPro review.
If you order a SleepPro Custom the product will get made in a laboratory. If you order the Easifit it will get molded at home using a boil-and-bite process.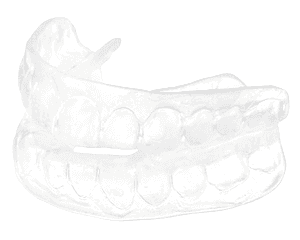 It may sound a little intimidating, but rest-assured that the process is actually quite simple. All you need is a pot to boil water, a slated spoon, and a bowl.
When your device arrives, you will want to wash it first. It can't be cleaned with toothpaste. You can use a mild dishwashing detergent and a toothbrush or soak it using a denture cleaner.
Take a few minutes to get acquainted with it. Make sure that you know which end faces up. You are going to be biting down with your lower jaw extended forward. Practice doing that a few times, so when the mouthpiece is heated, you will feel uncomfortable doing it.
Bring a pot of water to a boil and pour water in a bowl.
Place the mouthpiece in water and allow it to soften.
Once soft remove it from the water and shake excess hot water off.
As you bite into the snoring mouthpiece, you want your lower jaw extended forward like you just practiced. Bite down and hold this position, allowing it to cool down. As it cools it will begin to harden, so you will know when to remove it.
Remove the device from your mouth and place it in a bowl of cold water. This will speed up the hardening process.
Once cool, test your device for a proper fit. If you try it the first night and decide it is not quite right, it can be molded again a couple times.  Learn more in my SleepPro review.
Chances are good that if you are considering a SleepPro snoring mouthpiece that you have already read my review. However, I reviewed SleepPro Easifit, which is the most popular one, and my wife did the SleepPro Woman. We had no success with either, but I feel it may be helpful for you to have a brief overview of all the products to compare, so you can make an educated decision.
Easifit - This is the most basic and popular SleepPro option. It uses a boil-and-bite method to achieve a custom fit. It does have a front hole that allows you to breathe through your mouth.
Woman - The SleepPro is a pink mandibular advancement device because apparently all women are supposed to love pink. It has the same design as the Easifit except it is designed to fit a woman's mouth. It is said to fit snugly and unobtrusively, but my wife would disagree. That being said, maybe someone else will have good luck with it. Like Easifit, this device is $44.95.
Contour - SleepPro Contour is actually a good looking device, but at $129.95, I don't think I could bring myself to splurge on a product that appears to be bulkier than the Easifit. Contour is comprised of two separate hard trays, with both featuring thermoformable polymer. The device comes with straps in a variety of lengths, which are used to set the placement of the lower jaw. This product also uses the boil-and-bite method, but the trays are fitted separately. Fixed breathing space in the front allows you to breathe fully all night.
Custom - If you have $259.99 burning a hole in your pocket then you may want to order SleepPro Custom. Although, if you are spending that kind of money it is unclear why you would not just get a prescribed product. Unlike the other SleepPro products that get fitted at home this one is done in a laboratory. The company sends you a kit to make an impression of your mouth. You do this and send it back, and then the laboratory ships your device. You get a precise fit, but you do have to wait a while for your device.
SleepPro Sleep Tight - This is basically an upgraded version of Easifit. It still gets molded using the boil-and-bite process, but supposedly it fits tighter. Although, to me it looks bulkier than the others, Sleep Tight does have a larger breathing hole than Easifit, as well.
Chin Support Strap - Although not a mouthpiece, SleepPro does offer a stop snoring chinstrap that is supported to help stop dry mouth by holding your mouth closed. It fits over your chin and crown of your head and it is adjustable. It can be washed by hand or machine.
If you looking for snoring smart devices, consider this product.
All mouthpieces are backed by a money back guarantee. Shipping prices vary depending on the product being purchased and location.  See more on my experience on my SleepPro review.
The TheraSnore is one of the more complicated Mandibular Advancement Devices to custom mold to an impression of your teeth.
Before fitting, notice that the upper tray and lower tray can be separated. There is a track where you can snap the TheraSnore together into five different positions. The protrusion of the lower jaw is what improves snoring, and the TheraSnore allows you to set that advancement from slight to extensive. Find the setting that fills most comfortable for you.
Start with the upper tray. Fill a pan with water and boil the water. Using a spoon or tongs, lower the upper tray into the water. Leave the TheraSnore in the water for one minute. Remove the pan from the heat, but wait for the TheraSnore to become clear before removing from the boiling water.
Once clear, remove and let the device cool for twenty seconds. Line up your front teeth with the arrow on the upper tray. Bite down hard and mold the tray around your gum line with your fingers. Carefully remove and place into cold water.
Heat the lower tray of the TheraSnore and repeat the above process. Place into cold water to seal.
Notice there is a lingual post on the lower portion. Repeat the above molding process by holding the lingual post in hot water for one minute or longer.
You can then elongate or custom fit this lingual tray to fit the section between your teeth and gums. This part of the device keeps your jaw in place and prevents it from falling back into a normal breathing position. Place the lower tray into cold water again to seal the impression of the lingual post.
If the custom mold causes pain or does not fit, you can remold up to three times.
To adjust the TheraSnore, simply separate the top and lower half and re-snap together into a different track position. Test different positions to see how your snoring improves.
Do NOT wear TheraSnore under the following conditions:
If you have any loose teeth or gum disease.
If you wear dentures.
If you have bridgework or veneers in the front upper and front lower teeth. Consult your dentist first to see if this applies to you.
If you are under the age of 18.
SleepPro is known to offer coupons for a variety of its products including the Easifit, woman, Sleep Tight, and Contour mouthpieces.  This page will be updated to reflect the latest and greatest discounts available.  Just use the promo codes on this page for big savings.
Current coupons are: SHQ10 for 10% off.  They also have a generous return policy, so you'll be able to really try the mouthpiece with no financial risk.
If you do come across any other coupons, please let us know so that we can share it with our readers.  And if you're still debating on whether SleepPro is the right anti-snoring mouthpiece for you, check out our SleepPro review page or the Sleep Pro Custom Mouth Guard which is lab molded.
Many top-rated snoring mouthpieces have coupon codes, which you can view on my discounts page.
If you are considering VitalSleep, and you have questions, there is a very good chance that countless other people have already asked them. I cover a lot of questions in my VitalSleep snoring mouthpiece review, but some people have followed up with additional questions.  Below are answers to some of the most common questions asked about VitalSleep.
How does VitalSleep work? VitalSleep holds your lower jaw in a forward position. By doing this, your tongue doesn't collapse into your throat, causing an obstruction, which then vibrates against the soft tissues.
What is VitalSleep made of? VitalSleep is made of flexible medical-grade thermoplastic. It is USA-sourced and latex- and BPA-free.
How do I know what size to order? Generally, men order the regular size and women order the small size. The regular is about 10 percent larger than the small. If you do order the wrong size VitalSleep will exchange it for free. Just make sure you check the fit before you customize it.
What if I mess up the boil-and-bite process? A lot of people are intimidated by the process because they are scared of ruining their snoring mouthpiece. VitalSleep can be reheated three times. Do make sure you are not submerging for longer than 10 seconds.
Is there a guarantee? VitalSleep has 30-day money back guarantee that begins the day you receive your product.
How do I get a replacement? One of the attractions to VitalSleep is that you get free replacements for any reason for one full year. All you have to do is fill out the RMA form online, and it will be taken care of.
Does VitalSleep ship out of the United States? Yes! VitalSleep ships to Australia, Canada, Great Britain, and other areas by USPS International Airmail.
Is VitalSleep covered by insurance? If you order VitalSleep online it will not be covered by your insurance. If you have your doctor order and prescribe it to you then there is a good chance that it may be covered.
How do I clean my VitalSleep? A toothbrush, toothpaste, and warm water are all you need to clean your device. It is recommended to clean before and after every use. Once a week it should be soaked with an effervescent denture tablet.
Where is VitalSleep manufactured? VitalSleep is made in California, and all materials are USA-sourced.
Are military discounts available? VitalSleep does offer military discounts, but you need to contact the company directly.
Are there are people that shouldn't wear VitalSleep? VitalSleep is not recommended for individuals with braces, Invisalign, missing teeth, TMD, or bridges or crowns that are under 1 year old. This mouthpiece is not suitable for children either.
Do I have to sleep in a certain position? VitalSleep can be worn while sleeping in any position.
Is there a chance that this mouthpiece can be swallowed while sleeping? You will not swallow this device. VitalSleep has been deemed safe and cleared by the United States Food and Drug Administration.
View this video for more answered questions on VitalSleep
When choosing a mouthpiece, you should always make sure that the company you are working with is reputable and stands behind their product.
One of the best indicators is whether the company lists an address and phone number that reaches an actual customer service representative (and no robot attendant!).
You would think every product would be open about their location, but you would be surprised.
Apnea Sciences provides all the information you would need to feel comfortable about ordering, in addition to the information found in my SnoreRX complete review.
About Apnea Sciences
Apnea Sciences Corporation is an FDA medical device company founded by James Fallon in 2009. The company designs, develops, and sells sleep-related products and is headquartered in Aliso Viejo California. Its flagship product, SnoreRx, was released in 2012.
Notable Products
Apnea Sciences is best known for their two sleep appliances, SnoreRx and ApneaRx. While SnoreRx is an oral appliance that is FDA cleared for the reduction of snoring and can be purchased anywhere, ApneaRx is intended as a treatment for mild to moderate sleep apnea and requires a physician's prescription in the US.
Professionally Endorsed by Doctors
It always helps to have a respected dentist or doctor endorse an anti-snoring mouthpiece:
1. Gary Ewing - President of San Diego Dental Lab
2. Dr. Robert L. Mandell – Periodontist
FDA Registered Company
Apnea Sciences is a registered medical device company, which means that the company must meet rigorous standards by the US Food and Drug Administration to ensure its products are safe and effective for the general public.
All snoring mouthpieces available in the US are classified as medical devices must be registered with the FDA, list their products, and be subject to regular audits. Unfortunately, many of the anti snoring mouthpieces that are available online today do not comply with federal regulations.
It is critical to evaluate whether the product you purchase is FDA registered to ensure you are protected.
SnoreRx is also a Doctor Trusted product. It was reviewed by Dr. Daniel Hanley out of Chicago, Illinois, and was issued a certificate on November 5, 2013.
DoctorTrusted.org is a popular consumer production organization that evaluates science-based health claims, ethical pricing and return and refund policies. SnoreRx received an A rating.
Summary
BBB rating: A
Company History: Apnea Sciences was founded in 2009, and launched SnoreRx in 2012.
Corporate Address:
27121 Aliso Creek Road #140
Aliso Viejo, CA 92656
Phone Number: 1-949-680-2770