We've all experienced the dreaded summer cold. You're having a sun-filled summer packed with friends, popsicles, and fun, and you somehow become sick. What can you do, and how can you be sure it doesn't happen again?
What's the Deal with Summer Colds?
Most don't believe you can get a cold in the summer, after all, it's called a "cold." The reality is that a viral infection or low immune system can strike at any time of the year. It's also possible to experience allergies in the summer only, which may appear as the common cold.
You come in contact with viruses and bacteria daily, and your immune system typically fights them off without becoming ill. However, when your immune system is down, your body is unable to fight off the invader easily, so it must launch an all-out attack.
In the case of the summer cold, you experience a runny nose and coughing as your body tries to detoxify the virus from your body.
Another way to attack illness is to allow it to leave the body naturally, but boost the external surroundings of the body. It's important to focus on air quality in your spaces – both at home and the workplace, as well as wherever else you may frequently spend a lot of time.
Viruses and bacteria in the air can be circulated time and time again in the summer months, as many homes and workplaces are cooled with air conditioning. Ventilating these areas helps, however, you can also introduce purifiers into the area.
A Salin Plus salt therapy device can rid the air of pollen, mold, smoke, dust and other pollutants that can cause the common cold while also introducing the healing effects of salt into the air and your body. Often, what appears as a summer cold may very well be allergens from outside or inside the home. In that case, an air purifier is your best bet for relieving the symptoms.
How to Prevent the Summer Cold
A cold can happen any time of the year, though it's the worst in the summer since you should be outside having fun. Take these steps to prevent the summer cold from washing your plans down the waterslide.
Get to Bed on Time. With the sun being up so late during the summer, we are tempted to stay up later. Pay attention to the time you get to bed (and get up), and be sure you still get eight hours of sleep per night.
Eat Healthy. I know it's tempting to exist on popsicles and snow cones in the warm months, but the added sugar does nothing to help you. Take advantage of the fresh fruits and vegetables available by getting five servings a day. Cut back on the sweet treats whenever possible.
Clean your Indoor Air. Even if you have a stellar diet, loads of exercise, and plenty of sleep, you will still come in contact with viruses and bacteria daily. Though you may be outside during the day, your indoor air quality may harbor germs as the air conditioner runs throughout the summer, trapping potential cold-creators in as the windows and doors are closed. Consider getting an air purifier, such as a salt therapy device, which cleans the air.
Get Out in the Sun. I shouldn't have to convince you of this one, but vitamin D is an essential precursor to a strong immune system. Be sure to be out in the sun for 30 minutes daily to get its health-boosting benefits. If you can't get out in the sun, supplement with vitamin D daily for the same benefit.
Circulate your Lymphatic System. Unlike our circulatory systems, our lymph system has no pump. Your lymph tissues, organs, and fluids are the critical components of your immunity. Without moving around these fluids, your immune system could literally be down. Get those healthy fluids moving by moving your body – running, jumping on a trampoline or doing jumping jacks are great ways to move the lymph fluids from the bottom of the body back to the top.
Plan Time to Rest. Our schedules tend to get much fuller in the summer, and for a good reason. But, you may overbook yourself and leave little downtime for rest, which can impact your immune system negatively. Be realistic with your commitments and don't forget to plan time for rest, meditation, and whatever refills you.
Luckily the high intake of vitamin D, extra exercise and fresh produce available helps you have a healthy summer, but don't neglect the basics to keep the summer cold at bay.
SalinPlus, a home salt therapy device, is a product licensed by Lion Healthcare, based in Perth, Australia. It both charges the air with tiny salt particles and filters the air of other particulates, including dust and allergens.
Lion Healthcare was launched in 2011. SalinPlus went on the market in Western Australia in 2012. Based on their early success, the company began distributing the device nationwide, with an unprecedented 60-day money back guarantee. In 2017, the company secured exclusive distribution rights in Canada and the United States.
The device itself was invented by a Romanian chemist, Constantin Pascu in 1999. In 2002, it earned the Gold Medal at the 51st World Exhibition for Innovation, Research, and New Technology, held that year in Brussels.
The company's founder, Barry Colgan, B.E., came upon SalinPlus during a visit to Ireland. He was so impressed by the product that he traveled to Romania to meet the inventor. The licensing for Australia and New Zealand followed.
The SalinPlus device is available online, and the replacement filter cartridges too. Each filter cartridge lasts for 4-6 months. They also sell replacement power adapters and offer free shipping for U.S. orders over $50.
Salt Therapy Spas and Salt Therapy
Salt therapy is a recent addition to treatments for asthma, COPD, allergies, bronchitis, and other breathing-related conditions. But while it is a new treatment, indications of the benefits of salt in the air date back to the mid-1800s, when salt miners were observed to have no breathing problems.
Salt therapy rooms mimic salt caves.  Some use pink salt imported from eastern Europe;  the pink salt has 84 minerals in it.  Each salt therapy room has a halogenerator, which crushes the salt into tiny particles—1-5 microns in size (an inch is 25,400 microns long). These particles are sprayed into the air.
The salt therapy room itself is a relaxing experience, as is any spa-like treatment. People feel better simply by being in a relaxed, low-light environment.
Salt therapy has been used to treat a variety of respiratory ailments.
Asthma, bronchitis, and allergies
Sinusitis, sore throat, and chronic cough
Nasal congestion, pneumonia recovery, and tonsillitis
Snoring and sleep apnea
Salt therapy may also be helpful for eczema, psoriasis, and acne.
Salt therapy is intended as a complementary treatment. While it is completely natural and safe, asthma sufferers, for example, should not abandon their inhalers. Some slight skin irritations or coughs have been observed.
The benefits of salt therapy have not been rigorously studied. While the Asthma and Allergy Foundation of America rates the treatment as "likely safe," they note the need for further study to pinpoint the benefits of the therapy.
SalinPlus Video of Features & Review
About the SalinPlus
The SalinPlus device is designed to give people the salt therapy experience at home. The device consists of a framed fan and filter cartridge. The fan pulls in air from the room and pushes it through a filter which will remove over 98% of particles 10 microns, or larger—most pollens and mold spores are larger than that.
The air flow then pushes out the dry salt particles, which are below 5 microns in size. They are small enough to get deep into the lungs. SalinPlus recommends putting the device on a desk or bedside table, and point it towards you. The filter cartridges should last for 4-6 months before replacement; if you buy in advance, the company estimates they have a shelf-life of two years.
They do indicate the device does help with snoring. It addresses many conditions, such as hay fever, congestion, and bronchitis which can lead to snoring.
The device has been around for 15 years. One review from Australia was generally favorable, stressing its benefits over and above the improvements to breathing. They also noted the high rate of customer satisfaction.
The average rating from an Australia-based site is 4.5/5, based on 293 reviews.
The salt in the SalinPlus comes from Slanic Prahova in Romania. Home of the largest salt mine in Europe open to the public, the active industrial mine still produces high-quality salt.
My Experience
My interest in snoring led me to this product. Although a bit pricey, I was intrigued by the description. I ordered it on-line, and delivery was prompt. Extended family members were interested in it—everyone knows someone who snores, and any new solution is going to get attention.
The goal of SalinPlus is to provide the salt room experience in the home. They truly believe in their product and are willing to stand behind it with their 60-day guarantee. I think it will interest a lot of people because it is an innovative approach to respiratory issues, many of which affect sleep.
The SalinPlus is easy to use. All you do is plug it in—the filter is already installed. The device does have a dial for fan strength; I set it to high, hoping that would maximize the effects on my snoring. I turned it on about 30 minutes before going to bed, and after a while, I noticed a very slight, pleasant aroma in the room—a slight atmospheric change.
On lying down, I noticed a slight sensitivity in my eyes; I did lie awake for a bit longer than normal.
I slept all night. I did not wake up. Both facts are unusual. I seemed to get in a deep sleep. When I checked my snore recording app, my snoring was down to 24%--the Snore Score of 26. This number marks a moderate reduction than my recent results with no snoring aid.
Additional Testing
A friend with asthma tested it next for me. She's used it for five days. During that time, she has not used her maintenance inhaler. That frequency is unusual and seems to promise more.
She says she will use it for as long as the good effects last.
Pros
It's easy to use.
Reduced my snoring.
It reduced asthma symptoms.
I woke up refreshed.
It has the added benefit of air purification.
Cons
The filters need to be replaced 2 times per year (at $50 each).
Summary
This device is worth trying for many reasons, including snoring. It seems especially effective for nasal or congestion-related snoring. Based on my friend's experience, it also seems beneficial for asthma or allergies.
Salt therapy is a relatively new addition to recommended treatments for asthma, allergies, bronchitis, COPD, and other breathing conditions related to snoring. While to Americans it seems like a relatively new treatment, salt therapy has been used for centuries in countries such as Russia and other parts of Europe, where people sit in natural salt caves to help relieve symptoms.
Today, you can find artificial salt cave rooms if you want to try salt therapy.
There is a lot of research surrounding salt therapy and its benefits for those who snore. Salt therapy is not harmful and is non-invasive
A single session using a salt therapy room typically costs about $45.00, so if you find that salt therapy relieves your symptoms, engaging in the therapy more than once or twice a month can become very expensive.
If you can't afford sessions, there is an easy and inexpensive alternative.
Salin Plus is a portable dry salt therapy system you can purchase yourself and use at home.
It is a natural and drug-free device that takes all the benefits of treatment in a salt room and puts them into a convenient, compact machine that can be used in your home or office. If you find you need regular, sustained exposure to salt air, such as at night when you are trying to sleep, this portable product can benefit you.
How Does It Work?
Salt, or sodium chloride, is a negatively charged compound and can help fight anaerobic respiratory infections. Through osmosis, it draws moisture and mucus away from the airways, permitting you to breathe easier.
The Salin Plus works as a dry salt air-purifier. It starts by drawing air from the room into the back of the device and then pushing it through a filter with a small fan. It disburses minute sodium crystals into the air causing the micro-crystalline salts to generate a fine constant spray in the surrounding area.
The tiny salt particles penetrate deeply into the lungs, reducing inflammation and widening the airways. Additionally, the mist provides some anti-bacterial benefits.
How Do You Use It?
The Salin Plus is compact and easy to use. One device can cover approximately 180 square feet. You can set one up anywhere in a standard size bedroom, office or den and still fully benefit from the salt air it generates.
When starting off with this product, the manufacturer recommends using the highest setting for the first 30 days and then adjust it downward if required until you find the setting that works best for you.
Use it for a minimum of eight hours a day, so ideally for a snorer, using the Salin Plus at night while sleeping, is probably the most convenient and easiest time. However, because it is so light and easy to move, you can keep it in the office, family room, living room, or wherever you like. You can even buy several and place one in locations you frequent the most.
It is best not to use the Salin Plus in spaces with steam, high humidity or dusty areas as these types of environments damage the filter. To guarantee you get the most out of your salt therapy device, it is suggested you replace the filters after four months of every night use.
What Do Customers Say?
"I purchased the Salin Plus as I have a dust mite allergy and snore as a result. I had been using a snoring app to monitor my snoring and sleep quality. The first night I used the device I was shocked to find my score had dropped from a high teens average to 3. I experience a better night's sleep, and so does my partner. I have also purchased one for my son who is an asthmatic, and he has found a reduction in his asthma symptoms. The only improvement I would like is an on/off switch rather than having to turn it off at the socket."-- Bernadette C
"I've been having a problem with dry mouth and sometimes snore, after a recommendation from a friend I've been using the Salin Plus for only a few days and have a huge change in my sleeping.  No dry mouth, no snoring, and a deeper sleep.  I'm so impressed I've ordered a second Salin Plus for our son who suffers from hay fever, snoring and is a shift worker."-- Teej50
SalinPlus has helped many customers as a non-invasive, all-natural snoring solution. By using Salin Plus, you can eliminate the expense of purchasing sessions in a salt room while relieving the symptoms causing your snoring in the comfort of your home at night while you sleep or in your office during the day while you work.
Salt therapy has been used by humans for all recorded history. Gargling with salt water for a sore throat, taking a salt bath for sore muscles and having a salt scrub as a spa treatment are all well-known and accepted ways that we use salt for health and beauty. Salt is used every day to manage important bodily functions like the balance of fluids and electrolytes. Inhaling microparticles of salt, also known as Halotherapy, has also been around for centuries as a breathing treatment for those affected by allergy or illness and the accompanying respiratory issues that go with those conditions.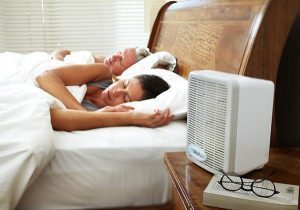 Breathe it in
People travel across the world to exotic salt caves to breathe in the salty air microclimate. Salt therapy is like spending a rejuvenating day at the beach, inhaling the sea air. When you consider how many pollutants your lungs are exposed to , it's easy to see why halotherapy is popular. It's free of side effects, and breathing can invigorate your whole body. Spas in the U.S. recreate this atmosphere by building rooms with walls made entirely of salt, offering therapy sessions to benefit people who snore or have trouble sleeping.
Dry salt, free from impurities, is aerosolized while you sit back, relax and breathe regularly several times per week during your Halotherapy treatments. It penetrates the lungs, dries out mucous and helps decrease inflammation in your breathing passages.  Compounding the effectiveness of the treatment, the non-inhaled particles  fall onto your skin and help manage troublesome skin conditions. Mineral salts are moisturizing and have strong rejuvenating properties.
Sleep well
Breathing trouble can limit restorative sleep. Constricted airways can limit the oxygen to your brain, leaving you to wake up tired, groggy and not feeling refreshed. A salt therapy device will distribute tiny, breathable salt particles into your lungs and sinuses as you breathe. The salt breaks up mucus in your airways and eases inflammation, allowing you to sleep peacefully and wake up rested.
Visiting a salt therapy spa several times a week can add up to a huge expense. However, the inconvenience and cost don't have to be a barrier to treatment. Salin Plus Salt Therapy devices can be used in your home to diffuse dry salt and bring all the benefits of salt therapy to your bedroom.
Salt therapy devices provide all the benefits of salt caves, but in the comfort of your home. Halotherapy devices produce negatively charged dry salt, which means they are attracted to your positively charged inner airways.
Finding relief
Breathing conditions are hard to manage, and home remedies without side effects are a welcome solution. Those living with severe conditions like asthma or COPD can find everyday breathing distressing. Information from the American Lung Association suggests the benefits of salt therapy are relevant to treating these conditions. Salt therapy can offer relief and is a recognized  therapy to help manage the symptoms of respiratory illness.
This ancient treatment promotes respiratory health. It's an easy, refreshing way to add to your wellness routine and overall health.
The Salin Plus Salt Therapy device will help you breathe better and let you get restful, restorative sleep.