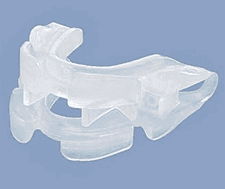 August 2018 Update: A newer review on the re-designed Vital Sleep is now available. The following review is out of date.
————
If you are looking at VitalSleep, and instantly thinking it looks uncomfortable, you are having the same reaction I had. With so many cutouts in the design it just looks like all those gaps create extra opportunities to rub on your gums.
After all, if most other stop snoring devices feature seamless trays there is probably a reason, right? I reluctantly tried VitalSleep, and was surprisingly pleased.
Pros and Cons
VitalSleep has a lot of great qualities, but I have a few complaints as well.
Positives
Thermoplastic material is BPA- and latex-free, and it is non-irritating
Allows for maximum customization using a boil-and-bite technique
Permits side-to-side mobility to reduce strain on your lower jaw and teeth
Flexible frame design provides a natural feel
Air holes allow you to breathe through your mouth
Lower jaw placement can be adjusted in tiny increments up to 7 millimeters
Made in the USA
Cleared by the United States Food and Drug Administration
Available in two sizes for a good fit
Backed by a 30-day money back guarantee
Includes 1 year warranty for replacements
Orders received before 3 pm ship the same day, so packages arrive quickly
Can be worn by individuals with partial dentures
Can help reduce teeth grinding
Negatives
Although you only need toothpaste and a toothbrush for cleaning there are a lot of crevices to address to make sure bacteria doesn't build up in them
Can't be worn by individuals with braces, Invisalign, or missing teeth
Need to keep track of a hex tool to make adjustments
See how VitalSleep compares to other mouthpieces HERE.
VitalSleep
Summary
VitalSleep looks uncomfortable, but it actually sits in the mouth pretty well and ended up being one of my more preferred mouthpieces. The only real downside is the cleaning process, which due to the design is a little more intensive than other devices.
Getting Acquainted with VitalSleep
VitalSleep is an adjustable and customizable snoring mouthpiece with a lot of thoughtful features. Although it looks stiff, it has a flexible frame. The mouthpiece also allows you to move your jaw side-to-side, which reduces jaw stress and improves effectiveness and comfort. It is also suggested that the design helps protect your teeth, if you typically grind them.
This oral appliance's standout characteristic is that it offers up to 7 millimeters of adjustable movement between the upper and lower trays. You may be fine using the mouthpiece in its neutral position, but the fact that you can move the lower jaw forward is a huge bonus. Adjustments are made by turning the hex screws on both sides.
VitalSleep is made from a BPA- and latex-free thermoplastic material that is non-irritating. It does have airholes in the design, as well, so if you breathe through your mouth, you won't have any problem doing so with this device in your mouth. VitalSleep is sourced and manufactured in America, and it's cleared by the United States Food and Drug Administration.
This mouthpiece requires that you use a boil-and-bite technique, similar to Zyppah and others, to achieve a custom fit. Plus, it features a flexible frame for maximum comfort. VitalSleep comes in two sizes and claims it can be worn with partial dentures.
Vital Sleep Video Of Features & Custom Mold
How it Works
The obnoxious sound that you make while sleeping is the result of trying to breathe through a partially obstructed airway. The obstruction is caused by the vibration taking place because soft tissues are too close.
If you are newly being introduced to the topic of snoring and mouthpieces, you may not know yet that when you fall asleep, your tongue collapses into your throat. Soft tissues are then close enough together to touch in some people. As you breathe and air is forced through a vibration is resulted. The vibration causes the noise.
VitalSleep holds your lower jaw forward, which in return helps keep your airway clear while you sleep. Not only does this eliminate the snoring sound, it also promotes a more restful night of sleep, so you can wake up feeling refreshed.
My Experience with VitalSleep
I ordered a regular size VitalSleep for me and a small one for my wife. I like that the website is secured with a Norton Shopping Guarantee, and that the company ships products the same day orders are received, when ordered before 3 pm.
When the mouthpieces arrived, I cleaned them right away. They only require that you use a toothbrush and toothpaste, but it is recommended to deep clean with a denture tablet once a week. As I suspected, cleaning required a little more effort than other products because of all the gaps. The tiny crevices used for the lower jaw adjustment were the trickiest. The mouthpiece is certainly not hard to clean, but I would not want bacteria building up in those tiny crevices. The gaps in the design are pretty easy to clean, but I still don't really see the point of them.
We customized our mouthpieces using the boil-and-bite technique, and then put them in the cases that were included until bedtime.
VitalSleep is pretty comfortable. It actually looks a little bulkier than it fits. My wife really loved the way her device fit. Sometimes, the one-size-fits-all products are a little invasive in her mouth, but this small one was perfect for her. The included hex tool did make it easy to adjust the lower jaw positioning. I advanced mine for maximum offset while my wife moved her lower tray to the midway point. Having a tool to keep tabs of didn't thrill me. I could see that thing getting lost with time.
The next morning we both felt energized. Our teenage son said neither one of us snored. My wife said her jaw felt great. Mine was a little sore, but I did advance the lower jaw to the maximum placement. I got out the tool and made a little adjustment, so it would be ready that evening. I cleaned both devices and stored them in their included cases.
One the second morning, my jaw was significantly less sore with the new placement setting. It was my wife's turn to clean the mouthpieces, and she had the same complaint about all the crevices. We both agreed that maybe we were being too petty. After all, we had tried several mouthpieces prior to this and may have been a little spoiled by the lower maintenance design. We continued to wear VitalSleep for seven days, and it was effective the entire time.
A Lot of Bang for Your Buck
When you look at VitalSleep, you probably assume it is going to be expensive considering the design is adjustable and customizable, and it comes with a hex tool and case. I would expect to pay well over $100 for this one.
Surprisingly, VitalSleep is $59.95 or $99.95 for two. Regular piece is one for $99.95, so this is quite a deal. Shipping is $7.95 for USPS First Class mail, and it arrives in four to five days. Shipping is $9.95 International Airmail, and arrives in 7 to 10 days.
VitalSleep is backed by a 30-day money back guarantee, so there's minimal risk. Also, replacements (including shipping) are free for an entire year. That's an unusual guarantee for an over-the-counter snoring device.
Final Thoughts
I found VitalSleep to be comfortable and effective. It didn't "fill" my mouth like bulkier products, and I appreciate that the lower jaw can be adjusted. However, cleaning is a little more of a process. Although I don't understand the point of the gaps cut into the design, they didn't irritate the gums like I expected.
It's a quality product at a fair price, and the fact that it has a 1 year warranty for free replacements is a huge bonus. If you want to try one of my favorite MADs, check out my ZQuiet review and Zyppah review. Should you be interested in venturing away from the MAD design, I recommend Good Morning Snore Solution (GMSS).
It's a tongue retaining device (TRD), so it accomplishes the same goal by using a different approach. Learn more about the difference in my Good Morning Snore Solution review.