SalinPlus Salt Therapy Review
SalinPlus, a home salt therapy device, is a licensed product of Lion Healthcare, based in Perth, Australia. It both charges the air with tiny salt particles and filters the air of other particles, including dust and allergens.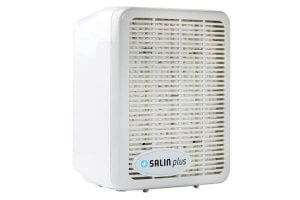 Lion Healthcare was launched in 2011. SalinPlus came to market in 2012 at Western Australia. Due to its early success, the company began distributing the device nationwide, with an unprecedented 60-day money-back guarantee. In 2017, the company secured exclusive distribution rights in Canada and the United States.
The device itself was invented by a Romanian chemist, Constantin Pascu in 1999. In 2002, it received the Gold Medal at the 51st World Exhibition of Innovation, Research and New Technologies, held that year in Brussels.
The company's founder, Barry Colgan, B.E., came across SalinPlus while visiting Ireland. He was so impressed with the product that he traveled to Romania to meet the inventor. Licensing for Australia and New Zealand followed.
Salt Therapy Spas and Salt Therapy
Salt therapy is a recent addition to treatments for asthma, COPD, allergies, bronchitis, and other breathing-related conditions. But while it is a new treatment, indications of the benefits of salt in the air date back to the mid-1800s, when salt miners were observed to have no breathing problems.
Salt therapy rooms mimic salt caves. Some use pink salt imported from eastern Europe; the pink salt has 84 minerals in it. Each salt therapy room has a halogenerator, which crushes the salt into tiny particles—1-5 microns in size (an inch is 25,400 microns long). These particles are sprayed into the air.
The salt therapy room itself is a relaxing experience, as is any spa-like treatment. People feel better simply by being in a relaxed, low-light environment.
Salt therapy has been used to treat a variety of respiratory ailments.
Asthma, bronchitis, and allergies
Sinusitis, sore throat, and chronic cough
Nasal congestion, pneumonia recovery, and tonsillitis
Snoring and sleep apnea
Salt therapy may also be helpful for eczema, psoriasis, and acne.
Salt therapy is intended as a complementary treatment. While it is completely natural and safe, asthma sufferers, for example, should not abandon their inhalers. Some slight skin irritations or coughs have been observed.
The benefits of salt therapy have not been rigorously studied. While the Asthma and Allergy Foundation of America rates the treatment as "likely safe," they note the need for further study to pinpoint the benefits of the therapy.
SalinPlus Video of Features & Review
About the SalinPlus
The SalinPlus device is designed to give people the salt therapy experience at home. The device consists of a framed fan and filter cartridge. The fan pulls in air from the room and pushes it through a filter which will remove over 98% of particles 10 microns, or larger—most pollens and mold spores are larger than that.
The air flow then pushes out the dry salt particles, which are below 5 microns in size. They are small enough to get deep into the lungs. SalinPlus recommends putting the device on a desk or bedside table, and point it towards you. The filter cartridges should last for 4-6 months before replacement; if you buy in advance, the company estimates they have a shelf-life of two years.
They do indicate the device does help with snoring. It addresses many conditions, such as hay fever, congestion, and bronchitis which can lead to snoring.
The device has been around for 15 years. One review from Australia was generally favorable, stressing its benefits over and above the improvements to breathing. They also noted the high rate of customer satisfaction.
The average rating from an Australia-based site is 4.5/5, based on 293 reviews.
The salt in the SalinPlus comes from Slanic Prahova in Romania. Home of the largest salt mine in Europe open to the public, the active industrial mine still produces high-quality salt.
My Experience
My interest in snoring led me to this product. Although a bit pricey, I was intrigued by the description. I ordered it on-line, and delivery was prompt. Extended family members were interested in it—everyone knows someone who snores, and any new solution is going to get attention.
The goal of SalinPlus is to provide the salt room experience in the home. They truly believe in their product and are willing to stand behind it with their 60-day guarantee. I think it will interest a lot of people because it is an innovative approach to respiratory issues, many of which affect sleep.
The SalinPlus is easy to use. All you do is plug it in—the filter is already installed. The device does have a dial for fan strength; I set it to high, hoping that would maximize the effects on my snoring. I turned it on about 30 minutes before going to bed, and after a while, I noticed a very slight, pleasant aroma in the room—a slight atmospheric change.
On lying down, I noticed a slight sensitivity in my eyes; I did lie awake for a bit longer than normal.
I slept all night. I did not wake up. Both facts are unusual. I seemed to get in a deep sleep. When I checked my snore recording app, my snoring was down to 24%–the Snore Score of 26. This number marks a moderate reduction than my recent results with no snoring aid.
Additional Testing
A friend with asthma tested it next for me. She's used it for five days. During that time, she has not used her maintenance inhaler. That frequency is unusual and seems to promise more.
She says she will use it for as long as the good effects last.
Pros
It's easy to use.
Reduced my snoring.
It reduced asthma symptoms.
I woke up refreshed.
It has the added benefit of air purification.
Cons
The filters need to be replaced 2 times per year (at $50 each).
Summary
This device is worth trying for many reasons, including snoring. It seems especially effective for nasal or congestion-related snoring. Based on my friend's experience, it also seems beneficial for asthma or allergies.