SleepPro Custom is the first device I've tested that is made in a lab - yet priced similarly to boil-and-bite anti snoring devices.
I was excited to try it because I'd always wanted a full impression product, which is what dentists sell.  The SleepPro Custom price is a tenth the cost of having a dentist do it for you and not too much more than SnoreRx.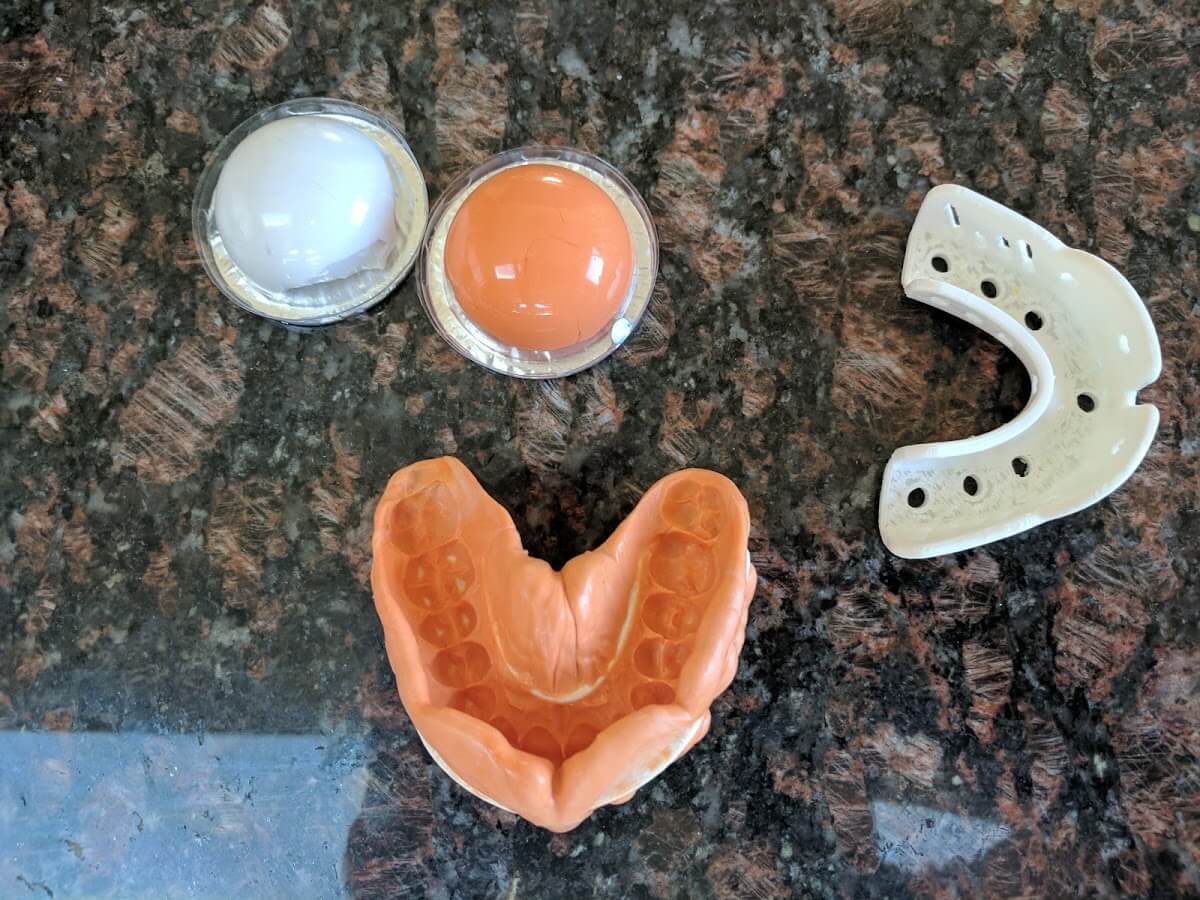 Doing some research, I found that SleepPro manufacturer MEDiTAS Ltd. has sold products for snoring and mild sleep apnea since 1998. Their products are even recommended by the British National Health Service (NHS).
The SleepPro Custom, in particular, is recommended by specialists at Papworth Hospital in Cambridgeshire, England, a world-renowned center for sleep disorders. They consider it the most affordable and successful stop snoring device available.
Update: Buy the Sleep Pro Custom direct from the manufacturer here.
Research shows the SleepPro Custom stops snoring and is beneficial to health.  Clinical studies also indicate that the SleepPro Custom is an alternative to CPAP for obstructive sleep apnea.
Made in A Lab for Perfect Fit
As the name suggests, this mouthguard is custom-fit in a lab. The process involves making an impression at home which you mail in.
Cost is more then a standard boil-and-bite product. However, it is well worth it because custom fit mouthpieces are comfortable - enabling better sleep and a higher chance of success.
SleepPro Custom is a professional product and equal to dentist mouth guards which can cost as much as $2,000.
If you already have a mouthpiece that works for you, such as a Zyppah, MEDiTAS Ltd. can use that, along with your impressions, to build your new Custom mouthpiece and make the protrusion of the lower jaw accurate.
My Results with the Sleep Pro Custom
I must say this is the highest quality MAD I've tested and using a lab to form my impression was a great experience. I had discussed a custom mouthpiece with a dentist in the past but was put off by the cost.
First of all, mandibular advancement devices work. They are proven to prevent snoring. By combining that success with a guarantee of good fit in the SleepPro, you have a winning product.
You can't get any better comfort than the Sleep Pro Custom. I loved it right away – instead of trying to acclimate to a mouthpiece for weeks (and most people give up here), I had a form-fitting MAD that enabled me to sleep easily on the first night.
The form factor is very slight which means you can swallow easily and there is almost no adjustment period with this mouthpiece.
I would highly recommend the SleepPro Custom to anyone that who has had problems adjusting to boil-and-bite snore guards.  This is a 5-star quality product.
View current SleepPro Custom discount here.
Regular VS. Anti-Microbial
The Custom comes in regular or anti-microbial. I decided to try the regular first for a few months and test the antimicrobial later.
The antimicrobial includes a coating that makes the mouthpiece hygienic and keeps it fresher for longer by preventing bacteria growth.
This antimicrobial technology extends the life of the product while safeguarding the health of your teeth – all for a mere $22 more. You can read more about the Sleep Pro anti-microbial here.
First, Molding your Impressions
I have to admit this was my first time making full impressions, and after doing close to fifty boil-and-bite mouthpieces, I don't mind telling you this seemed more daunting. However, I was pleasantly surprised by how easy the process was. I've included some pictures of the steps to show you what I mean.
SleepPro sends you an impression kit which consists of a couple trays and dental grade impression clay.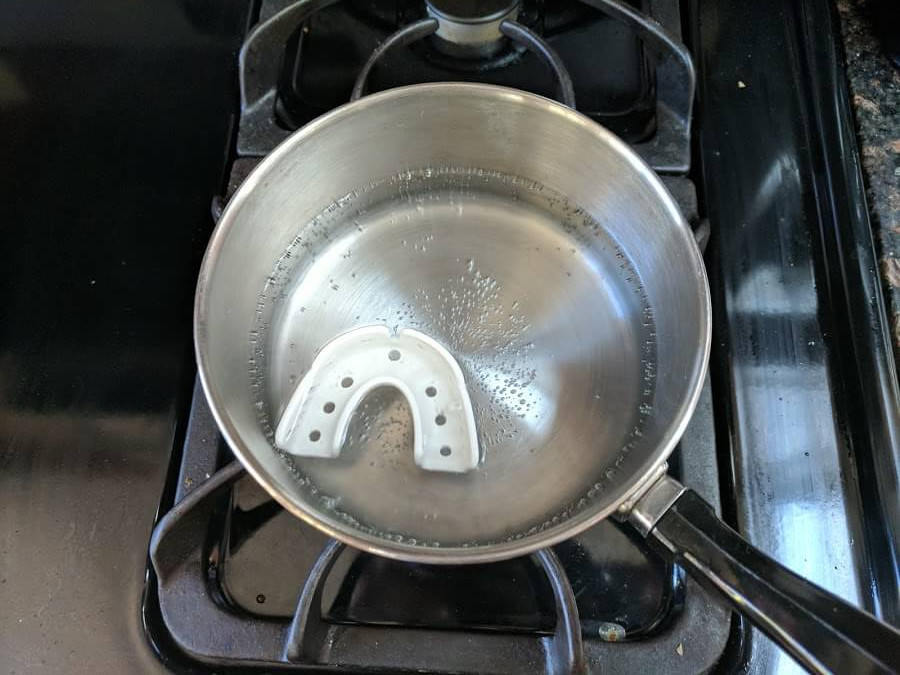 So, you start off like a normal boil-and-bite method. Add the white gum piece into boiling water for 15-20 seconds. Drain off the excess water, then quickly shape to your top gum line, before placing in cold water to set.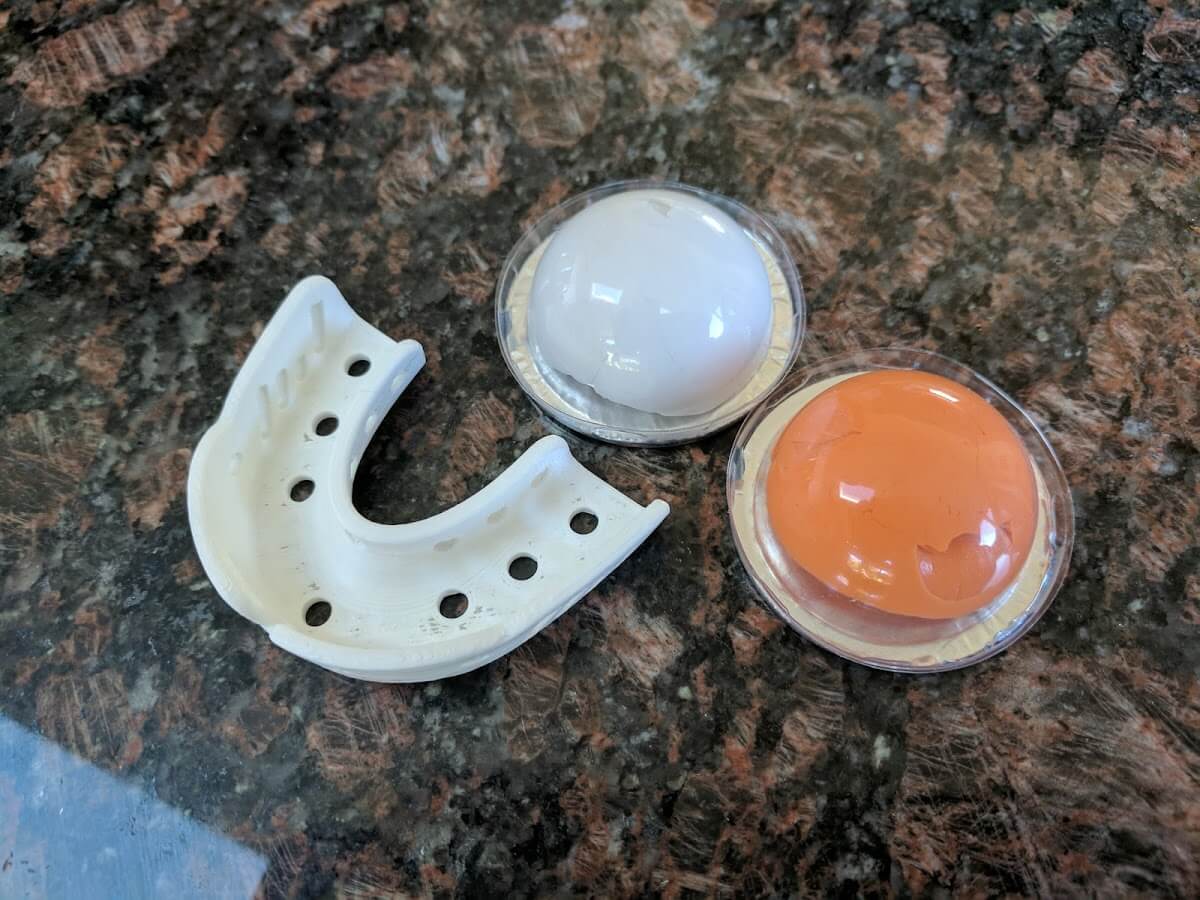 You get a ball of white putty and a ball of orange putty. Roll these pieces together until the two colors are mostly blended, then push the putty into your white mouthpiece (you have 45 seconds before it hardens). Throw away any of the excess putty.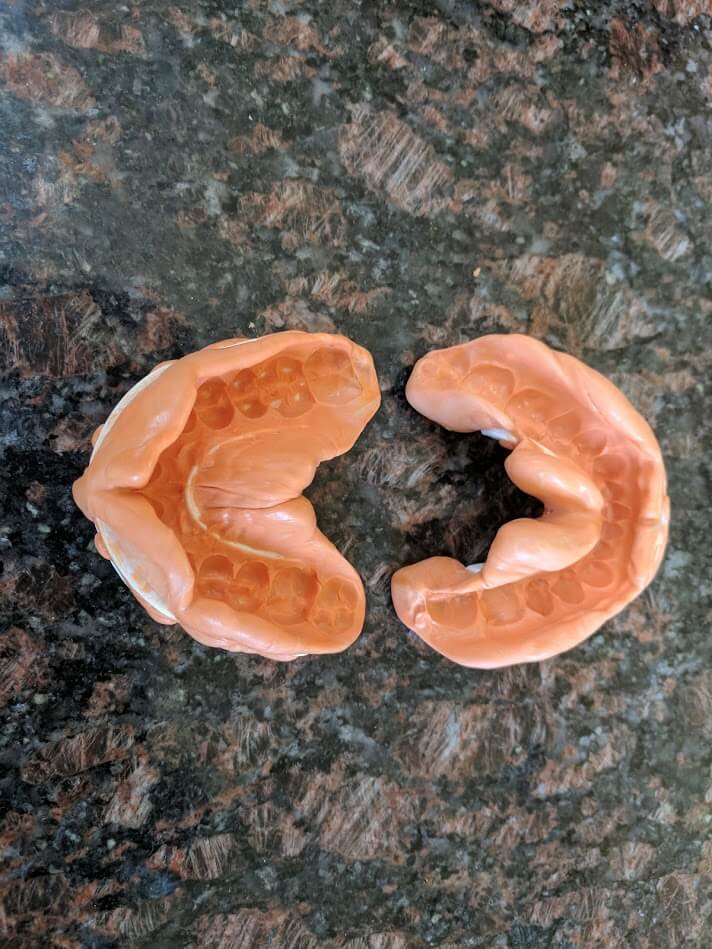 Bite down on the putty in the white plastic tray. Holding the tray in the mouth for three minutes. Timing is really important here – I left one tray for longer than three minutes and struggled to remove the impression from my teeth! Also, follow the guide and bite in the middle section of the mold, as indicated by the green line.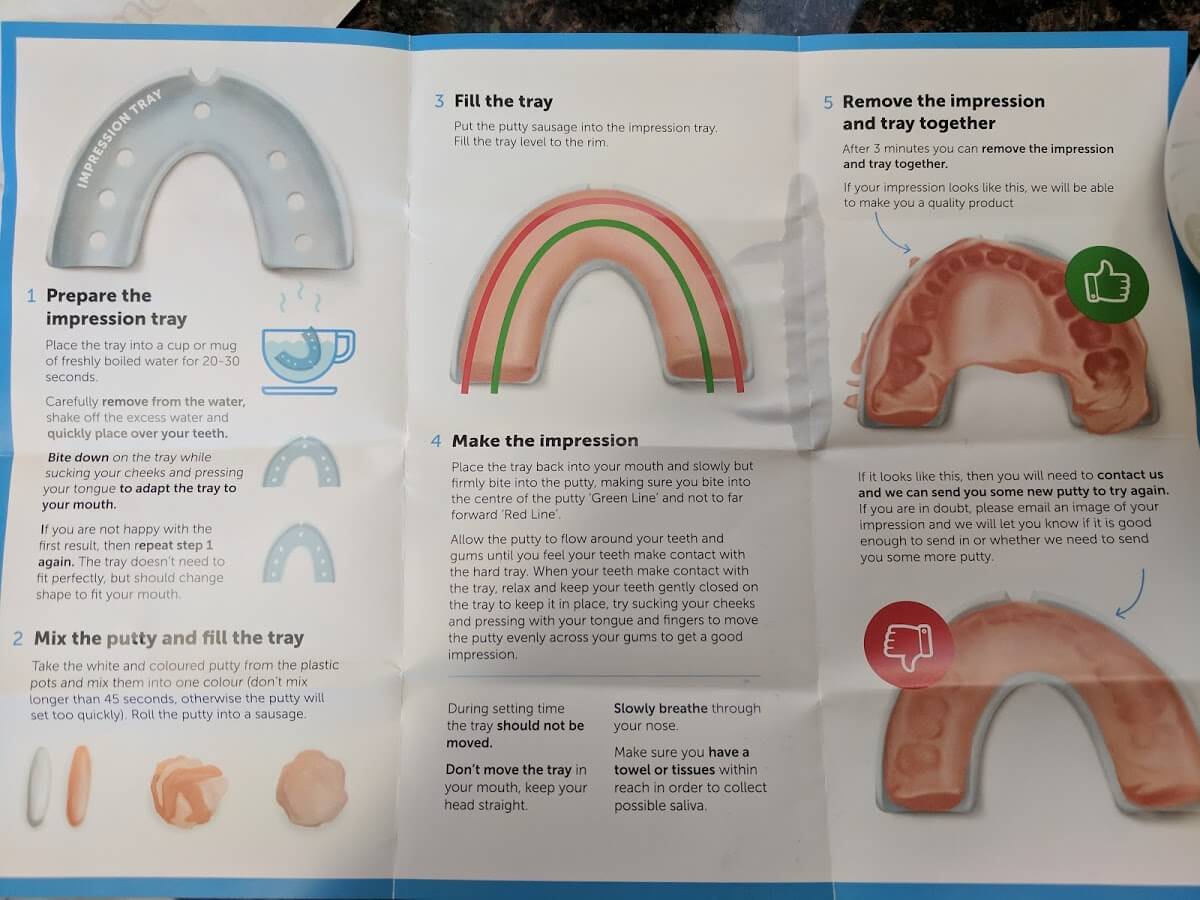 You have to repeat the process for top and bottom.
If you go wrong, SleepPro is happy to send you more putty or replacement parts for the moulds, but you will have to wait for shipping from the UK, so try to get this right first time if you can.
Next, boil-and-bite the included mouthpiece that is for lower jaw positioning.   Find the comfortable position (its best not to go far forward with this).   You want to err on the side of not too much jaw progression, otherwise, your jaws will feel tired and painful after 6-8 hours of nightly usage.
You can also send in a Zyppah or SnoreRx or similar appliance with your impressions, to demonstrate your jaw progression.
Once you have your impressions and jaw advancement, you mail them to the lab in the UK.
Shipping
Shipping is not ideal as your impressions are mailed to the UK, which takes time and costs extra. However, I cannot emphasize enough how cost-effective this process is when compared to a dentist ordered mouthguard.
It only takes a few days to receive the initial product from them. I had it shipped to southern California, and it was quick. You do have to pay to send the teeth impressions back to the lab, but this only cost me $14.
Customer Service
Customer service is also excellent! I had a few questions during the process, and SleepPro was happy to answer all my questions. They offer a full money-back guarantee.
Buy the SleepPro Custom Here for U.S. Customers.
Recently we evaluated the SnoreRx device which is an over-the-counter oral appliance for the treatment of snoring.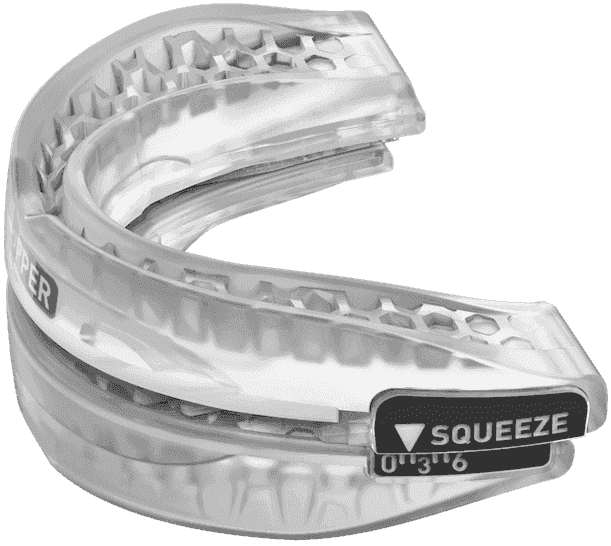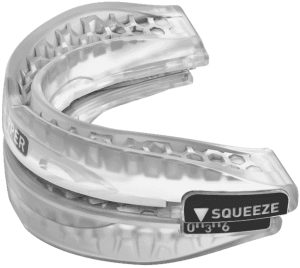 Snoring is the sound caused by a narrowed nasal and/or oral airway during sleep.  Potential airway narrowing may occur in the nose and includes a deviated septum, enlarged soft tissue (turbinates), polyps, and/or sinus congestion.
Narrowing in the oral airway may come from one or both places and include: 1) the back of the throat including a narrowed pharynx, an elongated soft palate, enlarged tonsils, and enlarged uvula and/or 2) the tongue falling into the airway from a small lower jaw, a bad bite, an enlarged tongue, or a crowded and smallmouth.
As the air has to pass through a smaller, more narrow space, it rushes at a faster rate and vibrates the tissues, resulting in the familiar and often annoying snoring sound.
SnoreRx works best for snoring caused by tongue blockages by moving the lower jaw slightly forward to maintain an open airway during sleep. In my opinion, the SnoreRx closely resembles a custom-made oral appliance due to several features:
It molds to the teeth using a boil and bite process for an intimate fit
It is adjustable to move the lower jaw forward for increased efficacy and jaw comfort
It has a simple design and is free of metal hinges and connected devices such as straps or rubber bands
The process to fit the SnoreRx was easy to follow with the clear and concise directions. To mold the appliance to the teeth, there is a handle included to avoid burns when placing the device in the boiling water.
When placing the device in the mouth, the patient should bite down as hard as possible and suction the air and water to mold the material to the teeth. If needed, this step may be repeated in case of poor retention or not seating the tray all the way.
The handle is easily removed and the device may then be calibrated to move the lower jaw forward. It is best to start with a small and comfortable increase of 1mm to avoid jaw pain. After 3-5 nights at each setting, the device can be adjusted as often as needed, up to 6mm of movement until the snoring is reduced.
The SnoreRx website has good education, explanations, and support. The patients I utilized for this device reported ease of preparing the appliance for use, comfort while wearing, and decreased snoring. Potential side effects include tooth or gum soreness, excessive salivation or dry mouth, tooth movement or changes in bite, and temporomandibular (jaw joint) issues. If you experience jaw pain, headaches, facial pain, jaw noises, or jaw locking, use of the device should be discontinued. If the symptoms do not resolve, we recommend you see a dentist trained in TMJ Dysfunction.
When comparing this device to a custom-made oral appliance, the overall size is bulkier due to the outer shell being approximately 2mm thick then containing the inner moldable copolymer. This may lead to the lips remaining open during sleep and mouth breathing or dry mouth.
The dental literature suggests that the soft mouthguard material, such as the inner lining of the SnoreRx, may induce tooth clenching. If you find that you are waking with clenched teeth, facial pain, or headaches along the temples, you should discontinue use and seek an examination by your dentist if the symptoms persist.
Overall, the SnoreRx is an ideal appliance to use for snoring, as a stepping stone prior to trying a more long-term custom-made oral device, or as a temporary device while awaiting a more definitive treatment method.
To raise awareness of potentially serious health implications, readers should be aware that snoring is a sign of sleep apnea, which is a complete cessation of breathing for ten seconds or more. Sleep apnea is often undiagnosed and untreated. It is a serious health condition associated with:
High blood pressure
Heart Disease
Type 2 diabetes
Glucose intolerance (metabolic syndrome)
Atrial Fibrillation
Stroke
Anxiety
Depression
Daytime tiredness
Hyperactivity
Memory loss
Obesity / Weight Gain
Sexual dysfunction
Increased car accidents
Relationship issues
Death
If you or your loved one wakes gasping or has been told of stopped breathing during sleep, or has been diagnosed with sleep apnea via an overnight sleep study, treatment should be sought by a sleep physician or a dentist trained in sleep-disordered breathing rather than using an over-the-counter snoring device.
Treatment methods include a CPAP (Continuous positive air pressure) machine, surgery, weight loss, oropharyngeal exercises, and custom-made oral appliances.
SnoreRx is fabulous BUT don't forget that we've also done a list of the best mouthpieces to stop snoring.
I wasn't sure what to expect when first trying the SnoreRx. My experience with CPAP machines is they can be tedious to put on and hard to sleep in. I was pleasantly surprised upon receiving a small, easy device to handle and use. This portability of SnoreRx is convenient as compared to a nightly CPAP hookup.
The SnoreRx comes in a small box and is a mouth guard that is custom fit to an impression of your teeth. The website contains all the instructions and support. There is a lot of information on the back of SnoreRx box as well.
The first section is a descriptive summary of the product. It includes the indications for use, which is straightforward. Underneath is the contraindications and warnings and details about the manufacturer.
The box was easy to open. It's important to read the instructions fully before proceeding because it's tempting to try and use it without doing the boil-and-bite. The instructions are a critical part of using the device.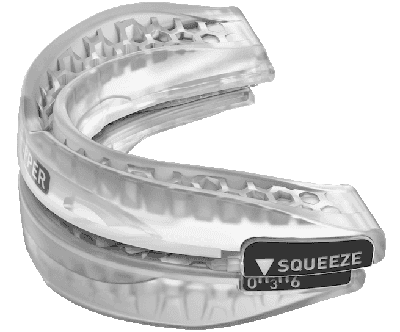 Upon starting the SnoreRx custom impression, I found the steps clearly labeled and easy to follow and impressed by how malleable the material was in being able to adjust so easily to the water, and my tooth imprints. There is a video available that shows the step by step impression steps.
My personal experience in sleeping with SnoreRx took some getting used to. I am very petite and so adjusting it to my mouth was somewhat difficult.
In trying it on and getting used to it, I did experience some dryness at first, but that eventually subsided. Even though it can be adjusted, it would be ideal if SnoreRx could provide two different sizes depending on the size of the mouth of the person ordering it.
I wasn't able to sleep through the night with it, although with practice I would be able to. In doing some research I found this to be a common issue – however, most users can continue wearing the device and eventually get through the night without removing the device.
Here is the key point I want to make with the SnoreRx. If you snore and do not like CPAP, this device is for you. The SnoreRx is useful for someone who is having trouble sleeping due to snoring and doesn't want to use a CPAP machine.
The company is clear that you must seek professional medical advice first before incorporating this device into your lifestyle. They do not guarantee a cure for your snoring or sleep apnea – but do offer you a full refund if you do not succeed.
I very much enjoyed getting the chance to review the SnoreRx, as it's size, ease of use, and easy storage can benefit many people, especially those who travel or are constantly on the go. I would recommend this product to my clients that suffer from snoring and want an alternative solution to CPAP.
Also, we've published a list of our favorite anti-snoring mouthpieces to make sure you have a umber of reliable options.
I'v been a contributor to the reviews of best anti-snoring mouthpieces here at SHQ for a good while. My goal is always to have as many patients and/or friends test the devices as possible.
I was excited to try out the SnoreRx. I've had several patients over the years come in with it and now I was to have my own test group from start to finish.
Since I was lucky enough to get a few appliances, I asked some other women in the office if they knew someone who could benefit.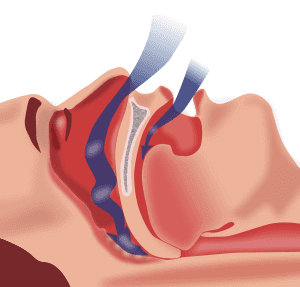 The first of my testers is my friend's housemate. The instructions are well written and easy to follow, and I strongly recommend you read them from start to finish.
When they read the instructions, they decided not to try out the SnoreRx. One of the contraindications is loose teeth or dental implants.
When you wear any oral appliance and clench you can create a suction. If that suction is strong enough, you can pull out loose or broken teeth. That risk is one of the reasons that I would strongly recommend that people check in with their dentist before starting with any oral appliance.
Another reason is that the dentist can establish a baseline to watch for tooth movement or bite changes.
The next tester is my friend's boyfriend. He snores enough to disturb her sleep nightly. She was very excited to get him in the Snore Rx.
They had no problems fitting the device. It was easy to fit. First you place it in hot water. It has a removable handle that makes sure that you don't get too near the boiling water. Then you fit it to your mouth.
Clenching for the full minute to get a proper fit can get uncomfortable, and the device must be removed with care to maintain the impression. But once you get it fit you don't have to do it again. I really like that the inner liner is a soft thermoplastic. That little bit of give to the soft liner makes the device a lot more comfortable.
My favorite tester is my husband. He has both a nasal and oral snore (and I'm a light sleeper!). He has to wear both an oral appliance and nasal strips or cones in order for me to be happy.
That said, he's the only one that didn't like the Snore Rx. He found that it made his front teeth uncomfortable, and he was concerned that it might be pushing and moving his teeth (which is a warning in the instructions). After a few days and he decided to stop wearing it.
The front teeth are an area that is sensitive for a lot of people who use an oral appliance. This is the reason that people transition from a semi custom MAD to a fully custom oral appliance.
My final tester is my friend's stepdad. Apparently his snoring was bad enough to hear from across the house and through multiple closed doors. They also had no problems with the fitting and it worked great.
Unfortunately I found out after he started that he had a CPAP machine that he wasn't using. While there are oral appliances that can take care of sleep apnea, they have to be tested with a sleep study to make sure that they're working effectively. The SnoreRx isn't FDA cleared to treat sleep apnea.
The SnoreRx is FDA approved for snoring and, for that, it does deliver. Every one of the people I had test this device got remarkably quiet.
I love the adjustability of the SnoreRx. I found it easy to squeeze the upper unit and advance the lower jaw in 1 mm increments. One must be careful to adjust both sides evenly, so that you feel even tension in both cheek muscles. Uneven advancement can cause your your body to try to straighten itself out by fighting the appliance. This can lead to one-sided jaw pain.
One of the keys to jaw advancement is to take it slow and the SnoreRx allows you to do just that. You might not have to go that far forward to make the snore go away.
One of the drawbacks to the design is the mouth opening is a little small for dedicated mouth breathers. On the flip side, that limited opening won't let your mouth dry out. It helps keep your jaw forward when you are on your back.
All in all, I really liked the SnoreRx. I think that it's a great option for people to use before checking in with their physician to make sure that they don't have sleep apnea. The SnoreRx definitely does what it sets out to do. It would make a good temporary or quick fix snore guard.
Purchase SnoreRx Direct from Manufacturer
The TheraSnore Mouthpiece – Does it Live up to the Hype?
Oh, how I have tried to cure myself of snoring. Nasal strips, nasal spray, acupressure, dieting – I've tried every known remedy and treatment.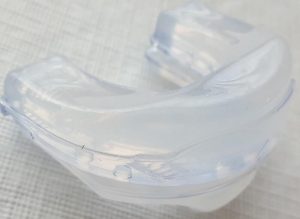 I was officially at the bottom of the snore-cure bucket, and it was time to put aside my prejudices and give the TheraSnore Mouthpiece a try, in the hopes of finally getting an entire night of sleep.
The verdict? I wish I'd tried it years ago!
What is it?
The TheraSnore is a Mandibular Advancement Device (or MAD), one of the anti snoring devices that works by sitting in the mouth and gently holding forward the jaw and tongue while you sleep (Both SnoreRx and Zyppah do the same).
The idea is that this opens up the throat and clears any obstruction from the airways, which results in smooth, soundless breathing. The company's website boasts a 93% success rate when using this mouthpiece, a claim that seems to be supported by the fact that this is one of the world's most popular MADs. I was sold!
TheraSnore Snore Device Video.
I unbox and demonstrate one of the best snoring mouthpieces.
My Experience
I went for the adjustable TheraSnore, which is customizable after fitting and has five different jaw extension settings. To custom mold the Therasnore I had to separate the upper and lower jaw pieces, this is quite hard as the pieces are stuck together when they first ship.
Next, each part of the mouthpiece must be molded in hot water, but separately.   They give detailed instructions when they ship it, but there are fifteen steps to follow. With both the upper and lower jaw pieces all set up and ready to go, I was excited to try it out that night.
I had expected to be totally unable to sleep when wearing a mouthpiece but was pleasantly surprised to find that I drifted off just as easily as usual. The device is far more comfortable than you might expect, not too bulky or intrusive-feeling.
And the custom fit meant that no bits were sticking into my mouth or rubbing against my gums. The mouthpiece fits firmly, but the material is soft and gentle on the gums, so the overall comfort was a welcome surprise.
I woke up feeling refreshed and well rested, which was a promising sign. But had it worked? I rolled over to find my wife not only still in the same bed, but still sound asleep and not glaring reproachfully up at me from her pillow!
I quickly shook her awake to ask how she'd slept… and she HAD slept! Apparently, I hadn't snored all night, not even slightly. We were both overjoyed!
My jaw, admittedly, was a little sore that first morning, though not enough to discourage me from continuing to use the mouthpiece, given the success of that first night. The soreness persevered for a few days, but by night five the mouthpiece had started to feel like second nature, and my jaw was no longer complaining.
Two weeks in and I don't know how I lived without it, or why it took me so long to get around to buying one! My snoring has ceased, the Therasnore is now so comfortable that it feels like it was made to sit in my mouth (which, technically, it was) and my wife and I are both happy and better rested than we have been in years.
So, should you buy one yourself? To help you decide, here are the pros and cons of my personal experience:
Pros
Value for money: Although the price tag may put off some prospective buyers, you have to think to the long-term with this one. The Therasnore lasts for up to two years and has a lot of testimonials as to its durability online, so it is a long-term solution to your snoring woes.
Clinically recommended: This device is recommended by doctors in both the U.S. and the UK, and has some convincing clinical evidence behind it. These clinical studies are linked to the official TheraSnore website, and certainly, add weight to the claims of the company regarding the effectiveness of the device. Being able to read up on the science behind this product is a nice touch, in my opinion, and is quite a novel and reassuring way to give a product credibility.
Comfort: The fact that you can adjust the jaw extension settings is a big advantage of this product, and meant that I was able to position it in such a way that my jaw wasn't thrust too far forward. This, combined with the soft material, and the 'boil and bite' method of molding the mouthpiece, resulted in a fit that was more comfortable than I ever anticipated.
Hygienic: The TheraSnore is very quick and easy to clean, which is, of course, essential for something that's going to be sitting in your mouth for long periods of time. The fact that it comes with an eight-month supply of cleaning tablets is a nice touch.
FDA/NHS approved: This device is recommended by official bodies on both sides of the pond, and finding a product whose quality is internationally recognized is very reassuring!
Cons
(Temporary) Drool and jaw ache: Although this mouthpiece was more comfortable than I ever thought possible, it still takes some time to adjust to sleeping with it in your mouth. The increased salivation was immediate, and although it seemed to stop when I fell asleep, left me with a large wet patch on my pillow for the first two nights. The jaw-soreness took a little longer to go, but was mild and only lasted five days in the end. It takes a little getting used to, but these are minor issues that it's certainly worth pushing through.
Unsuitable for denture wearers: Again, this one doesn't affect me, but if you wear dentures or implants this device will not work for you.
Overall
Would I recommend the TheraSnore? Absolutely!
I found this mouthpiece to be comfortable, professionally designed, and (most importantly) highly effective. My quality of sleep has improved tenfold, and the knock-on effects in my day-to-day life are significant.
I'm more alert, my relationships have improved, and even my general mood has taken an upswing. I wish I'd tried it years ago! Give the TheraSnore mouthpiece a try.
Of course, you are probably familiar with the more well-known anti-snoring mouthpieces such as SnoreRx and ZQuiet. If you haven't tried those yet, please read my reviews on each.
When I ordered SnoreRx, I looked forward to trying out its unique features. I've tried many Mandibular Advancement Devices (MADs) in the past and was hoping for great results from SnoreRx.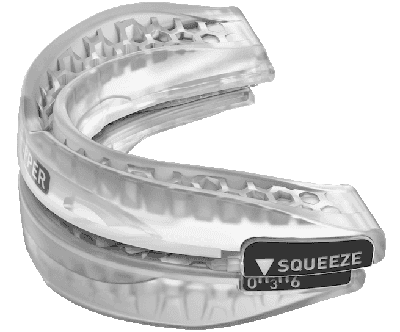 I wasn't disappointed! There are many benefits to using SnoreRx over other MADs, from the amazing customization to the high-quality material selection, but most of all it is effective.
I am confident it will become your preferred anti-snoring device as well.
Update: This review was updated on July 30, 2019, with the latest version of SnoreRx and SnoreRx is currently on sale for $99.
Advantages
Flex-Jaw design can be adjusted in ten one-millimeter increments.
Calibrator makes it easy to read the settings and to determine the amount of jaw advancement.
Posi-Lock feature locks in your selected settings. So, if you take it apart while cleaning, it will reset.
V-Flow technology allows you to breathe through your mouth while sleeping. This is a terrific feature for individuals with sinus problems, a deviated septum, and nasal polyps.
Boil-and-bite technology achieves a custom fit.
Free of BPA, latex, and acrylic using the medical-grade material.
United States Food and Drug Administration cleared.
Product and all materials are made in America.
American Academy of Sleep Medicine (AMASS) certification.
No metal or materials that could create torsion or continuous pressure are used, so your comfort is guaranteed.
A lifespan of 12 to 15 months.
A 30-day money back guarantee.
Disadvantages
The intricate design requires additional cleaning effort.
The mouthpiece can't be worn by individuals with dentures or bridges. Not recommended for those with dental implants that are less than one-year-old.
May cause sensitivity and drooling until you are accustomed to wearing it.
My Actual Results
Here is a screenshot of my results when recorded with a snore recording app compared between two nights.

What Makes SnoreRx Unique?
Since SnoreRx is classified as a MAD, it works by holding your lower jaw forward while you sleep, preventing soft tissue obstruction which causes snoring. The product is up-to-date and has technical features unavailable on other MADs.
One of the most noticeable features of SnoreRx is its customization. It has a calibrator set into the side of the device with ten settings spaced only one millimeter apart.
This provides a huge range of lower jaw positions to ensure you find the most comfortable position for you. The calibrator is easily adjusted with a squeezing mechanism and can be reset if necessary.
Most MADs do not allow you to adjust your jaw position easily, and if they do, they spacing isn't fine enough to allow for both comfort and effectiveness.
SnoreRx is constructed from durable and non-irritating medical-grade material. It contains no BPA, latex, or acrylics and is suitable for people with allergies or sensitivities. It does not utilize metal pieces and rubber bands, which can cause uncomfortable pressure and torsion.
Like other MADs, it uses an easy boil-and-bite method to achieve a custom fit. However, SnoreRx has the additional benefit of allowing you to adjust your jaw position incrementally for further customization.
You will appreciate the cushioned design on the upper and lower trays, so they are gentle on your teeth. Also, mouth-breathers will welcome SnoreRx's V-Flow design that allows free airflow through the front of the device.
SnoreRx has a lifespan of 9 to 11 months which is almost twice that of the average MAD. SnoreRx is affordable, effective and long-lasting so it is worth the investment.
My Experience
When I ordered SnoreRx, I took advantage of the multi-purchase discount and bought two devices. I travel frequently for my work so having two SnoreRx gadgets is a convenience.
When the mouthpieces arrived, I followed the boil-and-bite technique to create a custom fit. I had to boil the second device twice, but it didn't negatively affect the material.
I was excited to try my new MAD, especially the lower jaw adjustment feature. At first, I found the number of jaw positioning options overwhelming, but after some fine-tuning settled on a comfortable position.
The first night I wore the device, I slept well, but my mouth was a little sore in the morning. The discomfort was similar to wearing braces for the first time.
The great news was my wife told me I didn't snore at all. The following night I adjusted the positioning of the lower jaw settings and didn't encounter any pain when I woke up the next day, and I still didn't snore.
I was concerned that adjusting the position would impact the effectiveness of the device. I also really liked the cushioning on both the upper and lower jaw which added to the level of comfort.
Cleaning the device definitely took longer than other MADs I have worn. The cleaning process is more difficult due to the number of positioning adjustments. I used a denture cleaner to help me reach into every area and eradicate bacteria.
I am very pleased with the SnoreRx. I have tried other MADs, but this one is more comfortable because of the numerous jaw adjusting positions and cushioning.
[testimonial_view id="1" post_ids="14875"]
I no longer snore, so both my wife and I get a good night's sleep and our relationship has improved as a consequence.
Most customers are happy with SnoreRx, you read more reviews for SnoreRx on the Verified Reviews site, a trusted 3rd party review authority.
SnoreRx is backed by a 30-day unconditional satisfaction guarantee. You don't need to have it back to the company within 30 days either. It simply has to be postmarked 30 days from the confirmed delivery date, so you really do get a full month to try it.
SnoreRx Video Of Unboxing & Features
SnoreRx is an oral appliance sold as a treatment for snoring.   It uses mandibular advancement, which moves the lower jaw forward, to open the upper airway during sleep.   A wider airway then improves airflow and reduces snoring.

Does SnoreRx really work?

Yes, SnoreRx really does work. Like any snoring mouthpiece, it takes some getting used to. The concept behind SnoreRx is proven and the adjustability that the SnoreRx device provides ensures a comfortable fit.

How long does SnoreRx last?

Apnea Sciences, the parent company of SnoreRx, suggests that the SnoreRx device will last between 9 and 11 months on average. Some people grind their teeth while sleeping and will experience more wear on their device than average. With proper care you can expect the device to last longer than 12 months.

Can SnoreRx cure snoring?

SnoreRx is not a cure for snoring.   Snoring is not a curable disease.  The SnoreRx is a treatment for snoring and is designed based on medical studies which prove that mandibular advancement is a successful treatment for snoring.

Why is SnoreRx adjustable?

SnoreRx is adjustable for comfort. The SnoreRx is adjustable in millimeter increments which allows the wearer to choose the thrust of the lower jaw. Some users want minimal jaw advancement, and some want greater jaw advancement.

How much does SnoreRx cost?

As of August 6, 2018, the price of a SnoreRx is $99.95, and the average standard shipping rate is $6.95, which brings the total cost to $106.90. Priority Shipping from FedEx is available for an additional charge. The SnoreRx device is sold in packs of two for $154.00.

What is the cost of shipping for SnoreRx?

The cost of shipping for SnoreRx is $6.95. Priority shipping from FedEx costs extra based on your location. SnoreRx also offers international shipping with FedEx. Amazon fulfillment centers provide Canada and Australia shipping for SnoreRx.

Are there coupon codes for free shipping for SnoreRx?

There are no coupon codes for free shipping for SnoreRx. However, there are coupon codes for a discount on the price of SnoreRx. You can use "snoringhq" as a coupon code to get 10% off the price of the SnoreRx.

Does wearing SnoreRx look funny?

Wearing SnoreRx looks the same as a mouthguard for sports or a mouth guard for teeth grinding. A slight covering is over the teeth, and it is not possible to speak clearly during use.

What does it mean when a person is snoring?

A person who is snoring is making a loud grunting and grinding noise through the nose and mouth during sleep. Restricted airways cause this. Excess throat and nasal tissue can vibrate during sleep, also causing the snoring noise.
Moderately Priced
With all the incredible features of the SnoreRx, I was expecting a hefty price tag; however, when I placed my order for two SnoreRx devices, I noticed there was a huge multi-purchase discount. One device costs $99, which is a terrific price, but two devices cost only $154. It's almost a "buy one, get one half price" deal.
SnoreRx offers USPS shipping for $6.95 or 1 device. The devices can also be shipped via FedEx for around $10, which means they arrive soon after you order. SnoreRx can be shipped internationally to over 30+ countries for only $9.59. International shipping for two devices is $14.95.
Countries include:
Austria, Belgium, Bulgaria, Canada, Cyprus, Czech Republic, Denmark, Estonia, Finland, France, Germany, Greece, Hungary, Ireland, Italy, Latvia, Lithuania, Luxembourg, Malta, Netherlands, Poland, Portugal, Romania, Slovakia (Slovak Republic), Slovenia, Spain, Sweden, United Kingdom
SnoreRx also offers a 30-day unconditional satisfaction guarantee. You can try the product for a full month before you return it. If you are unsatisfied with the product, make sure your return is postmarked 30 days from when you had it delivered so you can receive a full refund.
Is the SnoreRx Right for You?
SnoreRx is the perfect device for anyone who prefers a highly customized fit. It is amazingly comfortable, it is wearable by most mouth shapes and sizes, has great airflow for mouth breathers, and is suitable for anyone with allergies or sensitivities. Most importantly, it's incredibly effective.
If you are interested in a highly adjustable, comfortable MAD, SnoreRx would be a great option for you. It is durable, and thoughtfully designed with a lot of unique characteristics. Plus, it can be worn by mouth breathers and those with a latex allergy.
But you have a number of choices on the mouthpiece market.  Our "best mouthpieces" list should help you compare your options.
Two other MADs that are possibilities are ZQuiet and Snore Medic. If you want to try a tongue retaining device that holds your tongue forward instead of your jaw then take a look at the Good Morning Snore Solution mouthpiece.
The Infinity Travel Pillow is one of the hottest travel products on the market today. Marketed as an innovative sleep solution for seasoned travelers, its unusual shape and design set it apart from other travel pillows on the market.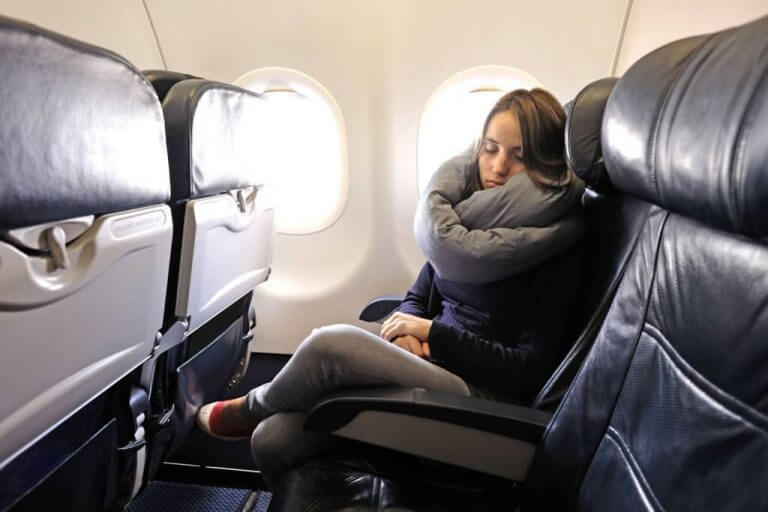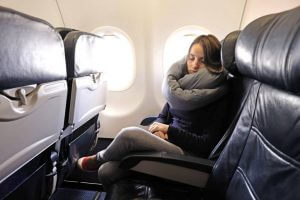 As a veteran traveler, I was curious: does the Infinity travel pillow live up to the hype, and could I really sleep better in transit while using one?
Any traveler knows that a quality pillow can make or break the sleep experience. A good pillow can make it easier to fall asleep, stay asleep, and sleep more deeply in otherwise uncomfortable circumstances.
About the Infinity Travel Pillow
The Infinity Pillow is so named for two reasons. Firstly, it comes in a circular 'infinity ring' shape. Secondly, and perhaps most importantly, it can be used in an infinite variety of configurations to suit the preferences of the user.
The pillow is unique due to its innovative shape and is very much unlike any other pillow on the market today.
It is flexible by design and can be shaped in almost any way to suit your body, sleeping preferences, and your seating arrangement during travel.
It can be used on buses, trains, airplanes, on long car rides, and just about any other form of transportation.
How I Used the Infinity Pillow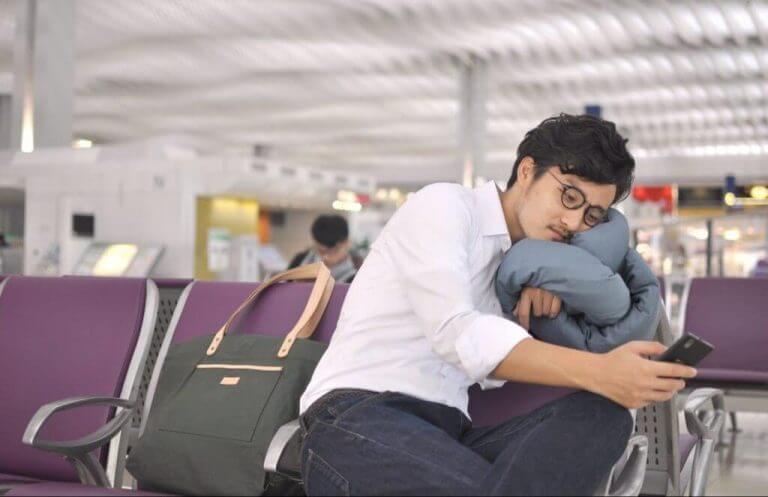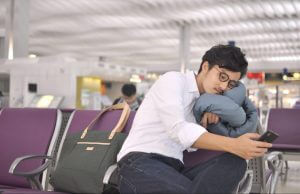 I found the Infinity pillow was initially not very intuitive to use, and I was a little confused about how to make it comfortable. It does not come with any instructive diagrams or a manual.
However, this is perhaps part of the beauty of the product: it is left to the user to figure out how to use it and what feels best.
Once I got the hang of actually using it, I found it to be very comfortable and easy to use.
I tested the Infinity pillow on an airplane flight. After trying a few different arrangements, I found it was most comfortable wrapped around my neck and shielding my head from the airplane window. This was quite relaxing, and kept my neck and shoulders comfortable and protected my scalp from the hard windowpane.
Configuring the Pillow
The pillow can be configured in an infinite variety of ways, as the name suggests. As I played around with it, I found there were endless ways to twist, scrunch, wrap, and bundle it to make my back, neck, head, shoulders, and arms more comfortable to sleep.
As I did while I was testing the pillow, one use of the Infinity pillow is to use it to sleep against a window, as you would in an airplane or automobile.
Another primary use of the Infinity pillow is for napping on a flat surface, as you would on a desk at work. This can be done anytime you are seated in front of a flat surface.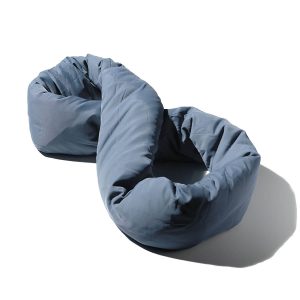 Perhaps the most common way to use this pillow is a neck support. This is done by wrapping it around your neck to support your head while you are sleeping upright. However, it can also wrap around the arms for arm support depending, once again, on personal preference.
Another way to use the Infinity pillow that I had not considered was a lumbar support. Using the pillow behind or around the lower back provides support for the muscles of this area and the bones of the spine.
Pros of the Infinity Pillow
By far the greatest advantage of the Infinity pillow that I experienced was how comfortable it was to use. Once configured properly it took very little time to fall asleep once I was using it. It is also breathable, meaning that even in the warmest of environments it is comfortable to use and will not cause the accumulation of moisture.
Another significant advantage of the Infinity pillow is its flexibility. Unlike traditional travel pillows commonly sold in airports, this pillow can be configured and reconfigured for different sleeping positions. As far as I am aware, it is the most flexible and versatile travel pillow available on the market today.
The Infinity pillow is machine washable, making it even more traveler-friendly. Although I did not spill anything on my pillow while I was testing it, it is easy to see how it could come into contact with all manner of substances while en route to your destination. Unlike most conventional travel pillows, this pillow can easily be thrown into the washer with laundry.
All advantages mean the infinity travel pillow is the best travel pillow on the market for seasoned travelers. No matter what type of traveler you are, the Infinity pillow will surely help you sleep better on your journey. Plus, shipping in the U.S. is free!
Cons of the Infinity Pillow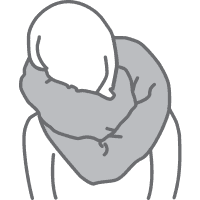 As positive as my overall opinion is of this product, it has some downsides.
Perhaps the largest drawback is its complexity. The pillow does not come with any instructions and may be initially confusing for some users. Even for myself as a seasoned traveler, the pillow was daunting at first as I tried to figure out its features and how to use it. For those unfamiliar with this type of pillow, there may be a steep learning curve as they begin to try it out.
Another significant downside to this pillow is its size. It is relatively bulky, and larger in size than many of its counterparts. Travelers tend to be a very size-conscious bunch and want to travel with the least possible amount of luggage, and I can see how the larger size of this pillow is a substantial drawback for those travelers.
The final drawback of the pillow is its cost. The pillow is more expensive than traditional, cheaper travel-type pillows that one might see in stores in the airport. Some travelers might not want to pay the extra cost of having a more versatile sleep option.
Conclusion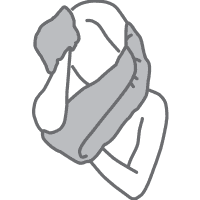 Whether you are traveling for business, leisure, or other reasons altogether, the Infinity pillow is probably more comfortable than your other options when it comes to sleeping on the plane.
For myself, I found it comfortable and beneficial in my travels in terms of the overall quality of my sleep. Though I did like the pillow, I found it overall was slightly too complicated for my simple need: a place to rest my head.
For a frequent traveler who invariably finds themselves in a diverse range of seating and sleeping arrangements, this pillow comes highly recommended. It is certain that after experimentation with the different ways to wrap the pillow around you, you will find a method of using the pillow that is comfortable and beneficial for you.
SnoreRx is a mandibular advancement device (MAD). It treats snoring by shifting the position of your lower jaw forward.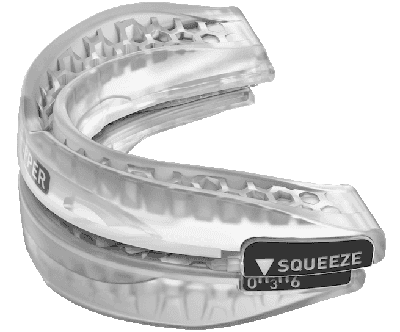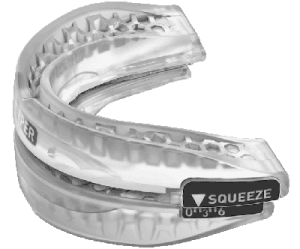 This prevents the soft tissue of the throat from obstructing your airway. It has FDA approval for use as a snoring reduction device.
All good MADs are customizable, with most using the boil and bite method. SnoreRX stands out because after this boil and bite process you have further customizable options.
You can alter the position of the lower jaw in 1mm increments. This allows you to have both comfort and effective snoring reduction.
The majority of the reviews of the SnoreRX describe it as an effective and comfortable product. I fact, it's at the top of our list of the best anti-snoring mouthpieces. In fact, we've had several doctors (plus li'l ol' me) review it here:
My SnoreRx review
Dr. Balatgek's review
Dr. Goldstein's review
Dr. Christian's review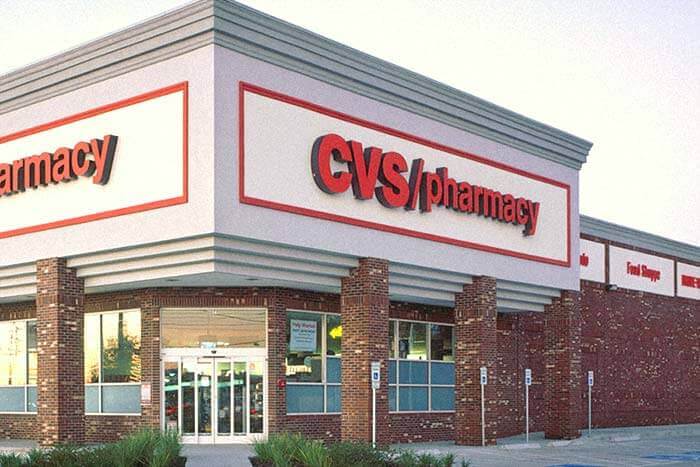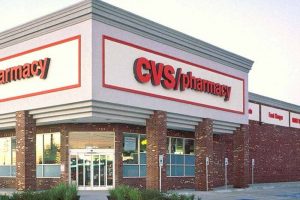 The great news is that this fantastic product is now available at CVS. Some of their stores are now carrying the SnoreRX.
It is the same as the online product but, you can pick it up in store. Not all branches are carrying it, so it's worth checking their website before you make a trip out to get one.
CVS is also offering the SnoreRX at a bargain price. It got rave reviews when it was selling at $99. CVS is selling it at $59.99. It is also part of a buy one, get one half price offer.
If you have been thinking about trying this mouthpiece, then now is your chance. You are not going to find it at a better price than this.
This mouthpiece has proven to be effective at reducing snoring and is a promising treatment for sleep apnea. As with all MADs, it can take some getting used to and may cause some jaw soreness when first used.
If you are looking to reduce your snoring and improve your sleep, then picking up a SnoreRx from CVS while it is being sold at this great discount is an easy decision.
AVEOtsd probably is not quite what comes to mind when you picture an anti-snoring mouthpiece, especially if you have only been exploring mandibular advancement devices (MADs). Well, it may not be what you have in mind, but I think it may be a good option for some people, depending on your preference.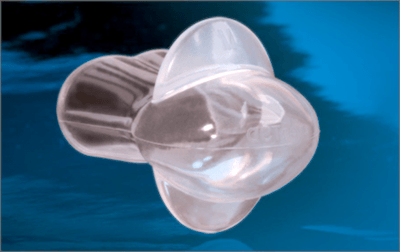 More than five years of research went into creating this noninvasive device, and although not my favorite stop snoring solution, it is one I like and recommend.
Pros and Cons
As I have found with all snoring solutions, AVEOtsd has its share of pros and cons, I had a few small complaints myself. Make sure you consider both when making your decision.
Positives
This device is made from medical-grade silicone that is soft against your tongue and gums, so you don't have to deal with any irritation.
The product is doctor-designed and proven effective with clinical studies.
No fitting process is needed prior to using AVEOtsd. This device is ready-to-use right out-of-the-box.
Available in three sizes for the best fit possible. Approximately 90 percent of snorers use a medium size.
Lifespan average is about 12 months, which is pretty long for a snoring device. Some have reported their oral appliance lasting 24 months.
This TSD is backed by a 6-month warranty on manufacturing defects.
AVEOtsd can be worn by individuals with TMJ issues, dentures, missing teeth, crowns, caps, and bridgework. Since it doesn't sit in the mouth it does not affect dental work.
Complaints
This device is not available without a prescription, so you have to see your doctor or dentist to get one.
AVEOtsd takes a while to get used to and may cause excessive drooling when you first put it in.
This oral appliance falls off, if it is too loose, but it leaves your tongue really sore, if it is too tight, so it demands a little practice to get the perfect suction.
What's with the Weird Design?
The AVEOtsd is classified as a tongue stabilizing device (TSD), so it probably looks a little odd to you. TSDs are quickly gaining popularity in the world of snoring solution products. Unlike MADs, TSDs do not actually sit inside your mouth, making them ideal for those who just can't get used to having a traditional mouthpiece in all night. They are also suitable for individuals with dentures, missing teeth, crowns, or bridgework.
Made from soft, medical-grade silicone, AVEOtsd is non-irritating and available in three sizes. The medium fits about 90 percent of snorers. There is no customization needed with this product, so you will not have to trim and file or use the boil-and-bite method prior to using it.
Dr. Chris Robertson of New Zealand created AVEOtsd. He specializes in dental sleep medicine and spent several years focusing on clinical studies to develop this product.
How Does it Work?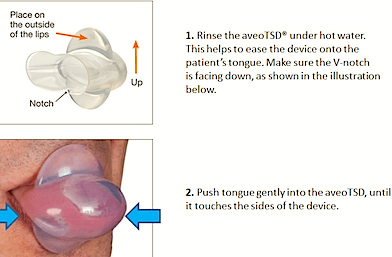 If you have read some of my other reviews then you are probably aware that traditional mouthpieces stop snoring by holding the jaw in a forward position. This stops the tongue from collapsing into the throat and causing an obstruction. Well, AVEOtsd has the same mission, but it takes a different approach.
The suction end of AVEOtsd goes on the tip of your tongue. The rest of the device sits between the inner lips and outer teeth. It holds your tongue forward while you sleep, so similar to MADs, it prevents your tongue from relaxing and falling back towards other soft tissues.
Getting Familiar with AVEOtsd
Prior to attaching AVEOtsd , rinse it under hot tap water. The heat softens the silicone, which will make it a little easier to get the device positioned on your tongue. Looking at the device, the V-notch should be facing the ground.
Put the tip of your tongue into the bulb. To keep the bulb in place, you will need to squeeze the sides to create suction. The harder you squeeze the stronger the suction is. It should be snug, but not overly tight.
Some users find it easier to make small pulsing squeezes to create a suction to guide the tongue in place, instead of positioning the tongue, and then creating the suction. You'll probably want to experiment with both methods to see which one you are more comfortable with.
Getting Used to Your AVEOtsd
The manufacturer recommends wearing your AVEOtsd around the house for several days to get used to it. If you have never worn a TSD before, and you are not used to it, you could face a few sleepless nights in the beginning. This is something you can easily do while watching television, cleaning the house, or surfing the Internet.
My Experience
The site recommends wearing AVEOtsd for a week around the house to get used to it. We were pretty comfortable with the design since we had recently tried Good Morning Snore Solution (GMSS). So, we only wore it off and on until the following night before we started the trial.
I will say that I think I drooled a lot more with AVEOtsd than I ever did with Good Morning Snore Solution (see me AVEOtsd vs. GMSS comparison), and it was a little harder for me to achieve the correct suction. In fact, when I woke up the first morning, I found it had fallen off at some point. My wife's device stayed on all night. She was energized and in a great mood. I was still half asleep. I can only assume it fell off early, so I snored and slept poorly all night.
The next night, I made the suction a little stronger, and I was thrilled to wake up the second morning with it still in place. My wife had gotten up in the middle of the night to get some water, and she said I wasn't snoring at all. The third night, our senior dog woke me up to let him out for a bathroom break, and my wife was sleeping soundly. I did not hear a peep out of her.
The AVEOtsd was effective at stopping our snoring for the seven-day trial. I did struggle to get the ideal suction several nights, but it only fell off the first night. Also, by the fifth morning, neither of us had a sore tongue anymore.
Do to the design it can't be worn by individuals who breathe through their mouth, so it is not suitable for those with nasal polyps, deviated septum, or sinus issues. If you have allergies, you will want to have a backup option for those nights when your nose is stuffy and you have to breathe through your mouth.
Some snorers need to have a spacer added for their device to be more effective.
The silicone that this device is made of will discolor if you have GERD.
Final Thoughts
I found AVEOtsd to be effective, but it takes a little extra effort to get the suction strength just right. This device is made of soft silicone, so it doesn't irritate your gums or the inside of your lips. It is easy to clean, and has a long lifespan, but the fact that you need a prescription to get one does make it a little less attractive.
If you want to try a tongue stabilizing device, but you don't want to visit your doctor or dentist, I recommend trying Good Morning Snore Solution that I mentioned earlier.
It is actually my favorite snoring solution, and I found it to be a little easier to attach and get used to than AVEOtsd. Plus, the fact that you can order it online makes it a very convenient option. If you decide that you want to try a mandibular advancement device instead, I suggest either ZQuiet or Zyppah. I found both to be comfortable and effective.
Once again, here's the link to the AVEOtsd deal details. And here's a link to what we rate as the best anti-snoring mouthpieces on the market.
If you are suffering from daytime fatigue, dry mouth, headaches or a sore throat, you probably snore at night.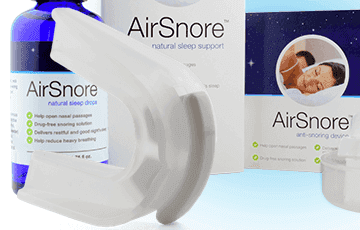 The AirSnore mouthpiece will help you breathe better while you sleep so you can feel great in the morning. This comfortable anti-snoring device is easy to wear and stops snoring so you get a good night's sleep.
Being well rested can make a huge difference to your health, mood, happiness and your relationships.
The AirSnore mouthpiece is easy to use and is suitable for everyone due to its one size fits all design. The simple and painless breathing apparatus is an effective alternative to surgery.
The AirSnore natural drops are a perfect complement to the appliance and offer a solution for those who are congested to help make breathing easier. AirSnore drops clear your airways and eases your breathing to help you fall asleep more easily.
AirSnore Video Feature Demonstration
Advantages of AirSnore
Airflow hole lets you breathe through your mouth
AirSnore natural drops help you breathe easier while sleeping.
The air hole in the center of the mouthpiece allows you to breathe through your mouth while sleeping. This is an excellent feature for congested individuals or those with sinus problems, a deviated septum, and nasal polyps.
Boil-and-bite technology achieves a custom fit.
Made in a Food and Drug Administration facility.
No metal or materials that could create torsion or continuous pressure are used, so your comfort is guaranteed.
60-day money back guarantee.
AirSnore Disadvantages
It is a basic anti-snoring device, with no adjustments for an even better custom fit.
The mouthpiece can't be worn by individuals with dentures, caps, crowns, implants or bridges.
It may cause excessive drooling initially.
What Makes AirSnore Unique?
AirSnore works by opening your bite and clearing the airway to prevent vibration of the soft tissue in the back of your throat. This allows you to inhale more oxygen and can stop the snoring.
The appliance uses an easy boil-and-bite method to achieve a custom and comfortable fit that molds to your mouth and is unique to your bite. Mouth-breathers and those suffering from cold-like or allergy symptoms will appreciate the air hole in the mouthpiece that allows free airflow through the front of the appliance.
AirSnore also uses an alternative approach by including the option to use specially created drops to help you breathe easier and sleep well. These drops contain five essential oils and can be placed on your chest, around your neck and under your nose.
The essential oils are:
Lavendulaangustifolia Flower Oil. Extracted from the lavender plant it aids in sleep.
Eucalyptus Globulus Leaf Oil. Extracted from the eucalyptus tree it has a wide variety of health benefits. Eucalyptol creates a soft, soothing effect to help with sleep. It is also used to help clear up respiratory infections, sinus infections, alleviate asthma symptoms, and reduce pain and inflammation of the respiratory tract mucous membranes.
Menthapiperita Leaf Oil. Extracted from the peppermint plant and commonly called peppermint oil, it helps to relieve nausea and calm nerves.
Helianthus Annus Sunflower Seed Oil.  Extracted from sunflower seeds this oil has medicinal value and is a source of tryptophan, which helps to relieve insomnia and mild depression.
Pinussylvestris Leae. Extracted from the Scot Pine tree's needles it helps to alleviate insomnia.
My Experience
I used the common boil and bite technique for the AirSnore which allowed me to custom fit the appliance to my jaw structure.
After leaving the device submerged in a bowl of boiling water for about 30 seconds per the instructions, I placed it in my mouth and bit down hard enough to sink my teeth into the material without biting all the way through. I also formed the edges by hand around my gumline.
I removed it and then placed it into a bowl of iced water so it could harden.
I rubbed a few drops of the AirSnore Drops under my nose before going to sleep. They were pleasant. However, the smell is not very strong and doesn't last long. The effect of the drops was minimal.
The device was comfortable when I went to sleep, but I did wake up with a slightly dry throat and mouth because I was unaccustomed to breathing all night through my mouth. I felt well rested and could breathe easier. The key feature of the AirSnore is easy breathing.
I used some denture cleaning solution to clean the AirSnore before storing it away in its case.
As I became used to the product, the soreness in my jaw and mouth subsided. I liked using the drops because thy helped me relax before falling asleep.
I had great results with this product, so for me, it is effective and affordable. It helped me get a good night's rest.

Moderately Priced
The AirSnore is a tremendous deal. It is one of the most competitively priced jaw advancement devices on the market. One appliance costs $49.95. The AirSnore drops cost $59.95, but the bundle is only $89.95 which results in a savings of $39.69.
The manufacturer also offers deals such as buying two and getting one free so you can have multiple appliances for traveling or in case one gets lost or damaged.
Customers also qualify for free shipping which makes it an even better bargain.
Is AirSnore Right for You?
The AirSnore is a good snoring prevention device. It is simple to use, inexpensive and offers a long guarantee so you have plenty of time to test if it is right for you.
The addition of the herbal AirSnore drops makes it unique from other stop snoring products. A few drops under your nose or on your chest are enough to make you feel relaxed and help you breathe easier, especially if you are congested.
If you are searching for an effective, inexpensive and easy to use device this is the appliance for you.
Always remember that no one device can be perfect for everyone.  We did a huge post ranking the "best of the best" anti-snoring mouthpieces that you should definitely consider!