12 Products that Help Regulate Your Temperature for a Better Night's Sleep
There is nothing worse than having a poor night's sleep due to being too hot or too cold. Luckily, there are plenty of products on the market these days which have been specifically designed to ensure you stay at a temperature that suits you for the entire night.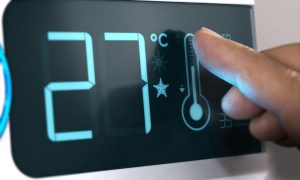 These are not specifically anti snoring mouthpieces but are sleep products. Here are the 12 products that help you regulate your temperature.
Cooling pillows
Temperature regulation is a big part of pillow design, so it's no surprise there are plenty of options to choose from on the market today. The Sleep Restoration Gel Pillow comes in a set of two king sized pillows sure to keep you nice and cool as your temperature peaks through the night. While they resemble luxurious hotel pillows, they are in fact created with a cooling gel fiber fill which keeps your head supported while maintaining an even temperature.
Removable gel pillow mats for extra cooling
If you don't want to replace your pillow, consider a gel mat which sits nicely either on top or inside your pillow covers. With a wide range of options, an interesting looking one is the PolarGel pillow pad, which is extra-large, easy to clean, foldable, and molds itself to your body's contours. If you're suffering from night flashes or summer sleep issues, a pad could be just what you need to stay asleep the whole night long.
Ventilated pillows for efficient heat dispersal
If those options don't suit, what about the Weekender Ventilated Gel Memory Foam Pillow which expertly disperses excess heat. Created out of memory foam, this pillow comes equipped with a removable cover for easy washing. Covered in a network of holes, this pillow is well reviewed for its ability to create efficient air circulation while reducing heat buildup around the head and neck.
Cooling sleepwear tackles heat spikes
The Cool-jams company offers a wide range of temperature regulating sleepwear for people of all ages. A great example is the Moisture Wicking Men's Pajama Top Separate which is designed for men who want to stay cool while keeping moisture at bay. The company also makes a wide range of sleeping equipment, such as cooling sheets and even travel wear to keep you cooler while on vacation.
Cooling crystal gel mattress protector
Available in six size options, the Sleep Chill + is a highly-rated gel-based mattress protector which provides a cooling effect during the hottest of summer days. With 35% cool fiber in each mattress, you're guaranteed a cooler sleep all night long.
Cooling premium-quality sheets
Would it surprise you to know Under Armour creates sleep products? The Athlete Recovery Sheet Set is a cool to the touch set which provides greater breathability than a regular set. Allowing you to feel comfortable throughout your whole sleep, they also offer options for innovative sleepwear that is highly reviewed for increasing your performance during the day.
Innovative air blanket designed to heat or cool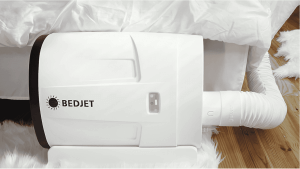 The Bed Jet has got to be one of the most outstanding temperature regulating devices released in recent years. With an innovative intake pipe, you can control the temperature on both sides of the bed – even allowing for different temperatures to suit the needs of couples. With options to keep you warm and winter and cool in summer, it is pricey but worth every penny.
A simple bed fan
If a Bed Jet it outside your budget range, why not consider a simple bed fan which works on the same concept. Although it may be less effective at providing temperature choices for a couple, it is reasonably priced and might just be what you need to get a good night's rest.
A blanket that cools and warms
The cooling and warming blanket by Feel Cooler allows you to sleep comfortably regardless of the weather. With an innovative design that helps you keep within the most suitable temperature for sleeping, this well-priced option.
Comfortable removable body pad
How does a nice cooling pad sound? The Chiligel Body Pad is the perfect removable and fully adjustable pad, which you can position according to your specific needs. If you want cool feet or a cool core, this product is easily positioned before you fall asleep.
Patented cooling mattress
Available in six sizes, the Sheex Cooling Mattress is a reasonably priced option for those on a budget. There are plenty of great cooling mattresses on the market today – this one works via a patented fabric which adapts to your body's changes throughout the night. With their largest size, the California King, coming in at under $1,200, this is a great investment for anyone dealing with heat-related issues.
New to the market – the Moona
If none of those options interest you, why not keep your eye out for the soon to be released Moona system which uses water to adjust your temperature throughout the night? Currently running a project on Kickstarter, this device uses innovative technology to determine when it needs to make changes based on your physiological needs.
Regardless of the options you choose, you are sure to have a better night's rest with this expertly designed sleep solutions.