After spending close to $3,000 on a stop snoring mouthpiece prescribed by a dentist, David Hernandez was inspired to develop an effective solution that wouldn't break the bank.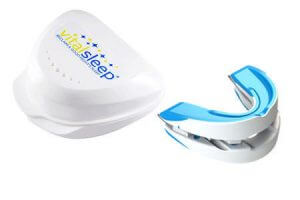 Hernandez graduated from Daemen College back in 1999 with a degree in physical therapy. He registered The Snore Reliever Company LLC in 2010 based out of New York City, New York.
To design his product he turned to Dr. Richard Koffler M.D. In 1993, Koffler graduated from Tel Aviv University, and today has more than 20 years of experience in medical rehabilitation.
VitalSleep is classified as a Class II anti-snoring device. It was cleared by the United States Food and Drug Administration with the number of K092942. It also holds patent number 8,534,289.
Doctor Trusted
VitalSleep is sold on a Doctor Trusted website that wears a Consumer Protection Certificate. It was reviewed on September 30, 2013 by Dr. Daniel Hanley M.D. out of Chicago, IL. VitalSleep has an A+ rating and was found to meet the code of conduct required by DoctorTrusted.org, including:
Passed due diligence check
Fair refund policy
Ethical billing policy
Fair pricing
Reasonable health claims
VitalSleep representatives are available by phone and email seven days a week.
VitalSleep Medical Program
If you are a medical doctor or dentist, you may be interested in the VitalSleep Medical Program. You enjoy a special price and your patients get an affordable and effective mouthpiece. An application is available on the VitalSleep website.  Learn more about my experience with VitalSleep in my VitalSleep review.
With such a low price (and can be even lower with a SnoreMate discount code), it is easy to understand why so many people don't hesitate to order SnoreMate.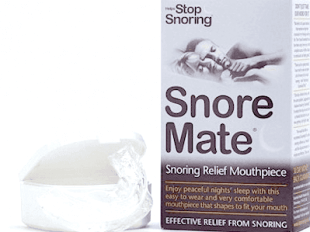 I was excited about the price, too, as you read in my full SnoreMate mouthpiece review. However, it is important to make sure you understand exactly what you are ordering.
There are a ton of anti snoring devices available that have a lot to offer and only cost a bit more than SnoreMate. You may want to consider them once you know a little more about this device.
SnoreMate needs to be replaced every three to four months, so you could easily spend over $100 a year on a mediocre product when you could have purchased a quality one with a longer lifespan for the same amount.
If you breathe through your mouth while you sleep because of sinuses, nasal polyps, or a deviated septum, or if you just deal with bad allergies don't bother ordering SnoreMate. There is no breathing hole, so you have to be able to breathe through your nose.
SnoreMate has not been cleared by the United States Food and Drug Administration, so there has been no trusted testing deeming it safe for use.
This mouthpiece can't be worn, if you have braces, caps, crowns, dentures, or missing or loose teeth.
The material is not BPA - or latex-free. If you are 100 percent certain that you don't have a latex allergy this might not be a big deal, but many people don't know until they have a reaction. As for BPA, this is not something you want in your mouth for several hours per night through a snoring mouthpiece. If BPA can get in your bloodstream simply by holding a shopping receipt covered with it then just imagine the health concerns it could cause being in your mouth every night.
SnoreMate is not adjustable, so you can't change the positioning of the lower jaw.
This device may not look bulky online, but it definitely is. There is only one size available to order, and it is definitely invasive in your mouth.
Update:   SnoreMate is now an outdated product and does not appear to have an active business.
August 2018 Update:   SnoreMate is now an outdated product and does not appear to have an active business.  Disregard the following information.
-------------
The biggest attraction to SnoreMate is its price. At $32 for a single snoring mouthpiece, you really can't go wrong, right? Well, if that $32 ends up tossed in your junk drawer then it is not a very good deal. That being said, maybe a $100 mouthpiece is just not in your budget or perhaps you don't want to splurge until you know a mouthpiece will work for you.
Before you shell out even a penny for a low quality product consider one that is just a little bit more expensive, but also more comfortable, durable, and effective. VitalSleep outshines SnoreMate and it is a very modestly priced product.
Price - As mentioned, SnoreMate is $32 or you can buy two for $42. Regardless which option you choose, shipping is $8. VitalSleep is also priced quite low at $59.95 plus $7.95 for shipping and handling.
Material - VitalSleep is BPA- and latex-free. SnoreMate is made of a soft thermoplastic material, but it is not labeled as being free of BPA or latex.
Customization - The boil-and-bite process is done on both devices to achieve a custom fit.
Adjustability - SnoreMate does not allow for any adjustments. VitalSleep allows you to change the positioning of the lower jaw.
Lifespan - Although SnoreMate has a low price tag it generally has to be replaced every three months. VitalSleep lasts a year, or longer, which makes it a significant better long-term value than SnoreMate.
Breathing Hole - VitalSleep has an airflow hole, so you can breathe through your mouth while wearing it. SnoreMate does not have a hole, so if you aren't able to breathe through your nose, you can't wear this product.
Guarantee - Both devices are backed by a 30-day money back guarantee.
FDA Clearance - VitalSleep has been cleared by the United States Food and Drug Administration. SnoreMate has not been cleared. Plus, Vital Sleep is accredited by the Better Business Bureau and made in America.
Comfort - I put both of these devices to the test and found VitalSleep to be significantly more comfortable than SnoreMate. It is less bulky, and since it comes in two sizes, you can achieve a more tailored fit. My wife couldn't even wear her SnoreMate because it was just too big. Plus, VitalSleep does permit a small amount of lateral jaw movement, which helps with comfort.
Learn more about each stop snoring mouthpiece in my VitalSleep review and SnoreMate review.
AiSleep is a small company, with offices in Florida, Australia, and Hong Kong. Each pillow is shipped directly from China—hence the direct in the name. Shipping takes 2-3 weeks from China.
About the Pillow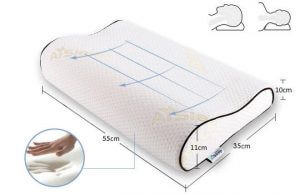 This memory foam pillow is designed to provide each sleeper with many health benefits. The first thing you'll notice is the steep 40° angle. This aspect aims to support your neck and relieve tension there and in the shoulders.
The pillow also includes bio-magnets which should line up with the acupoints around the neck. The magnetic effect is supposed to aid blood circulation and deeper sleep. The pillow's design works for both back and side sleepers and is intended to lessen snoring and help with sleep apnea.
The pillow also includes a small hollow in the center which will cradle the ear. The design should keep head, neck, and spine in good, proper alignment. The elevation should also lower arm numbness related to side-sleeping.
The materials are hypoallergenic and unappealing to dust mites. The pillow includes air holes which make the pillow breathe, thus lowering the risk from bacteria.
Ai Direct Pillow Video Review
The Magnets
The inclusion of magnets is a unique feature of the AiSleep pillow. It's worth taking at least a quick look at the claimed benefits of magnetic treatment.
The use of magnets in medical treatment is an ancient practice. Magnets are used in acupressure treatment, for example. Practitioners in this field see the main reason for disease or dysfunction in the body is static electromagnetism, or stagnant qi, in the traditional language. Among other practices, the magnets can help reestablish the flow of the electromagnetic field.
In addition, magnets are used to treat acute pain. Use of monopole magnetics may provide numerous benefits, including reduction of inflammation, restoration of tissue polarity, and acceleration of the healing process. Magnets may also assist in the treatment of chronic pain syndrome.
The science on magnets so far tends to lean against the benefits, but the literature contains enough indications to justify more research in specific areas. One study indicates further research into acu-magnet therapy is warranted, especially for insomnia and diabetes.
Spine/Neck Alignment
It's well known that back pain is the price we pay for being able to walk on two legs. We, therefore, need to take care of our back in many ways, and sleep is one of them. Sleep allows the ligaments and muscles of the back to relax and heal, provided we sleep correctly.
The goal for good sleep is to support the natural curves of the spine, especially the lower back. Sleeping on your back seems to be the best way to do this, especially if you use a small pillow under your knees. This pillow reduces stress on the spine and supports the lower back. Your head pillow then supports the head and neck.
If you sleep on your side, you might want to consider a firm pillow between your knees. This pillow keeps the top leg from knocking the spine out of alignment.
My Experience with AiSleep
One of the claimed features of the pillow is that it helps reduce snoring. This feature was the main reasons I ordered it. Because they are shipped directly from the manufacturer in China, it takes 2-3 weeks. When it arrived, I was surprised—I'd forgotten I'd ordered it. I suspect the reason for the 'Direct' in the name comes from this shipping practice.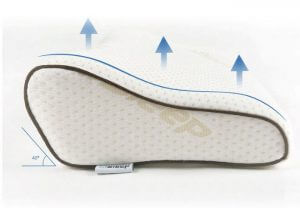 I found the price competitive with other pillows designed to address snoring and with other memory-foam pillows. The design includes other features I hadn't seen before. (I did send customer service a question, but did not hear back from them).
A few days after arrival, I finally had a chance to test it. I started with a nap and had no problems falling and staying asleep. It's fairly thin, even with the 40° angle. It's firm—it clearly falls in the support pillow class because of the firmness. I'd rate it as an 8/10 on a firmness scale.
The pillow is clearly designed to ensure perfect spine and neck alignment. I noticed an immediate effect on my back—a bit of pain, but that's probably from the adjustment period. I knew I would have to sleep for several nights on it.
From the side, you can see that angle. You might think your head would tilt downward with the pillow. In use, however, it has a natural feel. Along the left, higher side, there's a cradle for the neck, and the foam yields enough to ensure neck/spine alignment. I did not feel any neck pain.
Future Nights
I slept for two nights on this pillow and measured my snoring score each night. The snoring time ranged from 26-34%, and the volume was slightly reduced. This percentage of time is slightly below average for me, but I can't call it a significant, noticeable change. I would still near to wear my SnoreRx mouthpiece or use a nasal dilator, such as the MUTE device to achieve a significant reduction.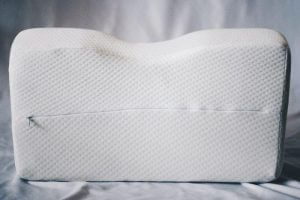 I found this pillow to be too thin for me. I repeatedly folded it over during the night, as I'm used to propping my head up on a thicker down-feather pillow. If this pillow makes the cut and I continue to use it, I'd have to get used to a thinner pillow. I'd also need to change my habit of doubling-up.
The bio-magnets did not provide any noticeable effect for me during those two nights. Again, the benefits may require longer-term use of the pillow. I felt rested on this pillow but did not feel any more rested than on a regular pillow.
The pillow does provide excellent spinal alignment. The back pain I noticed from the nap vanished, demonstrated that I easily adjusted to it. The theory behind the design seems to make sense because I didn't experience any back or neck pain.

Summary
This pillow is perfectly fine. While it did not provide significant help for snoring, it worked in other ways. It's a reasonably-priced support pillow. The quality of the memory foam is good. If you're looking for better airflow and spinal alignment, this pillow works very well. The bio-magnets may provide a benefit for you. If you're a pillow folder, I'm sure you'll be able to break the habit. For more pillow choices, view my latest pillow reviews.
The Sleep Number ComfortFitTM pillow is one of many Sleep Number products, all designed with the intention of providing customers as comfortable a night's sleep as possible.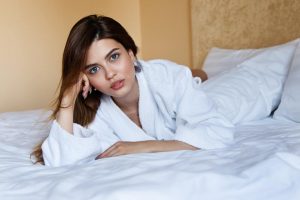 The ComfortFit is a combination of memory foam and the feel of down—in this case, a down alternative, so it's hypoallergenic. The combination is intended to to hold its shape as well as provide luxurious comfort. The lyocell cover breathes freely and comfortably.
The pillow comes in two kinds, both covered by a 5-year limited warranty. The Classic Pillow supports both the neck and head. The Curved Pillow also cradles the shoulders for additional support.
The Company
The Sleep Number bed is a generally well-regarded bed designed to provide individualized comfort for the sleeper(s). J. D. Power ranked their mattresses the highest in customer satisfaction for both 2015 and 2016.
The company focuses on the idea that "one size does not fit all"—or, perhaps more appropriately, "one firmness does not fit all." Simmons/Beautyrest and Tempurpedic came in close behind, but all three were well above the fourth, IKEA.
Unlike many other mattress manufacturers, Sleep Number products are available only through their stores (or online). They have over 500 stores around the United States, and most seem to be along Interstate corridors.
The mattresses generally connect with their SleepIQTM technology, which allows you to track your sleep nightly. You'll get all sorts of information, from your average heart rate to the time in deep sleep.
The mattresses generally can be set to a wide range of firmness levels, and the larger mattresses have two zones. These zones allow you and your partner to have different levels of firmness, and therefore different SleepIQTM.
Memory Foam
Memory foam, developed by NASA in the 60s, is designed to yield when under pressure, and resume its shape when the pressure is removed. In pillows, it should end up cradling your head and neck to keep the bones in good alignment, allowing a good night's sleep. Memory foam is not very breathable, but many manufacturers will construct their pillow with cells, allowing for a cooler sleep.
One thing to note about memory foam products is "off-gassing". On opening the package, a smell will be present, but it will dissipate after a day or so.
Memory foam is fairly neutral when it comes to snoring.
Pillows and Accessories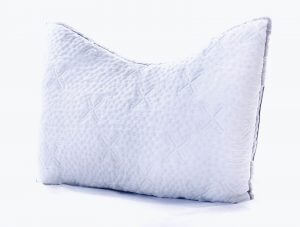 In addition to the mattresses, Sleep Number sells a broad range of products. All their items are pricey, but they seem to have frequent 20% off sales. And shipping on bedding is always free.
In addition to pillows, you can get sheets, mattress pads and layers, head- and foot-boards, and other bed accessories. Their bases are designed to work with the mattresses.
While the mattresses fit on standard frames, the Sleep Number bases can provide head-raising to help with your partner's snoring, foot warming to assist with falling asleep, and under-bed lighting to prevent you from tripping when you get out of bed.
Online Reviews of the Sleep Number Pillow
As many merchants are doing, Sleep Number includes product reviews from customers. The company seems responsive to these reviews. One thing I commend them for doing is including negative reviews on their own website.
Now, I know you must take these reviews with a pinch of salt—I wouldn't claim that they're a representative sample. But as of this writing, 124 reviews exist for the ComfortFitTM pillows, and 88 of them award a score of 5—the highest, while 10 come in at a 1.
They have responded to several of the lower ratings. The pattern for the low ratings seems to be the pillows tend to get flat.
The general positivism for the pillows is in line with the solid ratings for most of their products. While the mattresses are their focal products, they appear to be providing significant customer support for all their products, usually with an invitation to call to discuss any concerns over the phone.
This strikes me as an efficient manner to do business. Pillows are an individual thing, and one person's concern might be another's wonderful night's sleep.
My Experience
My wife's first words after sleeping on this pillow were, "I'm feeling good this morning."  She felt refreshed and cheery after sleeping on it. She told me she liked it right away.
She's very relaxed and happy after using the pillow. She used the Curved Pillow, which helped support the head, neck, and shoulders. She felt strong support, and no matter how she turned, she found herself in a comfortable position.
SleepNumber ComfortFit Pillow Review Video
My first thought when picking up this pillow was, "This is beautiful." This pillow's quilted design will fit in with any interior decorating plan you have. Guests will feel right at home with these pillows on their beds.
Compared to most performance pillows, it's a superior in design, feel, and aesthetics. The textured feel will make your guests enjoy a 5-star hotel experience in your home.
It is a heavy pillow, but that heaviness is typical of memory foam or down alternative pillows—and this one has both. At first, I found it very comfortable to lie on, but through the night, I woke several times. It seemed the pillow was too firm for me. It's also a bit thicker than I usually like.
One thing I noticed is that it does not stay cool. If you sleep warm to hot, this is not the pillow for you. It has no special cooling technology.
The curved version did not do much for me. While, as noted, my wife liked it, I felt it added extra bulk. Since I like thinner and softer pillows, this is a major strike against it, in my opinion.
Summary
There are similar pillows which provide better features. Bedgear, for example, makes pillows with a similar fill to this SleepNumber one. The Bedgear also includes cooling technology, and the price is about the same.
This is a good pillow. I would wait for SleepNumber to have a sale, however—they frequently offer discounts of 20%. If you are a fan of the company and its products, you will love this.
If you are looking for a solid pillow which will look great in your bedrooms, this pillow is clearly for you—it's one of the best-looking ones I've seen.
It is easy to get lured in by (possibly fake) reviews and a flashy website, but you need to understand that sometimes products seem more popular than they are because the company has a fantastic marketing team.
Before you settle on SnoreFreeNow check out these reasons why this may not be the right snoring mouthpiece for you.
Short Lifespan - This device may have an affordable price tag, but it needs to be replaced every three months. Doesn't it make sense to order a product that costs a bit more, but lasts a lot longer?
Special Tool Needed - If you lose the handle that comes in the starter kit to do the boil-and-bite process you will have to order another one before you fit your next device. Unfortunately, SnoreFreeNow can't be custom fitted without the tool because the airflow hole will collapse.
No Guarantee - The makers of SnoreFreeNow state that the only time the device does not work is if the customer doesn't mold it properly. Only unopened and defective products can be returned.
Can't Be Worn with Dental Work - If you have braces, caps, crowns, bridgework, or missing or loose teeth, you can't wear this device. It is also off limits if you suffer from any TMJ issues, and like all over-the-counter mouthpieces it is not recommended for use in children under the age of 18.
No Adjustability Option - Some people have better luck with devices that allow adjustments to lower jaw placement. Adjustments of this kind can't be made to SnoreFreeNow.
Questionable Facts - SnoreFreeNow is supposedly designed by a leading orthodontist, clinically proven and hospital-tested, but there is no evidence to support these claims.
One redeeming quality would be this funny video they published

Update:   SnoreFreeNow is no longer an active selling product.   To view the top-rated snoring mouth guards currently for sale see our anti-snoring mouthpieces ratings page.
If you have read even a few of my reviews or have compared mandibular advancement devices (MADs) on your own then you already know that a vast majority have a 30-day money back guarantee. This gives you the opportunity to try a product to make sure it works for you.
There are even some, such as ZQuiet, that allow you to try the device for 30 days before your card is even charged. So, you may be automatically expecting SnoreFreeNow to come with some type of similar guarantee, but sadly, it doesn't.
Return Policy Details
As long as a product has not been opened it can be returned. How is that for being helpful? Basically, you have to shell out money for one of these snoring mouthpieces and hope that it works. Otherwise, you just bought a new addition to the junk drawer.
SnoreFreeNow's website states that opened products can't be returned because of sanitary reasons. How is it that other manufacturers have no problem accepting returns then?
It also says that most unsatisfied customers have not followed instructions or molded the device properly. How's that for pointing the blame at the consumer? So, if the product does not work it's your fault. You did something wrong.
Interestingly, SnoreFreeNow did not work for me or my wife (read my SnoreFreeNow review to learn why), and we have molded countless mouthpieces in the past. The site specifically says that the "only" time the mouthpiece does not work is if it is molded incorrectly.
It is stated that defective products can be returned, but I would hate to have to see what hoops you would have to jump through to actually get an RMA number to send it back. In a market that is so competitive it is quite surprising to see a company be so insulting to the consumer.
Update:   SnoreFreeNow is no longer an active selling product.   To view the top-rated snoring mouth guards currently for sale see our anti-snoring mouthpieces ratings page.
Sleeping is important. As anyone knows who has experienced a sleepless night next to someone who snores, snoring can be disruptive. Luckily for you (and those around you), some products can reduce your odds of snoring, and potentially eliminate your snoring problem altogether.
Why Do People Snore?

To determine the best solution for your snoring, the best place to start is to figure out what is causing your snoring in the first place. Nasal and sinus problems are a common cause of snoring. These issues can be anything from a temporary cold to a chronic sinus condition.
Another cause of snoring is aging. As you get older, your throat becomes narrower and you lose muscle tone in your throat, which in turn causes a narrowing of the airways, affecting your breathing patterns in such a way that it can cause you to snore.
A common cause of snoring is the use of alcohol or medications that have a muscle-relaxing effect on your body, which leads to snoring. Being overweight or sleeping on your back are additional factors that can contribute to snoring.
While some of these causes are things you have control over,  many of these causes can't be avoided.  Fortunately, there are some products available that can eliminate, or at the very least, reduce your chances of snoring.
One less common cause of snoring you should be aware of is a condition called sleep apnea. Sleep apnea can be dangerous, and if you believe this could be the cause of your snoring, it is best to see your doctor first before relying on any over-the-counter products.
Is There a Difference Between a Nasal Strip and a Nasal Dilator?
Nasal strips are a form of nasal dilators. Nasal dilators come in two different forms -- external nasal dilators and internal nasal dilators. What is commonly thought of as a nasal strip is just the external type of nasal dilator.  Both are effective snoring aids.
A Closer Look at External Nasal Dilators
External nasal dilators, or nasal strips, are one commonly used product that can reduce, or even, in some cases, prevent snoring. Nasal strips are small tabs that contain adhesive material that you attach to the outside of your nose. They look and feel a little bit like a Band-Aid. These strips work by widening the airways, which has the effect of reducing nasal airflow resistance. While this can be an effective method, keep in mind it is a temporary one, and its effectiveness depends on the source or cause of the snoring.
The use of nasal strips is quite common, and these items are sold over-the-counter at various locations, including pharmacies. These products are popular due to their effectiveness in reducing snoring but are also common treatment choices for people since they are also non-invasive and inexpensive.
The Use of Internal Nasal Dilators
Internal nasal dilators are another tool you can use to combat your snoring. Internal nasal dilators are small rubber or plastic devices you insert into your nostrils. The device keeps your nostrils open while you are sleeping, which allows your nasal passageways to remain open and clear. By keeping your nasal passageways open, the device directly reduces snoring.
Nasal Products as Complementary Therapy
Many other products on the market can reduce or eliminate snoring, such as mouthpieces and anti-snoring pillows.  In the past, these products were typically used in conjunction with nasal sprays. Nasal sprays work by reducing inflammation.
Due to the immediate effectiveness of external and internal nasal dilators, these devices have now begun to take the place of nasal sprays as recommended complementary treatment. When used with other anti-snoring products, nasal dilators can be even more effective in reducing snoring.
Using external and/or internal nasal dilators can be a relatively inexpensive and effortless way to stop snoring at night.
These products are even more effective when used in conjunction with other anti-snoring products, such as pillows or mouthpieces.  Not only will you feel much better in the morning after having a refreshing night of sleep with the use of these products, but you'll also be giving the gift of uninterrupted sleep to anyone sharing a room with you!
Unlike the majority of mouthpiece manufactures that concentrate on strictly selling stop snoring devices, SnoreFreeNow has an assortment of products available to you on its website. This may lead you to believe that this is a super high quality product.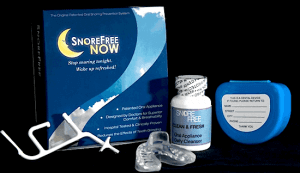 If SnoreFreeNow is under your radar, be sure to read my review on the product and weigh its pros and cons to be certain that it is the right snoring mouthpiece for you.
SnoreFreeKit $49.99 - This starter kit includes a mouthpiece, handle, hard storage case, and bottle of mouthpiece cleaner.
Extra Mouthpiece $15.95 - These mandibular advancement devices (MADs) only last about three months. When you need to order a replacement, you have the option to buy a single one. Make sure that you place your handle in the safe place. Otherwise you are going to have to place an order for an extra handle, as well.
Travel Kit $29.95 - If you travel a lot for business or pleasure, you may appreciate that this kit that includes a mouthpiece, earplugs, eye shades, dental case, and travel bag.
3 Pack Mouthpieces $39.99 - If you prefer to order replacements in packs of three instead of ordering single ones, you have the option to do so, and this ultimately saves you about $6.
SnoreFreeNow Sleep Aid Kit $29.99 - The kit includes eye shades, earplugs, and a bottle of Sleep Advantage. Note that this kit does not include a mouthpiece.
Comfort Fit Handle $8.95 - If you lose or break the plastic tool that is used during the boil-and-bite process, it will need to be replaced before you can fit another device. If you try doing the fitting process without one it is likely that the boiling water will cause the breathing hole to collapse.
Dental Case $9.95 - Always keep your mouthpiece stored in a case so it is clean and protected. One comes with the starter kit, but you may need an extra replacement at some point.
Fresh & Clean $9.95 - Unlike most oral appliances that can be cleaned with toothpaste, dish soap or denture cleaner, the manufacturer of SnoreFreeNow strongly suggests you clean your device with Fresh & Clean.
SnoreFree Sleep Aid CD $9.95 - If you need help falling asleep this CD of mellow music may help.
Fresh & Clean 3-Pack - When you order the three pack of Fresh & Clean, the CD mentioned above is included.
SnoreFreeNow Eyeshades $6.95 - Sleep through a storm or on the plane with these eye shades, which provide total darkness.
Travel Bag $8.95 - This travel bag also includes travel bottles that are TSA-approved.
SnoreFreeNow Ear Plugs $5.95 - These foam earplugs are easy to insert. You just twist them in place. This helps you fall asleep despite outside noises that would normally keep you awake.
SnoreFreeNow Sleep Advantage $19.95 - This supplement is suggested to help you fall asleep faster. It includes passionflower extract, taurine, GABA, bacopa monnera extract, magnolia extract, melatonin, gelatin, and magnesium stearate.
The SnoreFreeNow website has a lot of claims on it about its snoring mouthpiece, but it does not provide any real information or supporting evidence to back them up. Supposedly, a famous dentist created the product, but apparently, their name is a secret because their identity is not revealed.
If you do a little digging on the product and company, you find that Scott E. Feldman DDS and Norman Alan Shapiro DDS are both mentioned in association with the design of the product on the patent, but if this is the case then why isn't it marketed as having two dentist designers instead of one? Shapiro and Feldman both reside in Woodland Hills, California. In the past, they worked together, but now they have their own practices located about a mile away from each other.
SnoreFreeNow is marketed and distributed by IFMC, a company that has launched dozens of products, including The Ab Wedge, Eggstractor, and The Spirit of Christmas CD. IFMC is headquartered in Las Vegas, Nevada, and has another office in Southern California.
The company has no known complaints with governmental agencies and is listed with Dun & Bradstreet. So, although the company does seem to be reputable it is hard to understand why there is so much secrecy over the product's designer.
Other companies have no problem revealing the person's name responsible for the product, so why not share this information. The SnoreFreeNow site also states that the device is clinically proven and hospital tested, but of course, there are no links to documents or websites supporting these claims.  I highlight more of these concerning cons in my full SnoreFreeNow review.
The one thing that the company does have going for it is that its contact information is readily available. IFMC can be reached by the phone number, email, and address listed below.
IFMC, Inc.
21520 Yorba Linda Blvd
Suite 449
Yorba Linda, CA, 92887
Phone: (888) 667-6673
Here is a video presented by the SnoreFreeNow company

Update:   SnoreFreeNow is no longer an active selling product.   To view the top-rated snoring mouth guards currently for sale see our anti-snoring mouthpieces ratings page.