Review of the SnoreRx Anti-Snoring Device, by Dr. Serena Goldstein, ND
I wasn't sure what to expect when first trying the SnoreRx. My experience with CPAP machines is they can be tedious to put on and hard to sleep in. I was pleasantly surprised upon receiving a small, easy device to handle and use. This portability of SnoreRx is convenient as compared to a nightly CPAP hookup.
The SnoreRx comes in a small box and is a mouth guard that is custom fit to an impression of your teeth. The website contains all the instructions and support. There is a lot of information on the back of SnoreRx box as well.
The first section is a descriptive summary of the product. It includes the indications for use, which is straightforward. Underneath is the contraindications and warnings and details about the manufacturer.
The box was easy to open. It's important to read the instructions fully before proceeding because it's tempting to try and use it without doing the boil-and-bite. The instructions are a critical part of using the device.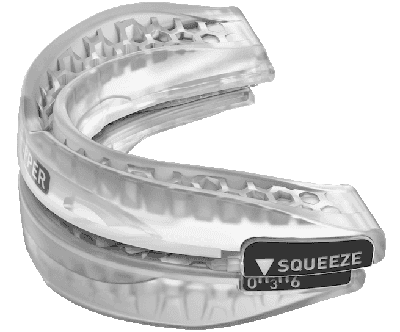 Upon starting the SnoreRx custom impression, I found the steps clearly labeled and easy to follow and impressed by how malleable the material was in being able to adjust so easily to the water, and my tooth imprints. There is a video available that shows the step by step impression steps.
My personal experience in sleeping with SnoreRx took some getting used to. I am very petite and so adjusting it to my mouth was somewhat difficult.
In trying it on and getting used to it, I did experience some dryness at first, but that eventually subsided. Even though it can be adjusted, it would be ideal if SnoreRx could provide two different sizes depending on the size of the mouth of the person ordering it.
I wasn't able to sleep through the night with it, although with practice I would be able to. In doing some research I found this to be a common issue – however, most users can continue wearing the device and eventually get through the night without removing the device.
Here is the key point I want to make with the SnoreRx. If you snore and do not like CPAP, this device is for you. The SnoreRx is useful for someone who is having trouble sleeping due to snoring and doesn't want to use a CPAP machine.
The company is clear that you must seek professional medical advice first before incorporating this device into your lifestyle. They do not guarantee a cure for your snoring or sleep apnea – but do offer you a full refund if you do not succeed.
I very much enjoyed getting the chance to review the SnoreRx, as it's size, ease of use, and easy storage can benefit many people, especially those who travel or are constantly on the go. I would recommend this product to my clients that suffer from snoring and want an alternative solution to CPAP.
Also, we've published a list of our favorite anti-snoring mouthpieces to make sure you have a number of reliable options.