How to Clean Your TheraSnore?
Since the TheraSnore has an upper and lower tray, which can be separated, and a lingual post as part of the lower tray, it is more complicated to clean.
The TheraSnore can deteriorate, corrode, or even grow mold due to the nightly saliva, so it is best to keep a routine of cleaning the device. Most anti-snoring mouthpieces can be cleaned with denture powder, or a denture tablet, placed in a glass of warm water for thirty minutes.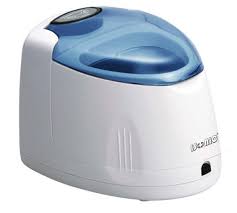 The TheraSnore manufacturer recommends the device be rinsed with water after each use. With daily rinsing and weekly cleaning, the device should last a minimum of two years.
The TheraSnore ships with a denture cleaning tablet called BONYplus Express for cleaning. Other denture powder may also be used, but cleaning results could vary. For the weekly clean of the device, soak in a glass of warm water with the denture tablets (Nitradine). Do not use hot water. Let it dry before using again.
Never store the device in water.
Our Cleaning Recommendation
Luckily, there are faster ways to clean the TheraSnore. We recommend the iSonic mouthguard cleaner.
The iSonic is an ultrasonic cleaner that does a full clean in five minutes. Place a spoonful of iSonic ultra-clean powder in the iSonic, along with your Therasnore, and it will be good as new.
A weekly clean with the iSonic only takes five minutes. Separate the upper and lower trays before placing in the iSonic cleaner. The iSonic is available at Amazon.com.